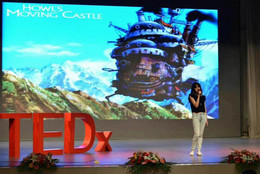 Dawn is the time that marks the beginning of the twilight before sunrise. In our minds, it symbolizes the hope and innovation. We have invited six speakers from different field to introduce some new and meaningful conceptions to our high school students. We hope that those talks will help us expand our horizon and get some inspirations from them. And also, since this is our first event, we would also to use this name to encourage ourselves to have the courage to break the rule and introduce TEDxYouth, a new form of relatively free speech, to our classmates and our school.
Liaoning Shiyan High School
No.89 South Huanghe Street, Huanggu District, Shenyang, Liaoning, China
No.89 South Huanghe Street, Huanggu District, Shenyang, Liaoning,China
Shenyang, Liaoning, 110841
China
Event type:

Youth (What is this?)
See more ­T­E­Dx­Youth@­L­N­S­Y­Z­X events
Speakers
Speakers may not be confirmed. Check event website for more information.
Qiang Luo
A cross media artist and an independent curator
She is a cross media artist, an independent curator of ON SPACE and the director of the independent art program "Luo". She has successfully established many personal exhibitions including The Future Citizen, The Hidden View, The Shadow Union and the Fairyland. Each of her works seems disorganized but has a profound meaning behind it. She expresses her understanding of the current society in her own unique perspective. As an artist in China, she has met many challenges. But she can still hold her position and insist on her dream. In our first TEDxYouth event, she comes to our school and give us a speech to introduce her understanding of the significance of artists being present in China.
Shu Shang
Doctor
A doctor in the Fifth People's Hospital of Shenyang and member of the Liaoning Committee of Cell Biology, he was the runner-up of national cancer treatment competition.
Steven Cumberworth
The head of the Academic Research Center of Liaoning Shiyan High School International Department
Mr. Steven Cumberworth is responsible for a number of teaching courses in Liaoning Shiyan High School International Department. He also directed a number of student activities and opened Honor Courses for the students.
Xue Yin
The Vice Principal of Liaoning Shiyan High School International Department
Received the WTO Bussiness Division Certificate and traveled through 20 European countries alone after graduation, she devoted herself into education. It has been 14 years since she started her career in the international education in 2003. She is the Vice Principal and one of the most popular student counselor of Liaoning Shiyan High School international Department.
Zhansheng Li
A scholar and explorer
As one of the pioneers of China's Antarctic expedition, he has participated in international negotiations on Antarctic Mineral Resources and Antarctic environmental protection. He also helped select the site for China's "Zhongshan Station" in Antarctic region and witnessed the whole process of the establishment of this station. After retirement,he has been repeatedly return to Antarctic region as an explorer, studying marine creatures.