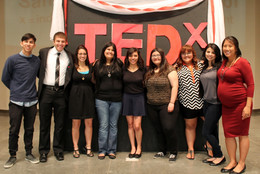 TEDxSanMiguelHighSchool explores the ideas that directly impact the quickly-changing world in which young people are currently growing up. Sharing insights on relevant issues including gender equality, poverty, decision-making and mental health, our speakers show how powerful the things we are passionate about can be.
Speakers
Speakers may not be confirmed. Check event website for more information.
Colton Kaplan
Colton Kaplan is from Chicago, Illinois and is currently a freshman at the University of Arizona. He is a pre-business student, intending to major in Marketing, Entrepreneurship and receive a certificate in Sports Management from the Eller College of Management. His favorite sports teams are the Chicago Cubs and the Arizona Basketball team.
Gabriella DeLoera
Gabriella DeLoera was born in Safford, Arizona and raised in Tucson, Arizona. She is the eldest of five children, and is an active member of the San Miguel community. Gabriella enjoys reading, listening to music and talking to her friends. She hopes to major in both Elementary Education and Entrepreneurship.
Isela Villalobos
Isela Villalobos is the daughter of Abraham Villalobos and DeAnna Barbeauld. She was born and raised in Tucson, Arizona. She is the eldest of 6 and enjoys caring for her siblings. In her free time, Isela enjoys reading or watching scary movies. Helping others has always been something she loves to do.  Isela is interested in furthering her educational career at St. Mary's University in Minnesota and would like to pursue a career as a pharmacist.
Jessica Aguirre
Jessica Aguirre is seventeen years old, born in Phoenix, Arizona and raised in Tucson, Arizona. She was born to Denise Ponce and Adrian Aguirre on September 26, 1997. Jessica enjoys entertaining others, making jokes and making others laugh. She hopes to get accepted to Seattle University and study to become a neuropsychologist. Her idea of a fun day consists of her friends, Netflix, food and karaoke.
Malina Chavez-Lopez
Malina Chavez-Lopez was born to Michelle Chavez and Manuel Lopez on September 26, 1997. She was born and raised in the Grand Canyon State. Malina is seventeen years old, and enjoys spending her time reading or helping other people. Advocating for women's rights has always been a passion of hers. She believes everyone deserve equal rights. Malina also believes no matter how little or how big, anyone can make a great difference.
Selena Padilla
Selena Padilla was born and raised on the south side of Tucson, Arizona. The 17-year-old daughter of Angelica Ortega and James Padilla intends to attend college close to home and earn a degree in business and one day become the CEO of her own non-profit organization. She has been playing softball since she was seven and is currently participating in the San Miguel Softball team. Selena is always looking for something active to do, whether it is joining the San Miguel dodge ball team or performing hip-hop moves at a talent show. She also loves presenting in front of audiences and her goal is to always have the audience get a new perspective of things. With her talk, she hopes that the audience becomes aware of an issue that has been hidden beneath the shadows of their community and inspires them to become loud voices for change.
Organizing team
Mireya Lopez

Event Manager

Victoria Sesteaga

Event Manager

Sharon Ramirez

Registration Manager / Set Designer

Mariah Salazar

Registration Assistant

Valerie Fraire

Hospitality Manager

Itzel Valencia

Hospitality Manager

Esperanza Zepeda

Technology Manager

Nayleth Ramirez

Graphic Designer / Set Designer

Cassandra Reynolds

Graphic Designer / Set Designer

Daniela Rodriguez

Graphic Designer / Set Designer

Faith Garcia

Marketing Director

Racheal Bailey

Social Media Specialist

Mireya Iglesias Ayala

Social Media Specialist

Crystal Carranza

Speaker Curator

Jay Escarcega

Videographer

Brandon Laventure

Videographer

Daniel Gomez

Photographer

Mia Gallego

Graphic Designer / Set Designer

Frydha Cordova

Host

Louie Villa

Host