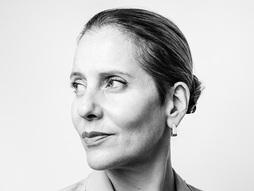 Paola Antonelli
Design curator
Paola Antonelli is on a mission to introduce — and explain — design to the world. With her shows at New York's Museum of Modern Art, she celebrates design's presence in every part of life.
Why you should listen
Since she stepped back from practicing architecture in order to focus on writing about design, teaching and curating gallery exhibitions, Italian native Paola Antonelli has become a force to be reckoned with in the design world. Working at the Museum of Modern Art in New York since 1994, she is senior curator of the gallery's Architecture and Design department and, as of 2012, the museum's first ever director of research and development. Antonelli has worked on shows such as "Humble Masterpieces," which celebrated traditionally unheralded design icons such as the paperclip; "Design and the Elastic Mind," considering the relationship of design and technology, and "Talk to Me ," which looked at design and the communication of people and objects.
Ever mindful that the majority of visitors to MOMA are attracted by artists such as Picasso and Matisse, Antonelli works to ensure that if they do stumble across a design-related show, they'll be both entertained and enlightened. In 2012, she led a move to acquire 14 video games for the museum's permanent collection.
What others say
"Paola Antonelli's goal is to insistently promote design's understanding, until its positive influence on the world is fully acknowledged." — World Technology Network
Paola Antonelli's TED talks
More news and ideas from Paola Antonelli
Arts + Design
Design icon John Maeda shares the everyday objects (well, non-objects) he can't live without.
Continue reading
Design
Happy Tuesday! Enjoy a bonus binge this week: a playlist about design. "Design giants" contains 13 talks by iconic modern designers. Hear from Philippe Starck, who asks, "Why design?" … Stefan Sagmeister on how design helped him find happiness … Eames Demetrios on his grandparents' legendary work … and today's talk, Paola Antonelli, on how […]
Continue reading
Design
Whether we're conscious of it or not, design affects us in hundreds — if not thousands of ways — each day. Just think back to your morning. A designer made the decisions that went into the craftsmanship of your bed, your futon, your mattress. A designer determined the form and materials of your toothbrush, your […]
Continue reading