The basics
If you're wondering how to get started with TED Conversations, this page is for you.
Please note that the TED Conversations platform is currently on hiatus.
---
First thing's first: What is a "conversation?"
When we say "conversation," we mean a page where you and the TED community can discuss a specific idea, issue or question. Since every conversation lives on its own page, you can always link to it and share it with friends.
Finding conversations
We offer a few basic ways to find conversations that interest you:
Featured conversations: The list of Featured conversations on the Conversations homepage are our team's selections of the most intriguing conversations happening right now.
Conversation listings: You can browse all recently added conversations, or browse by conversation type: Ideas, Questions or Debates. Any listing can be sorted by "Recently added," "Recently commented," "Most active," "Ending soon" and "Ended."
By topic: Anywhere topics are visible -- within conversations, in the tag cloud at left -- you can click the topic to jump to a listing of all conversations tagged with that topic. You can also view a list of all topics.
Via search: You can search by topic, keyword or by the name of someone who's started or participated in a conversation. Find the conversation search tool at the bottom left of any page within the "Conversations" section of TED.com.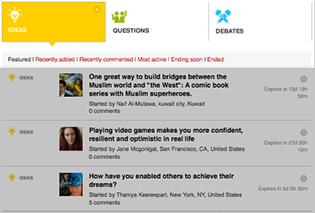 Starting conversations
To start a conversation, click the Start a conversation button at the top the TED Conversations homepage. Once on the "Start a conversation" page, your first task is to choose which type of conversation you want to start.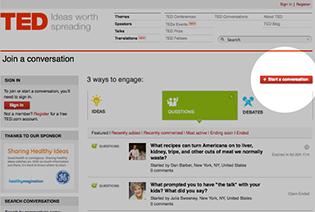 Conversation types
Conversation come in one of three types: Ideas, Questions and Debates. Conversation types are chosen at the point the conversation is created.
Idea: Idea conversations are focused on improving a fresh idea, through thoughtful and constructive comments and criticism -- a brainstorm with the global TED community. Of course, how you use the community's feedback is up to you, but if you choose to start (or join) an Idea conversation, it's important to maintain a polite attitude toward what's working and what needs fine-tuning.
Question: The TED community's knowledge and curiosity spans the philosophical, the practical, the expressive, the scientific ... but here's one thing all TEDsters have in common: they'll gravitate toward Questions that are crisp, candid, provocative and relevant.
Debate: Enter a debate with an open mind, and you're sure to leave with a better understanding of the world: That's the spirit of Debate, a type of conversation where any issue, large or small, is up for a TED community-wide grilling. Bring your best facts, evidence and reasoning, but be prepared for a challenge, and be willing to change your mind if you encounter a persuasive viewpoint.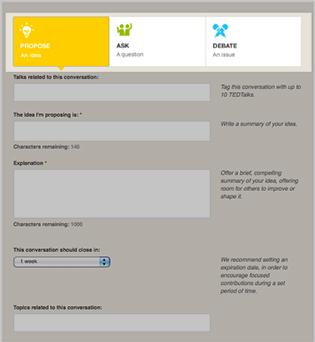 Related TED Talks
If your conversation was inspired by a particular TED Talk, you can associate it with that talk via the "Talks related to this conversation" field. Start typing either the title of a TED Talk or the speaker's names, and a list of suggestions will appear below the field. You can tag your conversation with up to 10 TED Talks, and your conversation will appear under "Recent conversations about this talk" on those talk pages.
Closing dates
When you start a conversation, you have the choice of leaving it open-ended (so people can always participate in it) or setting the point in time it will close, giving it an expiration date.
We recommend setting a closing date, to elicit responses within a timeframe that's useful to you. The available options are one week, two weeks, one month, or two months.
Closing statements: Setting a closing date enables you to cap off your conversation with a closing statement, once the conversation has concluded. You might use this opportunity to highlight a persuasive argument from your debate, to select the best answer to your question, or to tell the TED community how you'll use their input as you continue to refine your idea.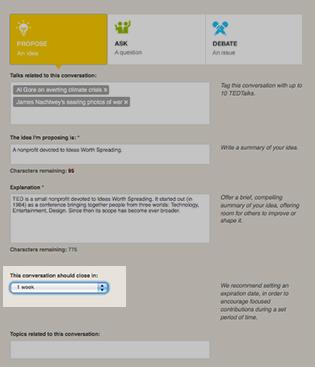 Topics
When you start a conversation, you can tag it with related topics. Enter text in the "Topics related to this conversation" field, and you'll see topics other users have created (e.g., "design", "space"); enter something new (e.g., "WWII") and your topic will be added to the list.
You can also browse conversations by topic, via the "Popular Topics" tag cloud to the left, or via the list of topics in a conversation's overview section.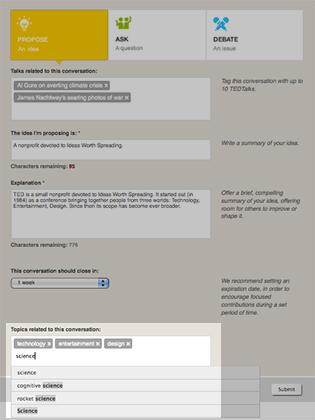 Ratings for comments and conversations
In tandem with the Global Conversation Project, we've developed a new comment-rating system that includes a new take on "TEDCred."
TEDCred: Along with showing the cumulative rating of comments made in TED Conversations and individual talks, the TEDCred rating system takes into account the total contribution a member has made to the TED community. Learn more about TEDCred
Thumbs-ups: Following input from a number of regular commenters on TED.com, we've decided to remove the "thumbs-down" option entirely, so comments and conversations can only be rated positively through a "thumbs up."
Flag as abuse: Spam or inappropriate comments (racism, obscenity or personal attacks, as outlined in our Terms of Use can be anonymously reported to our comment moderators via the "Flag as abuse" button.
Badges: In addition to TEDCred, we've developed a collection of badges that highlight the special contributions of TED community members: TED volunteer translators, TEDx organizers, TED speakers and more. Learn more on badges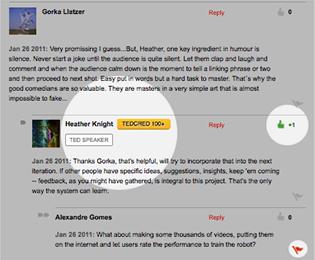 Behind the scenes
We've also made a number of background upgrades to the way we handle comments on TED.com.
Conversation Management: TED Conversations are curated to stay on-topic, respectful and interesting. Our conversation team also sets up live Q&As with TED speakers and other intriguing people. If you have a question about TED Conversations, email us at conversations@ted.com -- we'd love to hear from you.
Volunteer moderators: Our volunteer moderator team is drawn from among TED.com's best and most committed commenters. They keep an eye out for spam and inappropriate material, and help keep conversations respectful and on-topic.
Administrative tools: We've equipped TED.com with better ways to take action against spam and other inappropriate material.
Terms of use
To participate in TED Conversations, you must agree to our Terms of Use.