TEDx in a Box
TEDx events can be a catalyst for learning and inspiration in developing communities. But a lack of resources often poses a challenge. To help these events succeed, we've launched TEDx in a Box.
The idea for TEDx in a Box came from TEDxKibera, a TEDx event held in the slums of Nairobi. Despite a lack of quality local resources, the event was an extraordinary success. With TEDx in a Box, individuals in developing communities are delivered all the resources they need in order to organize a TEDx event, packaged in a portable box.
What's in the Box?
Designed by consultants at IDEO, TEDx in a Box contains everything needed to host a TEDx event: a projector, subtitled TED talks, a sound system, microphones and a how-to guide.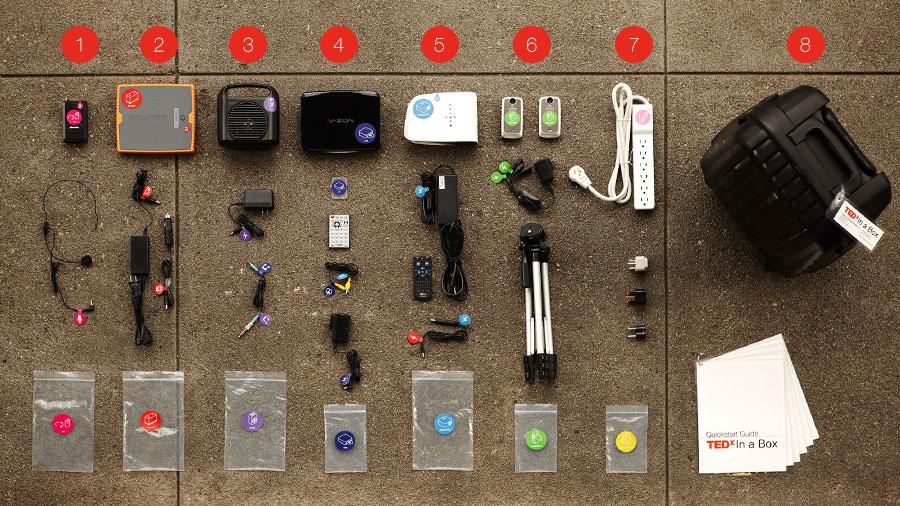 1) The projector is the smallest, brightest we could find, with very low power consumption.
2) The inverter attaches the projector to the battery.
3) The battery allows an organizer to play TED talks for 2 hours.
4) The DVD player allows organizers to show local leaders videos on the value of TEDx. The player attaches the projector and the PA system.
5) The PA system comes with a wireless mic, which can be used by speakers. For audiences who are unable to read, TEDx organizers can use the mic to read TED talks' subtitles.
6) The tripod and 2 camcorders allow the organizer to get a range of shots when they film their local speakers.
7) The powerstrip helps organize all the chargers provided with the devices.
8) The box.

Get involved
There are three ways to get involved with TEDx in a Box:
Apply to borrow a box, and host a series of TEDx events
Sponsor a box for an event in the developing world
If you're a TEDx organizer, you can sponsor a box and mentor an event in the developing world
Learn how to host your own TEDx in a Box event
If you have questions about the "TEDx in a Box" initiative, email tedx@ted.com.