Global impact: TED Fellows Program
Founded in 2009 with an inaugural class at TEDIndia, the TED Fellows program has grown into a global network of 378 innovators representing 86 countries, working across a vast spectrum of disciplines, from the arts to science to medicine to entrepreneurship and beyond. Explore the infographics below to get a sense of the unique ways that the program impacts the individuals who join the TED Fellows family, as well as how the work of Fellows is bringing positive change to every corner of the world. Additionally, you can see how the global Fellows network fosters unexpected, cross-disciplinary collaborations that would likely never have happened otherwise.
---
Program snapshot
Founded in 2009, The TED Fellows program has grown to become a global network of 378 innovators representing 86 countries, working across a vast spectrum of disciplines.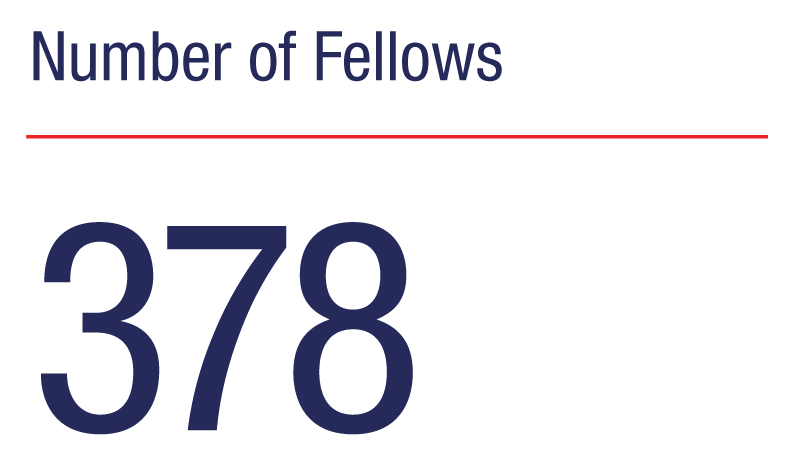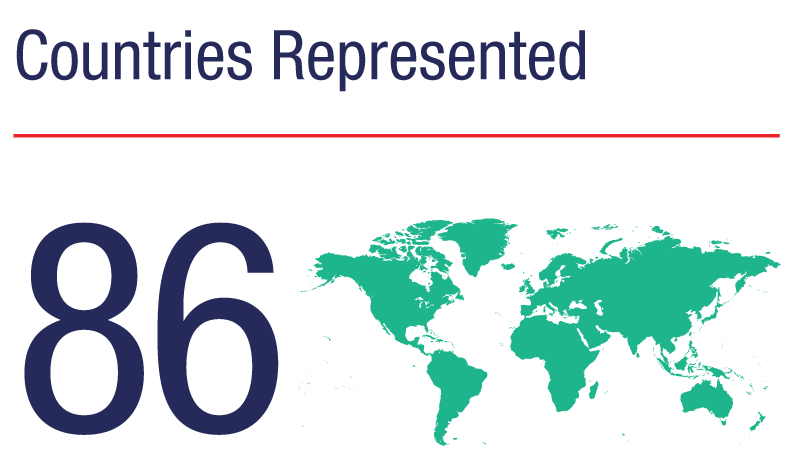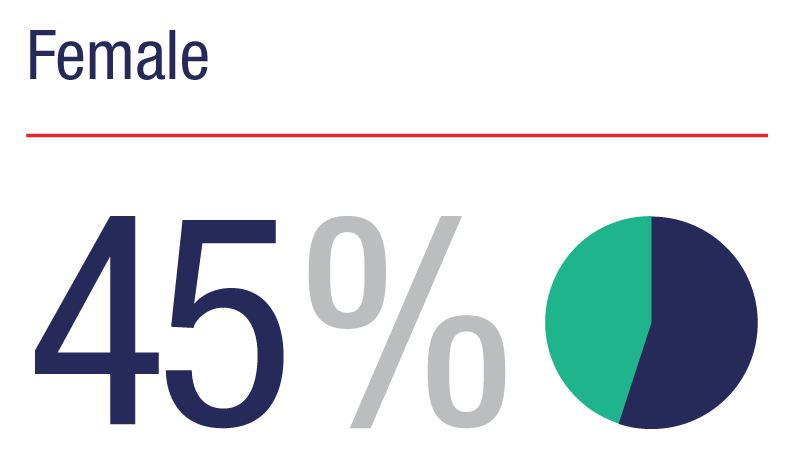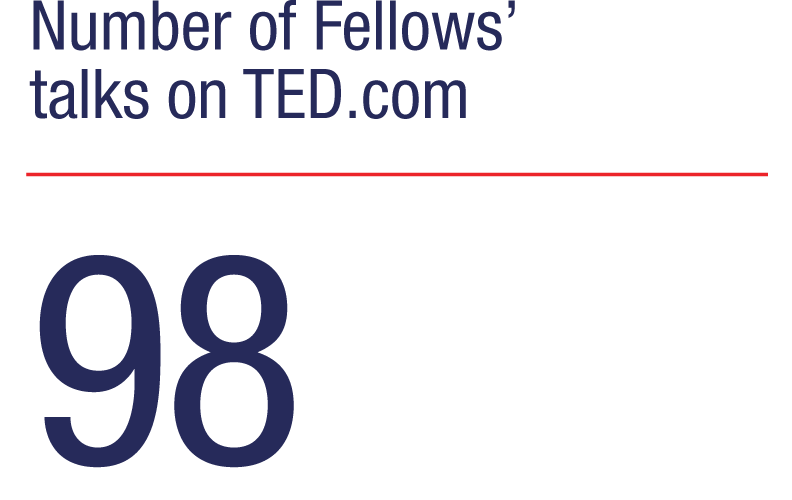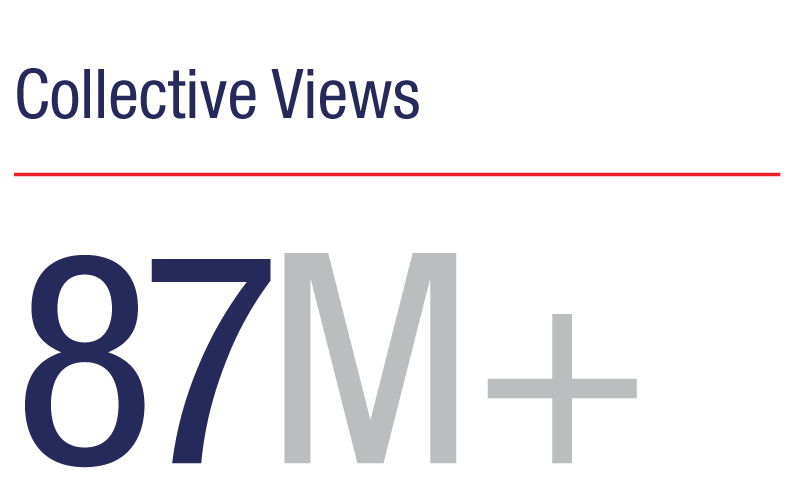 Personal and professional impact of program on Fellows
Fellows report a number of significant changes to their personal and professional lives as a Result of the TED Fellows program. Here's a statistical snapshot of the program's influence.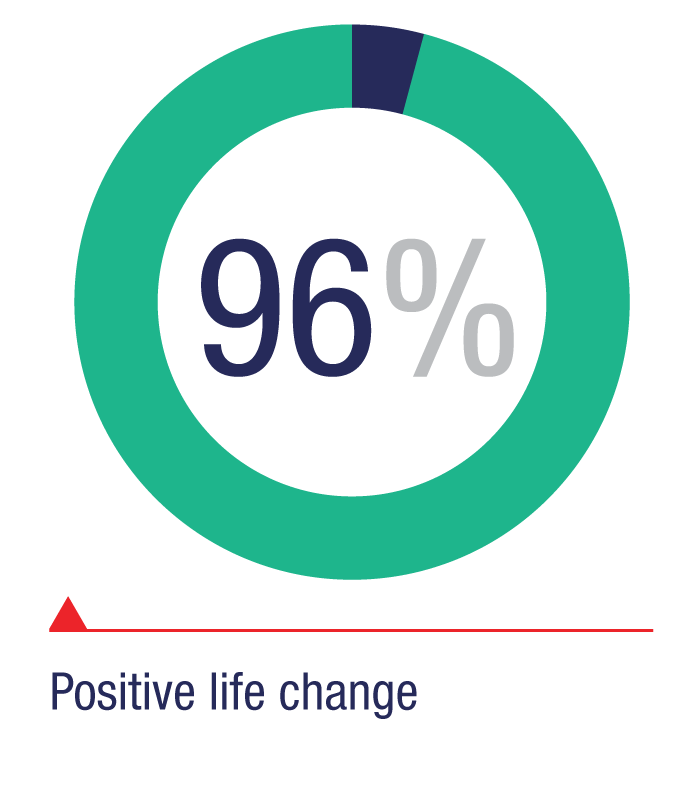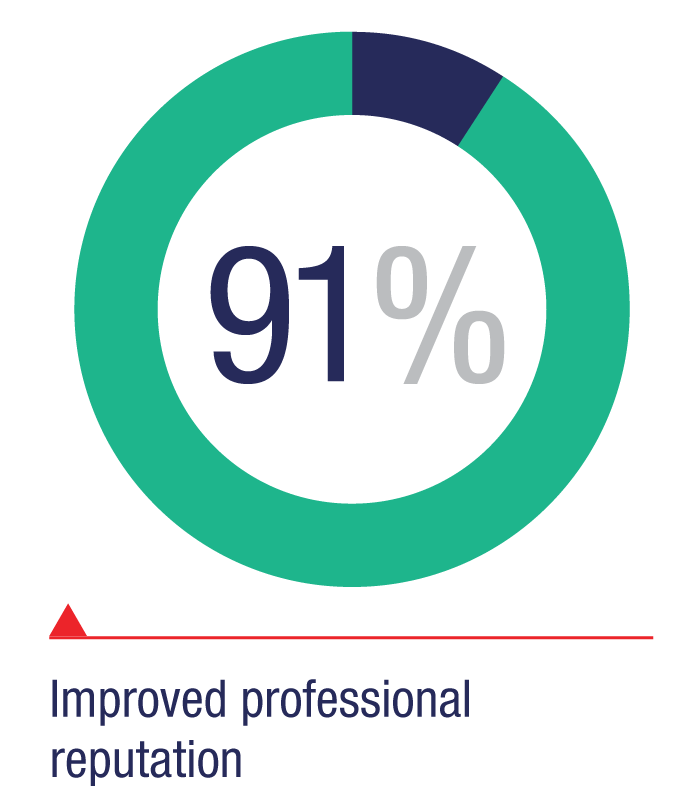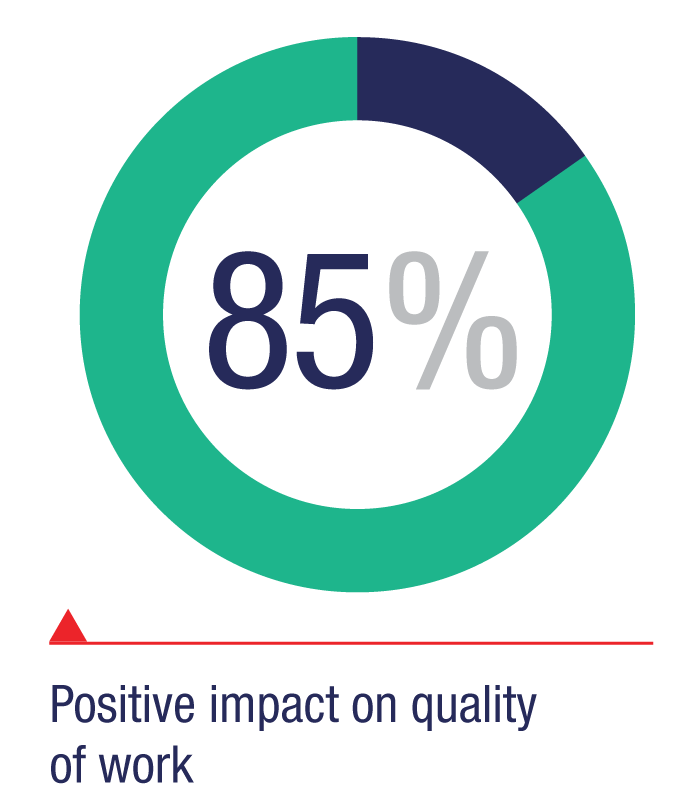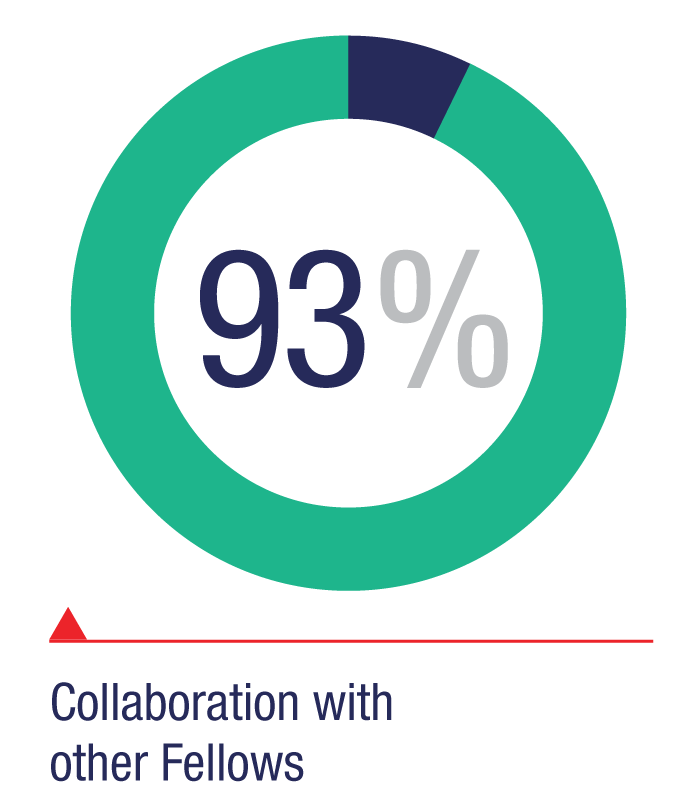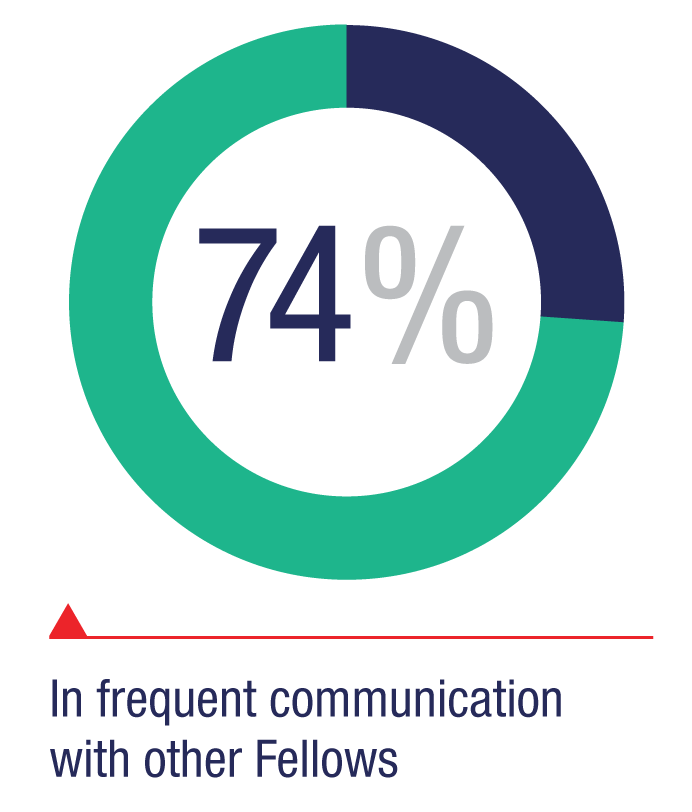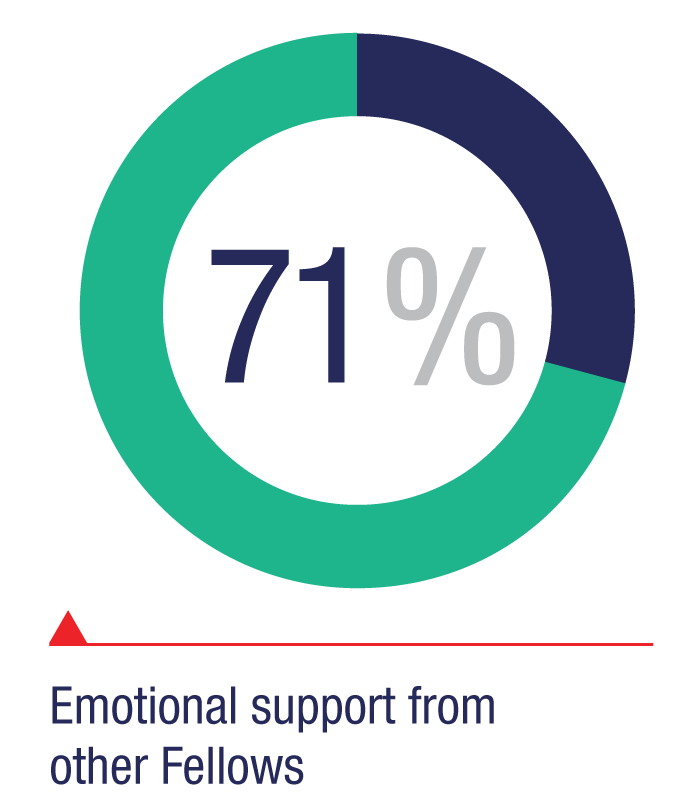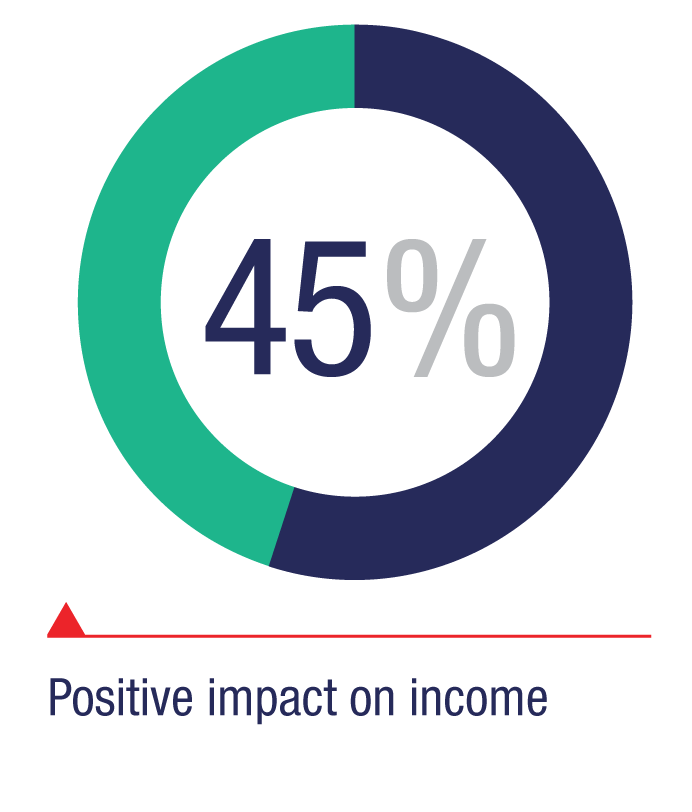 ---
Fellows around the globe
TED Fellows are working in every corner of the world (and even outer space!) on topics from prison reform to wild bird conservation to social gastronomy to the origins of the universe... and much, much more. As you can see from the maps below, there are very few places TED Fellows have yet to make an impact.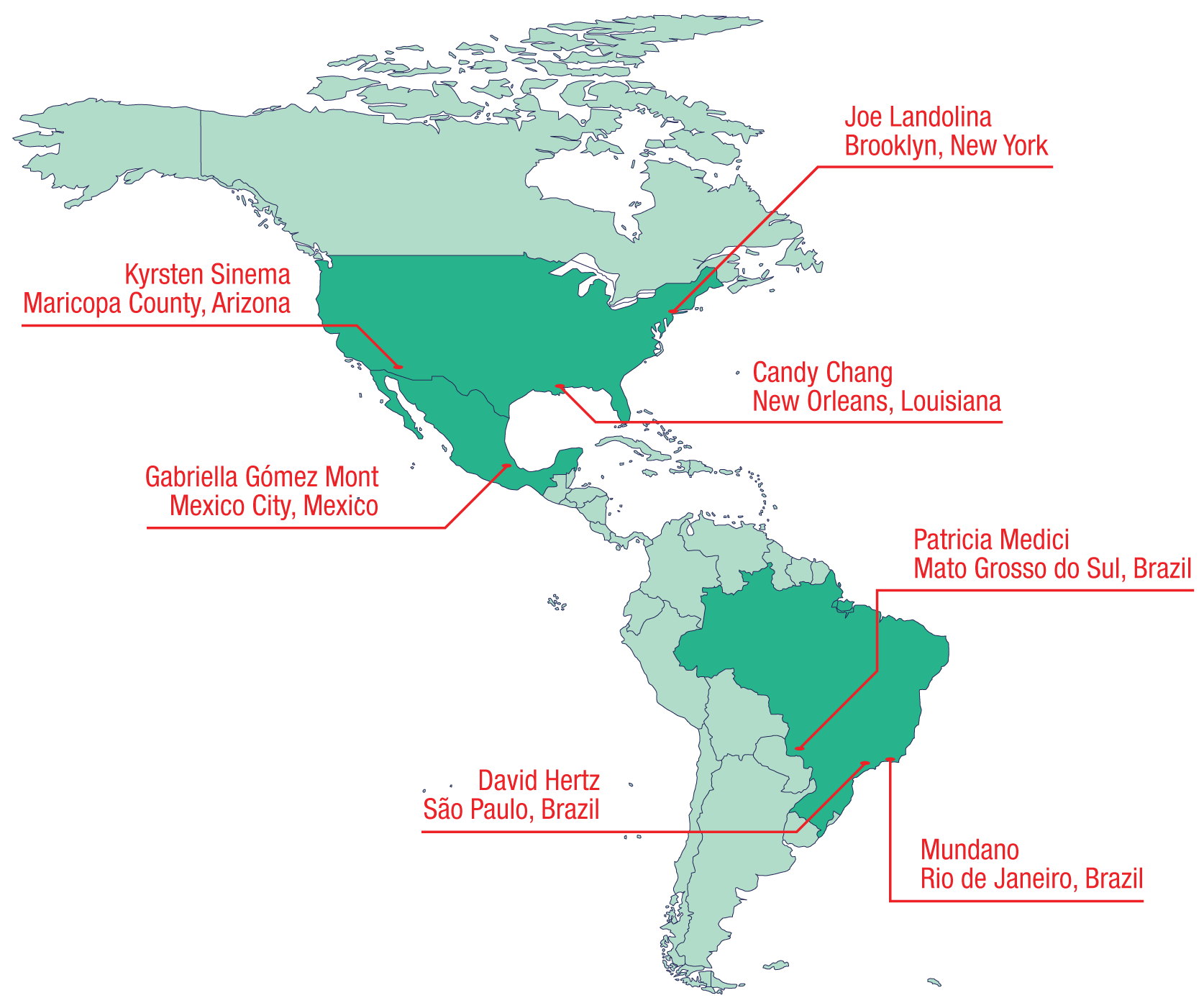 Kyrsten Sinema — Maricopa County, Arizona
In 2012, Kyrsten Sinema became the first TED Fellow in Congress. She is currently serving as US Representative from Arizona's 9th congressional district.
Joe Landolina — Brooklyn, New York
Joe Landolina's VETIGEL is a plant polymer-based gel that can stop traumatic bleeding in under 10 seconds when applied to wounds.
Candy Chang — New Orleans, Louisiana
Since Candy Chang's first "Before I Die..." wall went up in 2011 in New Orleans, over 500 walls have been created, in more than 70 countries and 35 languages.
Gabriella Goméz-Mont — Mexico City, Mexico
Gabriella Goméz-Mont directs Laboratorio para la Ciudad, Mexico City's creative think tank and experimental space that considers urban futures for the largest megalopolis on the American continent – including a mobility solution for a city where 5 million people use the subway daily.
Patricia Medici — Mato Grosso do Sul, Brazil
Patricia Medici's Lowland Tapir Conservation Initiative has captured and monitored over 80 tapirs in the Atlantic Forest and Pantanal biomes of Brazil, resulting in the largest existing database of information on tapir spatial ecology, intra-specific interactions and social organization.
David Hertz — Sâo Paulo, Brazil
Since launching his social gastronomy organization Gastromotiva in 2006 in São Paulo, Brazilian chef David Hertz has helped 1,245 people from vulnerable communities get vocational kitchen training, impacting 45,000 favela residents.
Mundano — Rio de Janeiro, Brazil
To date, graffiti artist Mundano's Pimp my Carroça initiative, which seeks to bring visibility to trash and recyclables collectors around the world, has "pimped" 264 carts in 13 cities around the world, involving 230 artists and 782 volunteers.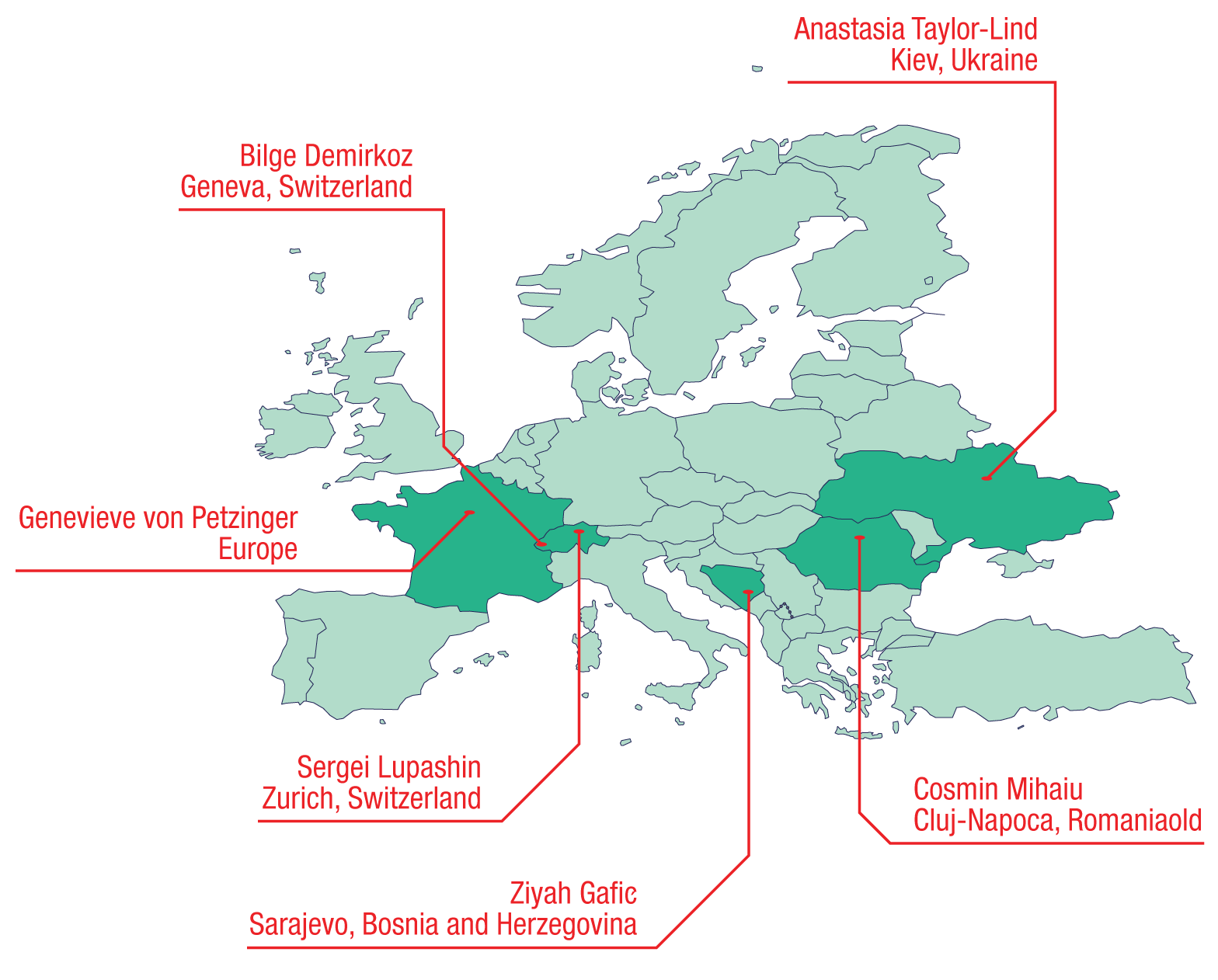 Bilge Demirkoz — Geneva, Switzerland
At the Large Hadron Collider near Geneva, Switzerland, physicist Bilge Demirkoz collides billions of particles moving around the 27-kilometer LHC ring at 11,200 times per second – nearly the speed of light!
Genevieve von Petzinger — Europe
Genevieve von Petzinger has documented prehistoric images at 52 Ice Age rock art sites in France, Spain, Portugal and Sicily, dating back 10,000 to 41,000 years.
Sergei Lupashin — Zurich, Switzerland
Sergei Lupashin's Fotokite – a tethered aerial camera – can fly up to 150 meters high and has the potential to revolutionize photography for journalists in the field.
Ziyah Gafić — Sarajevo, Bosnia and Herzegovina
For his project Quest for Identity, photographer Ziyah Gafić has documented more than 2,600 everyday objects like clocks, keys, combs and glasses recovered from hundreds of mass graves in Bosnia and Herzegovina, memorializing the victims of the Bosnian War.
Anastasia Taylor-Lind — Kiev, Ukraine
For her book Maidan – Portraits from the Black Square, photographer Anastasia Taylor-Lind took 400 portraits of anti-government protesters and mourners in a makeshift studio in Maidan Nezalezhnosti during the February 2014 Ukrainian revolution.
Cosmin Mihaiu — Cluj-Napoca, Romania
Cosmin Mihaiu's game-based physical therapy software MIRA is currently undergoing tests in five countries involving more than 100 patients – the oldest of whom is 92 years old.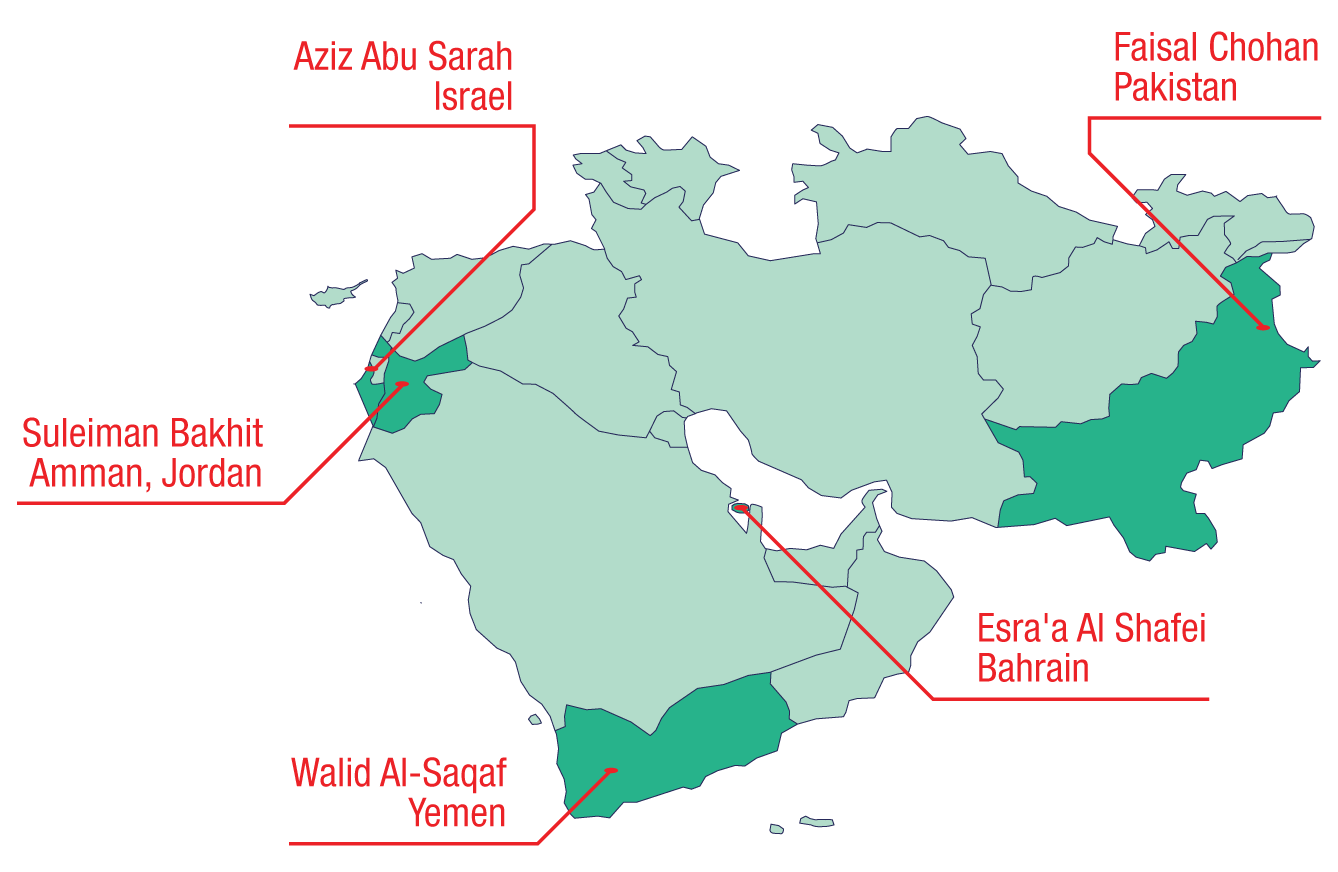 Aziz Abu Sarah — Israel
Aziz Abu Sarah's MEJDI Tours, which is focused on building cultural bridges with tourism, curated multicultural trips for over 600 people in 2014, and is now operating in Northern Ireland, Israel, Turkey, Jordan, Oman and UAE.
Suleiman Bakhit — Amman, Jordan
In 2015, Jordanian comic-book publisher Suleiman Bakhit was invited to the White House to attend the Summit on Countering Violent Extremism.
Walid Al-Saqaf — Yemen
Since launching in 2010, Walid Al-Saqaf's Alkasir, software that circumvents website censorship, has counted more than 86,000 unique downloads of the program from 143 countries – with the majority of downloads from Iran and Syria.
Faisal Chohan — Pakistan
There have been more than 70,000 successful hires through Faisal Chohan's BrightSpyre. With 1.2 million users, it's Pakistan's largest online recruitment portal.
Esra'a Al Shafai — Bahrain
Today there are more than 1,400 bands and 7,300 original tracks on Esra'a Al Shafei's Mideast Tunes, a platform for underground musicians in the Middle East and North Africa who make music for social change.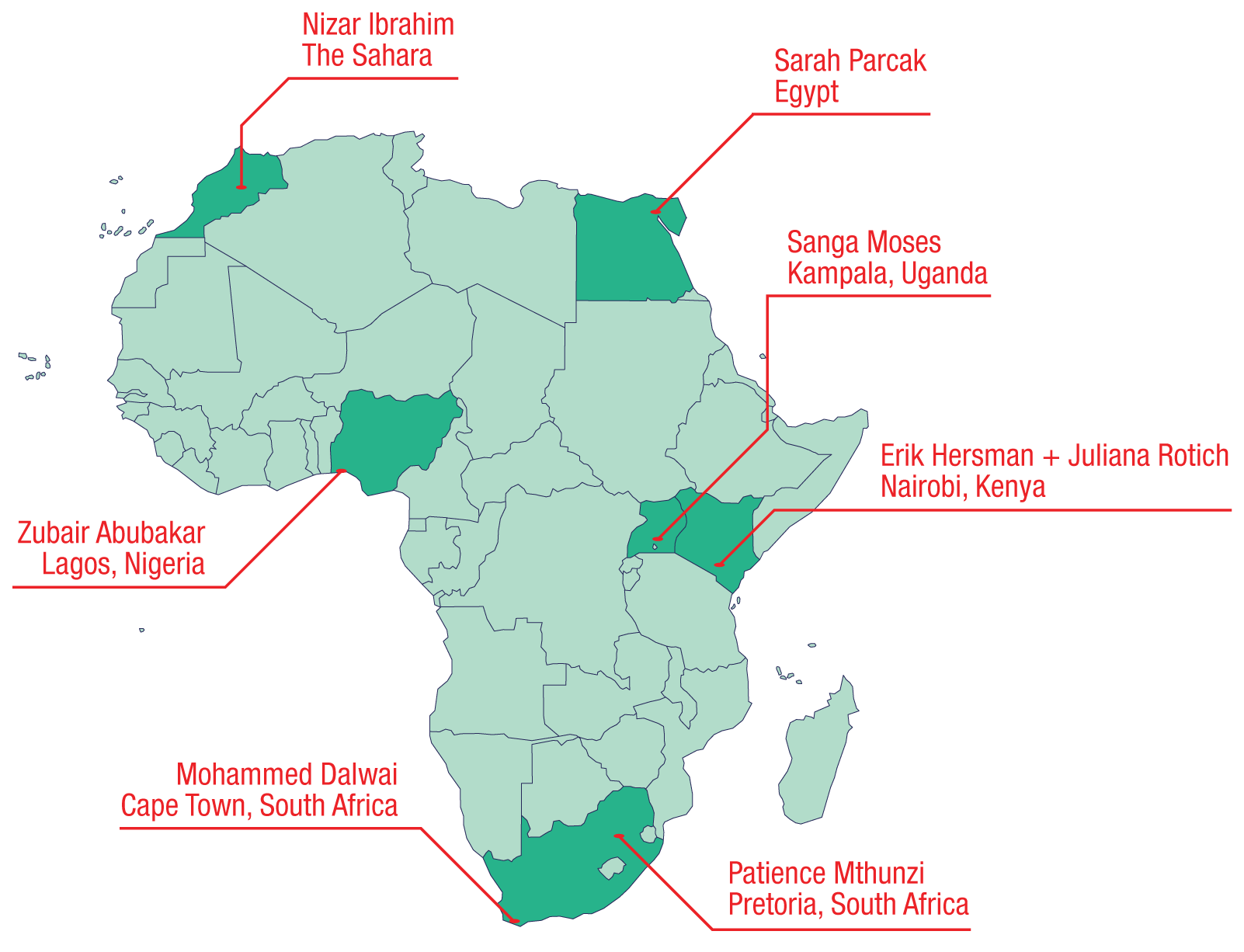 Nizar Ibrahim – The Sahara
Paleontologist Nizar Ibrahim led a team that discovered new remains of Spinosaurus, a 50-foot-long carnivore that hunted its prey in rivers 97 million years ago.
Zubair Abubakar — Lagos, Nigeria
With his Nigerian Constitution app, Zubair Abubakar has helped more than 1 million Nigerians access the Constitution for free.
Mohammed Dalwai — Cape Town, South Africa
Mohammed Dalwai's apps, created with The Open Medicine Project South Africa, have been accessed more than 1 million times in 193 countries around the world by 60,000 healthcare workers.
Sarah Parcak — Egypt
Archaeologist and Egyptologist Sarah Parcak has found 3,100 settlements, thousands of tombs and 17 possible pyramids.
Sanga Moses — Kampala, Uganda
Sanga Moses's Eco-Fuel Africa has helped 2,500 smallholder farmers save $3.4 million in energy-related expenses by converting their organic waste to charcoal, mitigating 500,000 tons of CO2.
Erik Hersman + Juliana Rotich — Nairobi, Kenya
Ushahidi, founded by Erik Hersman and Juliana Rotich, had 45,000 users in Kenya when it first launched during election violence in 2008, helping to document incidents of violence as well as peace efforts.
Patience Mthunzi — Pretoria, South Africa
Dr. Patience Mthunzi, who is working in biophotonics to discover medical applications for laser technology, was the very first South African PhD student at the School of Physics and Astronomy of the University of St Andrews, Scotland.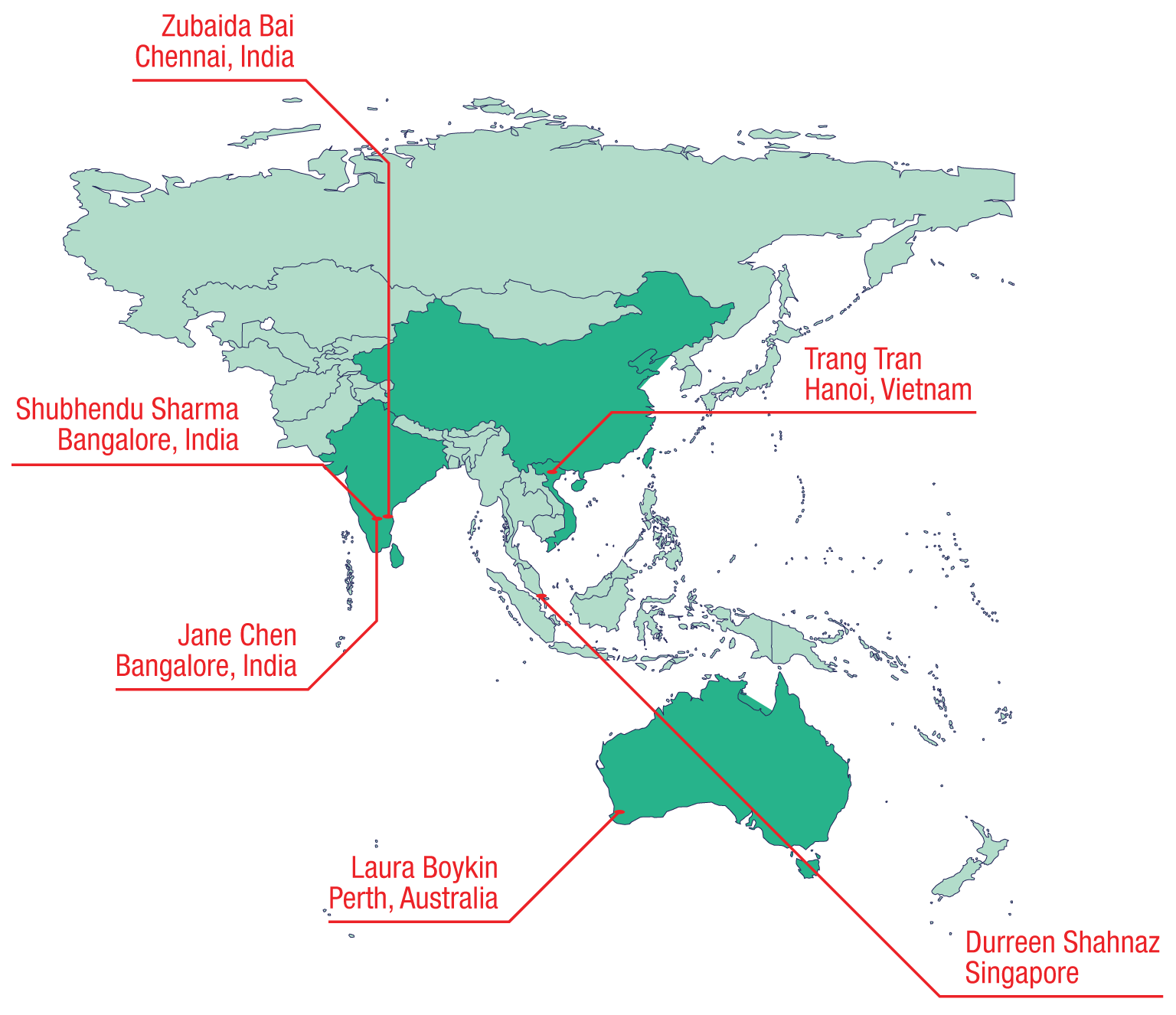 Zubaida Bai — Chennai, India
Zubaida Bai's $2 clean birth kit JANMA contains six essential tools for safe and sterile childbirth conditions. It has reached more than 100,000 mothers in India, Haiti, Laos, Afghanistan and Africa.
Shubhendu Sharma — Bangalore, India
Shubhendu Sharma's company Afforestt, which creates native wild forests at the lowest possible cost, has planted 55 urban forests in 18 cities – a total of 60,450 trees.
Jane Chen — Bangalore, India
Jane Chen's Embrace infant warmer – which costs a fraction of the price of a standard incubator – has so far saved the lives of more than 150,000 babies in 10 countries.
Laura Boykin — Perth, Australia
Laura Boykin's Whiteflybase has collected genetic information from 605 individual whiteflies from more than 70 countries. This data will help scientists prevent the insect from devastating staple crops like cassava.
Tran Tran — Hanoi, Vietnam
Since 2014, Trang Tran's Fargreen has helped farmers recycle 15 tons of rice straw to help grow 200 kilograms of mushrooms – preventing 15 tons of toxic greenhouse gases from entering the atmosphere.
Durreen Shahnaz — Singapore
Durreen Shahnaz's Impact Investment Exchange Asia has raised millions of dollars of investment capital for social enterprises through its private placement platform, reaching the lives of over 10 million people across Asia.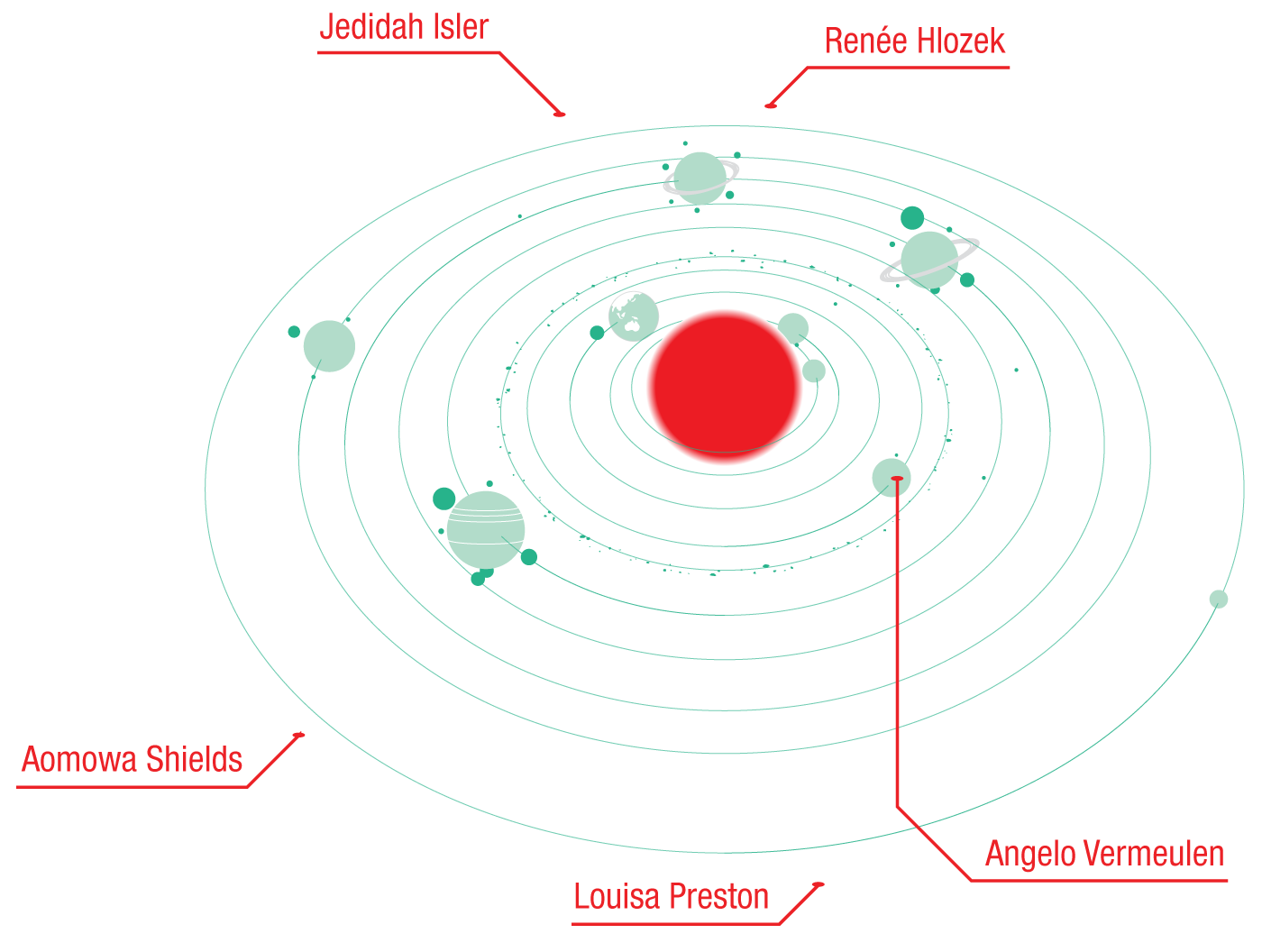 Jedidah Isler
Astrophysicist Jedidah Isler studies blazars – supermassive, hyperactive black holes that can be 1 to 10 billion times the mass of the sun, and which can shoot powerful jet streams of particles in our direction.
Renée Hlozek
Using the Atacama Cosmology Telescope in northern Chile, Renée Hlozek studies the oldest visible light in the universe, emitted when the universe was about 400,000 years old.
Louisa Preston
Louisa Preston studies Mars-like environments on Earth, such as the Dry Valleys of Antarctica, which at -20°C is still 30 degrees warmer than Mars (-55°C).
Aomowa Shields
Astrophysicist Aomowa Shields studies the climate of Kepler 62f – a planet about 1,200 light years away from Earth – with an eye toward its potential habitability.
Angelo Vermeulen
Angelo Vermeulen spent 2,800 hours in isolation as crew commander of NASA's 2013 HI-SEAS simulated Mars mission, which took place on Mauna Loa in Hawaii.
---
Fellows in collaboration
TED Fellows often report "finding their tribe" in the global network of other Fellows – that is, they discover a group of other multidisciplinary thinkers who are using innovative methods to leave the world a better place than when they found it. In the six years since the program was founded, TED Fellows have been a part of numerous cross-disciplinary and inspiring collaborations.

Naomi + Skylar
Skylar Tibbit's Self-Assembly Lab at MIT helped Naomi Natale create prototypes for her One Million Bones project - which aimed to raise awareness about genocide worldwide - by producing paper-pulp bones and guiding fabrication techniques.

Skylar + José
Skylar Tibbits and José Gómez-Márquez share a large lab space at MIT and have collaborated on many projects, including "biosensing" furniture – like an intelligent chair that can share information about our health as we interact with it.

José + Camilo
José Gómez-Márquez and Camilo Rodriguez-Beltran are working together to research novel ways to develop low-cost, replicable environmental and health sensors in rural and coastal communities to detect and forecast things like pollution, weather conditions and infectious diseases.

Camilo + Greg
Camilo Rodriguez-Beltran and Greg Gage worked together at the Universidad del Desarrollo in Chile to establish Factoria, a makerspace at the university.

Greg + Ayah
Greg Gage and Ayah Bdeir worked together on the Muscle SpikerBox module for littleBits, which teaches neuroscience by letting users control littleBits modules with their muscles.

Ayah + David
Ayah Bdeir introduced David Lang to eventual investors in his company OpenROV, which produces low-cost underwater robots.

David + Erik
Erik Hersman helped David Lang use Ushahidi's simple map-making tool Crowdmap for Lang's new OpenExplorer platform, a digital field journal for explorers around the world.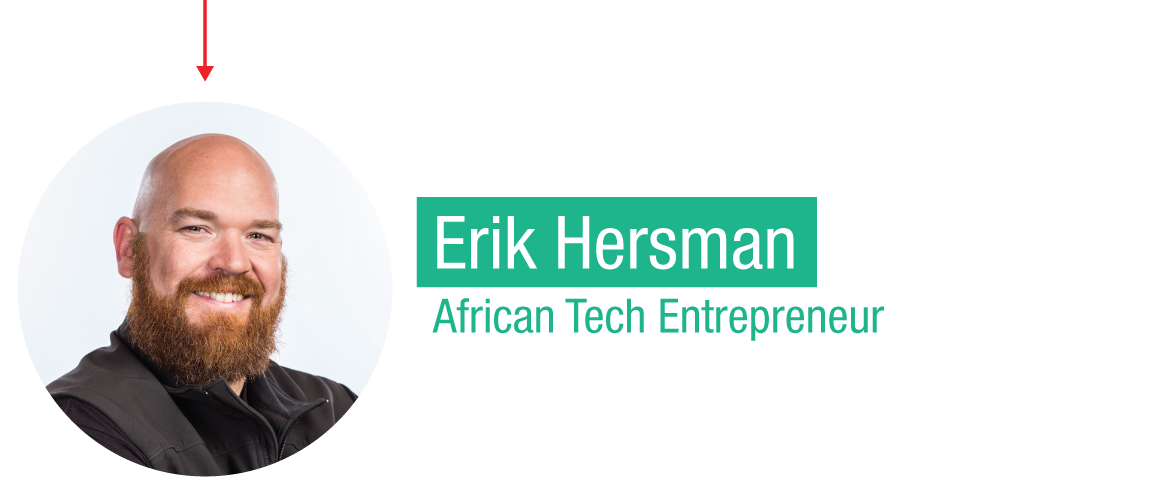 Erik + Juliana + Steve
Steve Boyes is using Erik Hersman and Juliana Rotich's BRCK – a rugged, cloud managed, full-featured modem and router – on his 1,700 kilometer expedition across the Okavango Delta.

Steve + Andrew
Andrew Bastawrous is bringing his smart-phone based eye examination system Peek to hard-to-reach patients in Botswana with the aid of Steve Boyes.

Andrew + Robert
Andrew Bastawrous is working with Robert Simpson's Zooniverse to crowdsource retinal data – allowing anyone, anywhere to participate in diagnosing eye diseases.

Robert + Julia
Julie Freeman used metadata from Robert Simpson's citizen science site Zooniverse to create We Need Us, a project that explores the artistic possibilities of big data.

Julia + Yana
Julie Freeman and Yana Buhrer Tavanier together created Fine Acts, an organization that seeks to create and commision art for social change.

Yana + Alicia + Safwat
The very first Fine Acts commission was The Future, a sculpture that debuted at TED2015. It was the result of a collaboration between Safwat Saleem and Alicia Eggert.

Safwat + Louisa
Safwat Saleem is designing the cover of astrobiologist Louisa Preston's upcoming book "Goldilocks and the Water Bears: The Search for life in the Universe," which explores questions surrounding the search for life.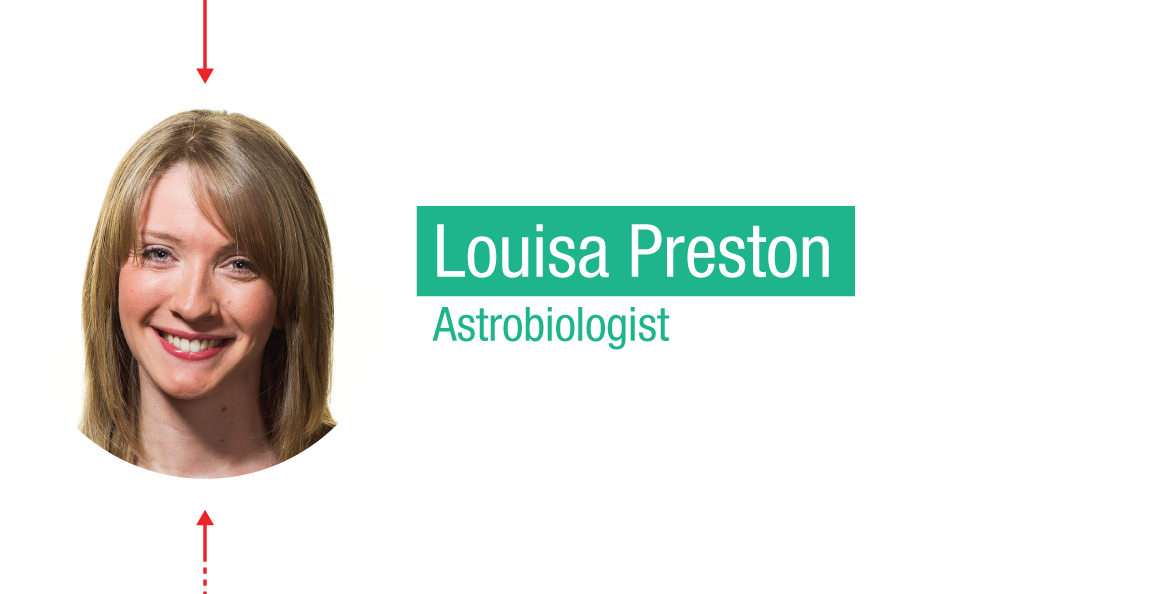 ---
Life of a TED Fellow
Asha de Vos is a Sri Lankan marine biologist and TED Fellow who specializes in researching and working with marine mammals. She has degrees from the Universities of St. Andrews and Oxford, and her PhD from the University of Western Australia. She oversees the Sri Lankan Blue Whale Project, the first long-term study on blue whales within the northern Indian Ocean.
Asha was selected as a TED Fellow in 2012. Below is a snapshot of how the TED Fellows program has impacted her life, both personally and professionally.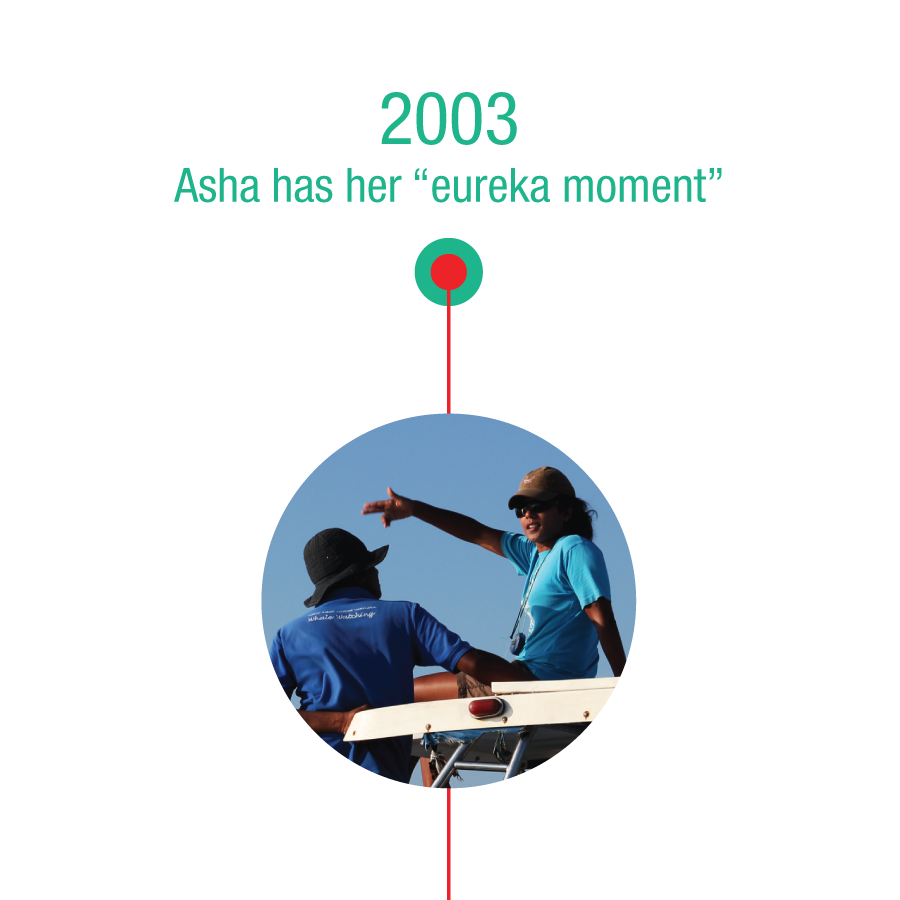 In Asha's words: