TOMS Giving Project
In 2006, Blake Mycoskie befriended children in Argentina and found they had no shoes to protect their feet. To help, he created TOMS Shoes, a company that would match every pair of shoes purchased with a pair of new shoes given to a child in need. One for One.
At TEDActive 2012, TOMS sponsored the TEDActive Giving Project, harnessing the energy, optimism and talent of the TEDActive community to create innovative answers to big questions. Working with the TED team, TOMS focused the energy of thinkers and doers on answering this question: How do we get individuals, businesses, and communities more engaged in the act of giving?
The process
We jump-started the brainstorm online, creating a TEDActive Giving Facebook Group as a conversation platform and promoting the discussion with this incredible video.
On-site at Palm Springs, the excitement around the Projects was infectious. The week began with an immersive Pre-conference Experience and an idea-sharing Builder's Breakfast, opening the question up to the community at a Picnic Lunch on Tuesday. As ideas coalesced around the Project Wall, the community went out to mingle and celebrate on Wednesday night at three breathtakingly scenic Project House Parties.
On Thursday, after final meetings, the entire community raised a glass to the ideas that emerged as the lead facilitators delivered short, inspiring talks during the Project Toasts.
The blogs, thoughts and the story of the Giving Project were all recorded on a dedicated page on TED.com. Every Project was manned by a facilitator to encourage conversation, a storyteller to capture and represent ideas and an amplifier to take those ideas to the wider community.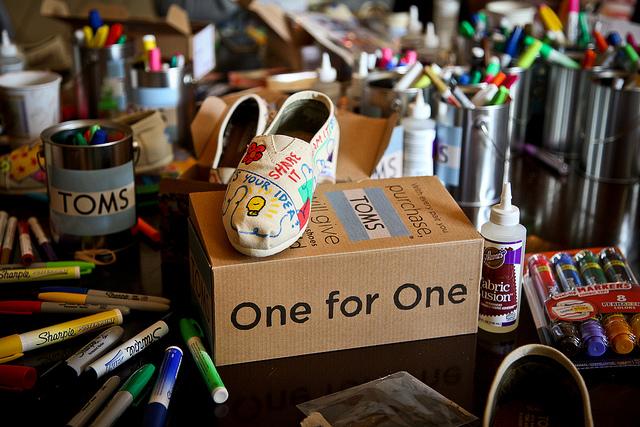 Pre-conference, attendees decorated TOMS shoes
The conversation online
3 weeks
193 members
420 posts, comments and likes
Over two weeks leading up to the TEDActive conference, people joined the Facebook group to share their ideas and spark discussion. People shared posts and photos about interesting programs in their communities, related articles, videos and more.
The conversation on-site
The Giving Project began their journey by examining personal giving and asking themselves, "What gets us engaged?" and "Are we inherently motivated to give?" The group's consensus was that we need to learn the behavior of giving. The urge to give is not innate.
As the conference progressed, Peter Diamandis' talk on our abundant future stirred discussion. Participants debated whether crisis or hope was a stronger motivator.
Other topics included: how corporate giving creates brand loyalty, community giving, giving that matches your enthusiasm, supporting others who give and even conversations about why one might not want to give.
In the 24-30 age range, there was a strong desire to see the value in their gifts and understand where their contributions might be going.
Insights and ideas
These are some of the most popular ideas and insights we discovered during this process. We hope that you find these as stimulating and exciting as the TEDActive community did:
Engage existing communities, especially those built around organizations, in habitual giving. Build the process into activities that are already routine for a group.
Make brand loyalists a part of the giving community. Tupperware cooking parties could donate the food to the homeless or allow eBay sellers to add a "Seller for Good" badge if they pledge five percent of their revenue to charity.
Create platforms that allow people to donate their skills and time to programs and causes in their field, that they are already highly enthusiastic about.
Use informal communities like neighborhood groups to support others in their attempts to give — create a network where one person might pet-sit or baby-sit while another volunteers.
Organize flash mobs of volunteers to give their time after larger crises or to build numbers for a specific need.
---
Watching the TEDActive community grow and think continues to be a thrilling journey, as over 600 attendees flock from all corners of the Earth to be a part of this community and these conversations. The TEDActive Projects continue to be a celebration of ideas, imagination, innovation and inspiration.