Cartier Women's Initiative Awards
In furthering its mission to support women entrepreneurs and encourage creative excellence across the world, the Cartier Women's Initiative Awards is partnering with TED in 2018. The Cartier Awards will host a specially curated TED session, followed by the reveal of the six 2018 laureates, on Thursday April 26th during the Cartier Awards ceremony in Singapore.


At Cartier, we very much value creative partnerships that enhance our curiosity and openness to the world. Giving these women entrepreneurs a platform and a unique way to share with one another here in Singapore is, for us, a fantastic window into the world as it is today.

Cyrille Vigneron, CEO of Cartier

About the Awards
The Cartier Women's Initiative Awards is an annual business plan competition created in 2006 by Cartier, McKinsey & Company and INSEAD Business School to identify, support and encourage projects by women entrepreneurs. The competition is open to women from around the world leading creative, for-profit start-ups that are financially sustainable and socially responsible. Since its inception in 2006, 16,000 women from around the world have applied to the competition, and the Cartier Awards has accompanied 198 promising female business-owners and recognized 64 laureates.
A Celebration of Women & Bold Ideas
In a spirit of engagement and empowerment, the 2018 ceremony will celebrate women entrepreneurs under the theme Bold Alchemy. As a partner for this event, TED will create a platform through which a select group of speakers and change makers will engage in a conversation about how innovative efforts, when combined together, open the door to audacious alchemy, resulting in bold and impactful new creations.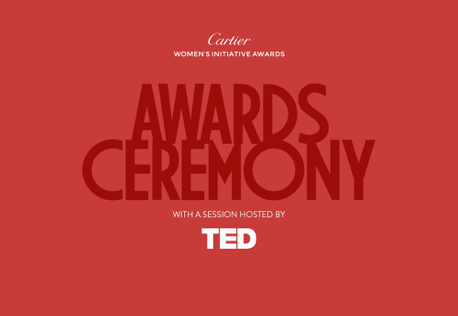 Cartier Women's Initiative Awards Ceremony
Bold Alchemy
Magic happens when we push beyond what is and discover what could be. In today's fast-paced, ever-changing and evermore global world, the status quo is holding us back and stifling the birth of new possibilities. True liberation begs for more than incremental steps and passive reactions. We need the freedom to dig deeper and the opportunity to unearth the most groundbreaking ideas. And we can't do it alone. Together, the sum of our efforts is greater than each individual stride. Only together can we galvanize real concrete change and face issues with diverse new perspectives. And that's when the magic happens. Through our combined efforts, we can create audacious alchemy: poetic transformations, inventive solutions, resulting in bold new creations.


TED is a global community, welcoming people from every discipline and culture who seek a deeper understanding of the world. We are excited to be partnering with Cartier in its support of female entrepreneurs and their courageous ideas.

Lisa Choi Owens, Chief Revenue Officer and Head of Global Partnerships at TED

TED & Cartier's Bold Alchemy
A conversation between Cartier Awards Laureates and TED youth ambassadors
To solve the issues facing the world today - both global and local, large and small - we need to work together, combining our actions to take quantum leaps. TED youth ambassadors sat down with Cartier Awards Laureates to see how they work together to make change, and how we can inspire change in each other.