CrocettaSalon
x
= independently organized TED event
Theme: Good Food Mood
Torino, Italy
September 14th, 2013
Watch video from the event
Please install flash player to see this video.
View photos from the event on Flickr
About this event
TEDx Video that we showed:
TEDxOttawa - Natasha Kyssa - Let Food Be Thy Medicine
http://www.youtube.com/watch?v=rlFuFI44c5Y

highlights:
half day event
3 speakers
60 attendees
20 crew members
53 #GoodFoodMood tweets
60 retweets and mentions at @TEDxCrocetta
8 favorite tweets
Confirmed Speakers
Pier Bardoni
Talk: "Digital evolution. What's next?"
Bio: Pier Bardoni is the founder and CEO of THINGS, a design and business innovation company which focuses on the Internet of Things, a first of its kind in Italy. He has a Master of Science in Electronics Engineering and more than 20 years experience with online strategic marketing, social media marketing and advertising, and has always loved the digital culture. He began working as an engineering manager in a web company in 1995 and has since continued to work as a business manager and digital strategist for some of the most important Italian companies of digital communication: Inferentia, Fullsix and finally H-art, after working as the head of strategic consulting in GroupM, holding media of the WPP group.
Germana Fruttarolo
Talk: "Shiatsu, the art of health and well-being"
Bio: Germana Fruttarolo is the Co-Founder and Director of Studies at Institute Itado in Turin, where she teaches Shiatsu, Yoga and Craniosacral Biodinamics. She started practicing Yoga in 1972 and in 1984 became in touch with Macrobiotics which brought her to Shiatsu, what became shortly her main interest. In 1996 she started her studies of Craniosacral Biodinamics. Besides the Shiatsu School in Turin, I opened other Schools in Nice, Sanremo and Mondovì.
Giulia Valente
Talk: "A vision for sustainable grocery shopping"
Bio:Giulia Valente is the Co-Founder of Tacatì, an online marketplace for local and artisanal food that has as mission makes the grocery shopping tastier, easier and more sustainable. She graduated in Economics at Bocconi University and then gained experience as retail marketing specialist at Philips. She's very fond of downhill skiing and that's where she gets inspiration for all her endeavors.
Organizer
Elisa Vola
Turin, Italy
Organizer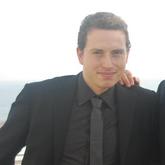 Amedeo Sapio
Torino, Italy
Team
Kristen Meiburger Testa

PR Supervisor
---