Suzhou
x
= independently organized TED event
Theme: Creative Leap
Suzhou, China
March 29th, 2014
Watch video from the event
Please install flash player to see this video.
View photos from the event on Flickr
About this event
ARE YOU LOOKING TO...
Trigger burst of inspiration? Bring innovation to the base of the pyramid? Adapt a technology to your region? Let wildly creative thinkers share ideas, strategies and warmhearted encouragement to let your genius out. Make your creativity to leap.
Organizer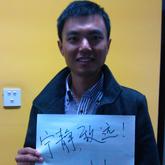 Jade Zhao
Suzhou, China
Organizer
Lisa Qin
Suzhou, China
Team
Brian Tam

Co-Host

Sunny Pan

Co-Orginazor

Alan Zhao

Co-Orginazor

George Zhang

Co-Orginazor

Wensi Zhang

Co-Orginazor

Jones Ji

Co-Orginazor
---