Laçador
x
= independently organized TED event
Theme: Preparing Cities for the Future
Porto Alegre, Brazil
April 9th, 2011
About this event
When creating a TEDx event name TED orients to choose symbols of neighborhoods, name of region or neighborhood, where TEDx event operates, so our TEDx is TEDxLaçador. A tribute to the symbol of Porto Alegre. Also to artists through its creator, Caringi, to people in the spirit of Passion Cortes (Laçador inspiration), and the idea of the loop that captures things good!

The first edition of TEDxLaçador will took place on April 9, 2011 under the theme Preparing Cities for the Future.

From visionary to engineers, from thinkers to scientists, from educators to social activists will come together to discuss the future of cities and the search for new paths, alternatives, initiatives and projects that actually promote the growth of cities and reduce social inequality.
Confirmed Speakers
Marc Gobé
Author, Designer, Futurist, Filmmaker Marc Gobe is the president of Emotional Branding LLC. Translated in 17 languages his best selling book Emotional Branding initiated one of the most powerful movement in modern marketing around the world by bringing the focus on consumers as the ultimate power in branding strategies. His firm Emotional Branding LLC is an experimental and futuristic think tank that offers insight into the trends that move consumers and ideas that inspire marketers. The 2010 revised and updated paperback version of his book Emotional Branding includes winning strategies in the age of Social Media. Marc's books champion the role of design and creative collaboration in building successful brand innovation that tap the roots of human emotion. In his first book "Emotional Branding" Sergio Zyman, then the CMO of Coca Cola is quoted saying "Over the next three years, the aid Marc gave me was instrumental in helping us take the volume of The Coca Cola Company from nine billion to fifteen billion cases a year." Clients such as Coca-Cola, Air France, AOL, Estée Lauder, Abercrombie & Fitch, Banana Republic, Ann Taylor, Victoria's Secret, IBM, Johnson & Johnson, Hy-Vee, Telefonica, Bath and Body Works, Danone, Gillette, Proctor and Gamble, Fauchon, Unilever, Samsung and many others have employed Marc Gobé's integrated design approach to help foster their brand's emotional relationship with consumers. He has worked recently with the city of Beijing to organize the 2011 Beijing Design Conference. After extensive studies in the field of product and graphic design, Marc graduated from the École Professionnelle de Design Industriel in Paris. He is married and currently lives in New York City.

Silvio Meira


silvio lemos meira, born in taperoá, paraíba ['55], graduated in electronic engineering from ITA ['77], is a master in computer science through ufpe ['81] and a ph. d in computer science by the university of kent at canterbury, uk ['85 ]. married to katia betmann, is the father of cecilia, diana and pedro. meira is a full professor at ufpe's computer science centre, where he teaches software engineering and history and future of computing; is the chief scientist at c.e.s.a.r, where he coordinates the innovation group and the knowledge management and social networking divisions, also metrics and estimates in software projects and P2P information sharing; is chairman of the board at portodigital and member of the information technology advisory committee at mct; partner of the avina network, is a columnist for terramagazine, where he writes about information and communication technologies and their political, economic and social impacts; is also a CBN (national news radio station) commentator for the "BITs da NOITE" program on tuesdays, at 22:40. meira is an independent consultant for information, technology and innovation policies and strategies. author of over two hundred scientific and technological articles published in conferences and academic journals and hundreds of articles about information technologies and their impact on society, published in the general and information technologies press, meira has supervised [since 1985] more than hundred doctoral and master's theses and dissertations. silvio meira was a cnpq researcher for over 15 years; was a member of the councils of o estado de são paulo newspaper and latin america philips; conceived and coordinated the thematic multi-institutional program in computer science [ProTeM-cc] of cnpq; created and coordinated the doctoral program in computer science at ufpe; was advisor to the informatics policy office of the ministry of science and technology; was a member of the first steering committee for internet.br, of the first national committee for higher education evaluation [conaes] and president of the Brazilian Computer Society; was a consultant for the world bank [infodev] and for the united nations development program; was one of the founders and the first president of c.e.s.a.r, the recife centre for advanced studies and systems, one of the creators of porto digital, a urban ecosystem of information technology in the old recife and one of three scientists behind the search engine radix.com. meira was a columnist for [among others] diário de pernambuco, jornal da tarde, agência estado and for the electronic journal NO. he was awarded, by the presidency, the commendations of the national scientific merit order [1999] and the rio branco order [2001]. in 2006, he was awarded by the government of pernambuco the state's highest commendation, the guararapes order of merit of. in 2008, he was awarded the medal of knowledge by the ministry of development, industry and commerce. meira participated in the development of many innovative and profitable ventures, and is currently involved with a handful of them. in 2005, silvio meira was elected, by info magazine, one of the three most important evangelists of information technology in brazil. in 2007, época magazine placed him among the 100 most influential Brazilians. in 2009, was one of the interviews of the "national thinking" of HSM management and january's marie claire magazine interviewee. meira is the interviewee – again – of HSM management's "national thinking" for march 2010. in 2009, silvio meira interacted with tens of thousands of people at conferences, lectures, seminars, workshops and through twitter, his blog and CBN, connecting ideas, institutions, ideas, people, strategies, knowledge, business, emotions and innovation opportunities. silvio meira is a carnival man and a maracatu drummer: does not accept invitations to anything else, in january and february, which does not involve frevo, snare drums, agbês, bass drums, cowbells and kings, queens and dancing ladies on the ups and downs of olinda's hills and in the recife antigo neighborhood, where he accompanies a lot [really] of musical groups and plays with acabralada. the rest of the year, brazil and worldwide, meira lectures on innovation, creativity, entrepreneurship, ICTs and their social and economic impacts, social networks, gaming and education, information society, information policies and strategies, motivation...

Manuel Soares


Manoel Soares – Combining projects in the outskirts to the communicative processes He was born in Boca do Rio, Salvador outskirts- BA, Manoel Soares went through the slums in Sao Paulo, Rio de Janeiro and Brasilia and until he arrived in Rio Grande do Sul. He is passionate about communication and works with communication processes and ...social management. Throughout his journalism career, he has been devoted to showing the positive and constructive slums and suburbs He has been awarded several times,including the 50th. ARI Journalism Award and the Excellence in Journalism Award from the Inter American Press Association (IAPA), both in 2009. His news's content production has always been connected to promoting social development among the poorest communities
Venue and Details
ESPM - Porto Alegre
​ Rua Guilherme Schell, 350
Porto Alegre, 90640-040
Brazil

This event occurred in the past.
See more TEDxLaçador events »
Organizer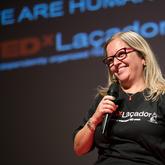 Ana Goelzer
Porto Alegre, Rs, Brazil
Team
Ana Zita

Organizer

Ana Cláudia Milani

Organizer

Ânderson Quadros

Organizer

Elisa Óca Bertaso

Organizer

Flávio Martins

Organizer

Juliana Pansera

Organizer

Luciano Sauer

Organizer

Mara Becker

Organizer

Martha Postiglione

Organizer

Rejane Martins

Organizer

Juliana Szabluk

Organizer

Ana Goelzer

Licensed/Organizer

Clarice Chwartzzman

organizer
---