ITS
x
= independently organized TED event
Theme: An EscalaTED Life
Surabaya, Indonesia
May 18th, 2013
About this event
ABOUT TEDxITS

TEDxITS is a non-profit organization of community which gathers great thoughts and ideas. We invite people who are fascinated thinkers, doers, and teachers to give their best ideas in our stage to inspire attendees – to create greater impact by their words.
TEDxITS is a university based TEDx event, where x = independently organized TED event. TEDxITS is planned and coordinated by Institut Teknologi Sepuluh Nopember (ITS) Surabaya on certain period in partner with the local community basis.

Our second theme is called:An EscalaTEDLife.

THEME

Every people has their own story for their success. They are in trouble, their lives are up and down but they choose to fight for escalating their lives.We expect to hear bright things from the speakers that can affect the attendees and also do it in themselves, in their own escalaTED life!
Organizer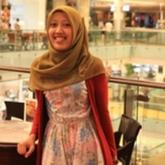 Irmasari Hafidz
Surabaya, Indonesia
---