DelftCinema
x
= independently organized TED event
Theme: A journey through the brain of....
Delft, Netherlands
September 18th, 2013
View photos from the event on Flickr
About this event
TEDxDelftCinema is about looking at TED videos and a feature length movie, selected by a very interesting person from Delft. This man/woman (also called the guest curator) will guide us through the videos and by doing that, we get to know the person a little bit better. TEDxDelftCinema brings us closer to the guest curator
Confirmed Speakers
Pieter Guldemond
Pieter Leonard (Pieter) Guldemond is geboren op 14 december 1984. Na zijn VWO-opleiding aan het Bernardinuscollege in Heerlen begon hij zijn studie aan de Technische Universiteit Delft. In 2006 rondde hij zijn bachelor Technische Bestuurskunde af. In 2007 begon hij aan de master Systems Engineering, Policy Analysis & Management. Deze studie heeft hij in oktober afgerond. Naast zijn studie was hij van 2003 tot 2005 medewerker voorlichting faculteit Techniek, Bestuur en Management. Van 2006 tot 2007 was Pieter Guldemond fractievoorzitter voor STIP (Studenten Techniek In Politiek) in de Delftse gemeenteraad. Zijn inhoudelijke specialisatie lag op het gebied van economie, zorg en cultuur. Van 2007 tot 2008 was hij vergaderleider voor de Studentenraad van de TU Delft. Pieter Guldemond was van 2008 tot 1 april 2010 vennoot in Guldemond & Bellinga, een bedrijf dat promotiefilms maakt. Naast deze werkzaamheden was Pieter Guldemond onder meer Voorzitter Facultaire Studenten Raad (FSR) van de faculteit Techniek, Bestuur en Management van de TU Delft (2005-2006), lid van de ledenraad van Rabobank Delflanden (2006-2008), secretaris van de International Business Tour Commissie, studievereniging Curius (2007-2008) en lid van de Begeleidingscommissie Onderzoek RandstadRail, namens het Algemeen Bestuur Stadsgewest Haaglanden (2007-2008). In 2010 nam hij deel aan de sustainable scootertocht 'the Road to Copenhagen'.
Organizer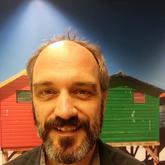 Rob Speekenbrink
Delft, Netherlands
Team
Jerome van Dam

Program manager
---