UniversityofNevada
x
= independently organized TED event
Theme: Emergence
Reno, NV, United States
January 24th, 2014
Watch video from the event
Please install flash player to see this video.
View photos from the event on Flickr
About this event
This year, we are going to let the theme emerge from our speakers. Instead of imposing structure on our speakers, we wanted their talks to drive our event. We will select the best 18 speaker proposals and then group them into sessions with related topics.
Confirmed Speakers
Elizabeth Smart
The abduction of Elizabeth Smart was one of the most followed child abduction cases of our time. Elizabeth was abducted on June 5, 2002 and her captors had controlled her by threatening to kill her and her family if she tried to escape. Fortunately, the police safely returned Elizabeth back to her family on March 12, 2003 after being held prisoner for 9 months. Through this traumatic experience Elizabeth has become an advocate for change related to child abduction, recovery programs and National legislation. Elizabeth triumphantly testified before her captor and the world about the very private nightmare she suffered during her abduction, which lead to conviction. Elizabeth is currently involved in the "Elizabeth Smart Foundation", and she has helped promote The National AMBER Alert, The Adam Walsh Child Protection & Safety Act and other safety legislation to help prevent abductions.
Wendy Damonte
In 2011, Wendy lost her mom to breast cancer. But during the year she battled the disease, Wendy had cameras rolling to capture what it's really like to deal with this horrible disease. Her documentary, My Mom's Story; Her Battle With Cancer, won an Edward R. Murrow regional award and was nominated for an Emmy
Kristin Stith
Kristin is one of a couple dozen volunteers who have come together to create what is being called the "Biggest Little City Movement." This is a grassroots movement which was started in an effort to change the internal and external conversation about Reno, NV.
Paul Klein
Paul Klein is an award-winning creative director who specializes in storytelling advertising, campaign design, and public relations. After 10 years of working with brands such as Allstate, Lexus, Nikki Beach, and Yamaha, Paul left the agency side of the advertising industry and now steers the creative and brand positioning for the City of Reno through the Office of Communications and Community Engagement. -

Racquel Abowd


Racquel is in her 9th year teaching, currently at Carson Montessori School. She balances working full time, being a single mom of 3 active children and being an authentic educator. She is proud of the difference she makes everyday in the lives of her children and students.
Mike Haynie
Haynie is a sought after advisor and speaker on issues related to business, veterans and entrepreneurship. His work empowering veterans through business ownership has been featured nationally on 60 Minutes, the ABC Evening News with Diane Sawyer, MSNBC, CNN, CNBC and Fox News, and also in the New York Times, Los Angeles Times, Inc., the Wall Street Journal, Forbes, Fortune and Entrepreneur.
Andrew Sherman
Mr. Sherman is a corporate and transactional attorney and is a recognized international authority on the legal and strategic aspects of business growth with a focus on mergers and acquisitions, joint ventures, strategic alliances, capital formation, franchising, and other types of intellectual property leveraging and growth strategies.
Victor Hwang
Victor W. Hwang is CEO, Co-founder, and Managing Director of T2 Venture Capital, a Silicon Valley firm that builds startups and designs the ecosystems that foster entrepreneurial innovation
Leana Wen
Leana Wen, M.D. is an Emergency Medicine Physician and Director of Patient-Centered Care Research at George Washington University. Inspired by her own childhood illness and then her mother's long battle with cancer, Dr. Wen is passionate about guiding patients to advocate for better care. She is the author of the critically-acclaimed book, When Doctors Don't Listen: How to Avoid Misdiagnoses and Unnecessary Tests.
Peter Epstein
Professor Epstein is enjoying his eighth year at the University of Nevada where he was promoted to Associate Professor on July 1, 2010 and also serves as the Director of Jazz & Improvisational Music. In addition to jazz saxophone, jazz history, and improvisation, he teaches a survey course on various musical cultures from around the world. Peter is a member of the Jazz Studies faculty ensemble, The Collective, and has appeared with the Reno Philharmonic Orchestra, Reno Chamber Orchestra, and Reno Jazz Orchestra.
Jamie Amelio
Jamie established Caring for Cambodia, which now supports 6400 students in 24 government schools in Siem Reap. With over 3500 supporters worldwide, CFC provides the students with well-equipped classrooms and local CFC-trained teachers, hot meals, uniforms, basic health and hygiene care — and often a bicycle.
Hayagreeva "Huggy" Rao
Hayagreeva "Huggy" Rao is the Atholl McBean Professor of Organizational Behavior and Human Resources at the Graduate School of Business, Stanford University. He studies social movements as motors of organizational change.
Barry Posner
Barry is the co-author of the award-winning and best-selling leadership book The Leadership Challenge. With over two million copies, the book has been described as a groundbreaking research study, combining keen insights with practical applications. It has been translated into more than 20 foreign languages. FAST COMPANY ranked it among the top dozen books of 2012, and it has been listed as among The Top 100 Business Books of All Time
Harvey Turner
Harvey Turner is the founding and preaching pastor of Living Stones Churches based Reno, Nevada, with locations in Northern Nevada & Northern California. Living Stones Church originally starting as one location in the heart of Downtown Reno with a desire to be in the city, for the city.
Neal Petersen
South African-born, Neal Petersen has completed two amazing journeys in his life: a single-handed yacht race around the world, 27,000 miles, 9 months at sea, alone, and in the smallest yacht he designed and built himself. And an even more arduous and eventful trip of overcoming racial prejudice during the Apartheid era in South Africa, poverty, and a childhood physical disability, just to make it to the start line! While sharing his riveting life story – and philosophy, Neal's extraordinary personal messages will open the mind, with new hope and a determination to break down the barriers, real or perceived, that now exist and to take adversity head on and demonstrate that with passion, determination and hard work you can achieve your goals.

Trish Shaffer


Trish Shaffer is the Coordinator for Multi-Tiered Systems of Support (MTSS) for the Washoe County School District (WCSD). Prior to her role in MTSS, Trish was involved in special education at the university, district and classroom level. She has teaching experience in both special and general education, has provided professional development and technical assistance for pre-K-12, consulted for school districts across the nation, and presented at the local, state and national level
David AuCoin
Dr. David AuCoin is an Associate Professor in the Department of Microbiology and Immunology at the University of Nevada School of Medicine (UNSOM). His primary research focus is to develop rapid diagnostics for resource poor settings. He is also the co-founder and Chief Scientific Officer of DxDiscovery (2012), a UNR "startup" focused on translating diagnostic research into FDA approved products.
Michael Raynor
Michael E. Raynor is a director at Deloitte Services LP and the Innovation Theme Leader in the firm's Eminence function. He is also is an adviser to senior executives in many of the world's leading corporations across a wide range of industries. His client projects and research focus on questions of strategy and innovation. Michael is coauthor of "The Three Rules: How Exceptional Companies Think," as well as "The Innovator's Solution" with Harvard Business School professor Clayton Christensen.
Rex Briggs
Rex Briggs has been helping Fortune 500 marketers improve marketing ROI by applying analytics for more than two decades. Rex is a leading expert in unlocking marketing ROI profits through measurement. Rex is credited with pioneering many digital measurement techniques, including post-click analysis, attribution modeling, online advertising effectiveness, Cross Media Measurement, Social Media effectiveness, and the integration of marketing mix modeling with attitudinal measurement. Rex's ROI work is referenced in over 100 marketing books, and his own books, What Sticks: Why Most Advertising Fails and How to Guarantee Yours Succeeds (2006) and SIRFs-Up: The Story of How "Spend To Impact Response Functions" (SIRFs), Algorithms and Software Are Changing The Face of Marketing (2012), have been required reading at top business schools including Wharton and Harvard. Both of his books have made news on the cover of Ad Age for its groundbreaking insights on how to reduce waste and improve marketing ROI.

Tim Grunert


Tim Grunert is the winner of the student speaker competition. He is a Sophomore majoring in Biochemistry and Molecular Biology at the University of Nevada. He is an Honors student as well as a member of the BSMD Accelerated Medical Program through the University of Nevada School of Medicine. Tim is from Carson City, Nevada where he got his experience with public speaking through student council as Carson High School's Student Body President and as the Western Region Representative to the Nevada Association of Student Councils State Board. He taught himself how to solve a Rubik's Cube in eighth grade, and has been learning new tricks and applications for his hobby ever since.
Bridget Park
Bridget Park is a senior in high school. Inspired by the tragic loss of her brother, she wrote her debut memoir at age 15 in the hopes that her story would encourage others to find healthy ways of grieving. "Growing Young: A Memoir of Grief" is the only grief support book written by a teenager, who at age 12 stumbled upon the body of her fourteen-year-old brother while they were home alone. His suicide shattered her world and forced Bridget to face issues she had never before considered.
Organizer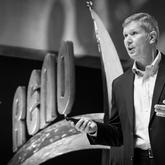 Bret Simmons
Reno, NV, United States
Team
Bret Simmons

Organizer

Jim McClenahan

Co-Organizer

Greg Mosier

Team Member

Abbi Whitaker

Team Member - PR

Kambiz Raffiee

Team Member - Sponsorship

Tyler Bourns

Team Member - Video

Alice Heiman

Team Member - Speaker Support

Justine Pretorious

Team Member - Website

Tiffany Brown

Team Member - Social Media

Jessica Torres

Team Member - Social Media

Nicole Shearer

Team Member - PR

Amanda Burden

Team Member

Joshua Smith

Team Member - M.C.

Chelsea Capurro

Team Member - M.C.

Jacob Capurro

Team Member - Student Volunteers

Ricardo Saldivar

Team Member - Student Speaker Competition

Yvonne Beasley

Team Member

Jeremy Wright

Team Member - Technical Support

David Croasdell

Team Member

Lori Mead

Team Member - Logistics

Meggin McIntosh

Team Member - Speaker Support
---