NCSU
x
= independently organized TED event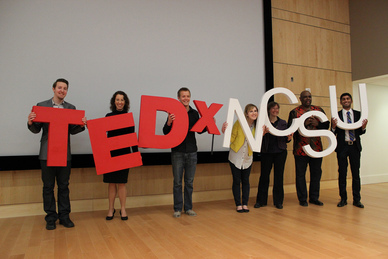 Raleigh, NC, United States
March 23rd, 2013
Watch video from the event
Please install flash player to see this video.
View photos from the event on Flickr
About this event
This Spring marks the fourth annual TEDxNCSU, featuring talks focusing on "Taking Action." NC State students, faculty, and staff will share their experiences on how they took actions to impact their lives and the lives of the people around them.
Confirmed Speakers
Sarah Egan Warren


Sarah Egan Warren is the Assistant Director of the Professional Writing Program. She teaches undergrads, trains TAs, teaches at the Institute for Advanced Analytics, works closely with the Graduate School, and directs a study abroad program to London. Sarah was selected as the CHASS Outstanding Lecturer in 2004. To try to keep balanced, Sarah enjoys dancing. It is her dance experience that helps her take action in other areas of her life.

Ibrahim Zafar


Ibrahim Zafar was born in Lahore, Pakistan and moved to this country when he was three years old. Ibrahim lived all around North Carolina, and now he lives in Durham. This past summer he went to Guatemala for two months where he worked in a medical clinic in a very impoverished area. Ibrahim is majoring in biomedical engineering, where he hopes to use his engineering skills and entrepreneurial spirit to one day start a medical device company that focuses on countries with poor healthcare systems.

Nicholas Sailer


Nicholas Sailer is a senior in Industrial Design at the College of Design at State. Although he is studying design, he doesn't let the boundaries of one industry contain his creativity: He has worked as a photographer, a designer, an artist, and a writer. Throughout his academic career he has pursued filmmaking and directing, and has won awards for Best Editing, Best Directing, and Best Picture, and has had his most recent film screened in the Cannes Film Festival Short Corner. All of Sailer's work is focused on creativity, innovation, and storytelling. He is currently finishing post-production on his first feature length film, and is starting pre-production on a new short. He plans on moving to NYC after he graduates to pursue filmmaking and directing.

Laura Bottomley


Dr. Laura Bottomley is the Director of Women in Engineering and The Engineering Place for K-20 Outreach and a Teaching Assistant Professor in the Colleges of Engineering and Education at NC State University. She teaches an Introduction to Engineering class for incoming freshmen in the College and Children Design, Invent, Create, a course for elementary education students that introduces them to engineering design and technology as well as various electrical engineering classes. Bottomley received her bachelor's and master's degrees in electrical engineering from Virginia Tech in 1984 and 1985, respectively. She received her Ph.D. in electrical engineering from NC State in 1992.

Anna E. Wolfe


Anna Wolfe is a senior in Communication Media and Arts Entrepreneurship at NC State University. She is currently launching a start-up company surrounding a mobile interface with a team of engineers and is a proud member of Chi Omega Fraternity, Young Americans for Liberty, and the Entrepreneurship Initiative organizations on campus. In her spare time she enjoys traveling Europe and talking about the stock market.

Rupert Nacoste


Dr. Rupert W. Nacoste is Alumni Distinguished Undergraduate Professor of Psychology at North Carolina State University where he has been on the faculty since 1988. He served in the U.S. Navy from 1972-1976. Beginning during his service in the Navy, Dr. Nacoste has worked on diversity issues as a facilitator of racial discussions and as a scholar of interpersonal and intergroup relationships. A native of Opelousas, LA, a Louisiana black-Creole, Dr. Nacoste is always on the hunt for a bowl of good gumbo. When that search fails, he makes his own. No surprise, then, that the title of his published memoir is "Making Gumbo in the University." His newest book on neo-diversity is "Howl of the Wolf: NCSU Students Call Out For Social Change."
Venue and Details

​ NC State University
Hunt Library, Centennial Campus
Raleigh, NC, 27695
United States

Event Type (what is this?) University
This event occurred in the past.
See more TEDxNCSU events »
Organizer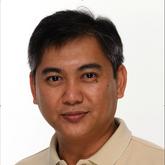 Francis de los Reyes
Raleigh, NC, United States
Team
Andrew Daniel

Co-organizer
---