GranVíaSalon
x
= independently organized TED event
Theme: Transmedia
Madrid, Spain
May 28th, 2013
Watch video from the event
Please install flash player to see this video.
View photos from the event on Flickr
About this event
Confirmed Speakers
Victor M. López
Víctor M. López es socio fundador y CEO de @VodkaCapital, es creador y productor ejecutivo de Jelly Jamm (http://www.youtube.com/jellyjamm) vendida en más de 150 países y de Bugsted una miniserie de TV, un juego para iOS, Android y web y un juguete, que se estrenará este mes de septiembre en Alemania y en 2014 en, al menos, Francia, España y México. En el año 2001 fundó con Rafa Garrido el grupo de Internet Secuoyas (http://www.secuoyas.com) y de forma simultánea pasó a ser CEO y socio de Zinkia hasta el año 2008 donde, además de ser la madre de Pocoyó (que padres tiene muchos ☺), abrió la oficina de Zinkia en Beijing, produjo Shuriken School y Play Chapas, entre otros. Es jurado de los International Emmy Digital Awards y ha participado como ponente en foros tanto españoles como internacionales: Club de Creativos, Instituto de Empresa, Chang Zou Animation Festival, Cromafest México, TEDxGalicia y así hasta sumar más de un centenar de ponencias.
Organizer
Javier Villarrubia
Madrid, Spain
Organizer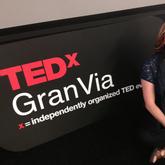 Carmen Martín Tejeda
Madrid, Spain
---