Thessaloniki
x
= independently organized TED event
Theme: The power of +syn
Thessaloniki, Greece
April 13th, 2013
Watch video from the event
Please install flash player to see this video.
View photos from the event on Flickr
About this event
TEDxThessaloniki 2013 is about the "power of +syn". "Syn" is the Greek word for "plus" and also a prefix found in so many powerful words such as synergy, synthesis, symbiosis and synaesthesis. "Syn" has also the same function as "co-" in words like collaboration, coexistence, contribution and combination. The spirit of all the above words is the one we aim to spread. In our effort to shed light on the importance of adding one, or more, 'syn' in our daily life, we will discover together the added value of thinking and acting positively. TEDxThessaloniki 2013 is a synthesis of different people, experiences and attitudes. Coming from a vast field of different backgrounds, such as educa- tion, volunteering, entrepreneurship, art and technology, our speakers will spread ideas on how the power of 'plus' can be realized. Our main sources of inspiration for this year's theme were not only the positive energy that the TEDxThessaloniki event spreads every year to its audience, but also our need to showcase and integrate in our daily life positive thinking and actions, needed now possibly more than ever. Today, let's embark together on a journey to explore the power of +syn.
Confirmed Speakers
Organizer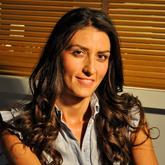 Elena Papadopoulou
Thessaloniki, Greece
Organizer
Anestis Chatzidiakos
Thessaloniki, Greece
Team
Tania Akritidou

Production Engineer

Avgi Vogiatzoglou

Legal Advisor

George Gatos

Fundraising Director

Stamatios Giannikis

Architect

Vangelis Kokkotzis

TEDxSter Care Manager

Velissarios Milionis

Partnerships Development

Argyro Barata

Performances Coordinator

Katerina Biliouri

Editor-in-chief

Christina Biliouri

Creative Director

Lazaros Boudakidis

Production Director

Revecca Pedi

Communications Director

Nikos Papandonopoulos

Partnerships Officer

Marios Spyroglou

Film Director

Irina Taka

Speakers Catalyst

Maria Terkenli

Side-events Coordinator

Angelica Tzemou

Speakers Coach

Vaso Apostolou

Social Media Assistant

Georgios Dimitriadis

Accountant

Ioannis Ergeletzis

Graphic Designer

Marina Karpozilou

Press Assistant

Dimitris Katsioulas

Social Media Officer

Katia Lousta

Translator

Christina Melidou

TEDxThessaloniki Wish Project Manager

Thalia Papageorgiou

Goodie Bag Coordinator

Nikos Papanotas

IT Manager

Anna Piata

Translator

Magdalini Siga

Set Designer

Thomas Siomos

Advisor

Charis Tasioulis

Editor

Dimitris Tzouris

Social Media Officer
---