Galicia
x
= independently organized TED event
Theme: VÁLIDO, VALÍA, VALOR, VALIOSO
PONTEVEDRA, Spain
December 13th, 2013
About this event
TEDxGalicia 2013 will try to take us from questioning our own perception to the construction of our personal reality in order to explore issues related to the concept of value in a wide sense.
Our TEDxGalicia talks do not try to give answers but to compare our own opinions. We are looking for "the other point of view". Out of any dogmatic approach, our illusion is that leave TEDxGalicia 2013 with more doubts than before we arrive ;)
Confirmed Speakers
Román García
Román García (A Coruna, 1977) is a rewarded and innovative Galician illusionist. Since very new felt attracted by the art of the magic. Bachelor in Economic and Entrepreneurial Sciences, Román joins in the his show art and science, comedy and drama, imagination and reality?
Victor Salgado
He is a lawyer and degree in Business management by the University CEU San Pablo in Madrid and first promotion of the Master in Studies of the European Union by Universidade da Coruña. He defended his thesis under the title: "Juridical-communitary aspects on Internet: The information society" in the Universidade da Coruña.
Carlos Graña
Architect by Universities of A Coruña and Stuttgart. After being employed at the USA, Spain and collaborating in India with Balkrishna Doshi, he establishes his own studio in A Coruña, SEA, combining the project development with the teaching architecture. The sum of complementary knowledge is always bigger than them sum of his parts. Architects, engineers, artists … Only this way it is possible to obtain the best architecture.

Sandra Prieto


Licensed in Social Psychology, Sandra's professional career was orientated from a beginning to the management of human resources in organizations, managing to recover this responsibility in big Galician companies.
Gonzalo Garré
Member of the department of Marketing in the business School Novacaixagalicia, Gonzalo researches on markets and new products development. In addition he is responsible for the digital communication and the presence - positioning of the brand business School Novacaixagalicia in Social Media.

SUB Rosa


SUB ROSA (musical group) is the result after mixing two electronica composers and artists, a drummer and a designer in a room and letting them be free.

Jose Manuel Dopazo


Teacher of Language and Literature and Director of the IES Maruxa Mallo. He brings a debate on of the relevancy of the pertinence of the concepts discussed in multiple debates on Education.
Roberto Pérez
Roberto is an example of professional reinvention; he began his career in the alimentary multinational Campofrío and at the end of the 90 he around his professional career joining as partner to one of the first agencies of communication specialized in Internet of Spain.
Pablo Herreros
Pablo Herreros Ubalde was born in Torrelevaga (Cantabria) and he is got his egree on Sociology and anthropology. He is a co-author of the program for Emotional Intelligence in the Foundation Eduard Punset. For years he investigates on the behavior of the primates applying it to human areas as the companies, the politics or the education.
Jorge del Oro
He is a Biologist and Didactic expert but he will tell us his passion on repairing instruments and how and why he came to the point of recovering the music of the Strohcello.
Miguel Conde
He is CEO in one of the majors publicity agencies in Spain. He is founder of Knowcosters, a movement which wants to give us conciousness about what our consumption habits through information.
Frankie Gomez
Frankie is a galician entrepreneur. Cofounder and CEO in Confirmsign. He defends that this, entrepreneurship business needs 24h a day 365 days a year. "There is always time if there is a night in front of us".
Organizer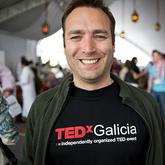 Juan Marcos Perez Gulin
Santiago De Compostela, Spain
Team
Leticia Bas

Logistics and volunteer coordinator
---