MadridSalon
x
= independently organized TED event
Theme: School failure.
Madrid, Spain
May 29th, 2013
View photos from the event on Flickr
About this event
a couple of TED Talks focused on a specific theme, different in every session, will spark debate among a small group of people. Every last wednesday. This time we will discuss school failure.

Organizer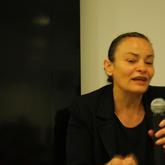 Antonella Broglia
Madrid, Spain
Team
Javier Romero Garritz

Co-curator
---