Mission
x
= independently organized TED event
San Francisco, CA, United States
April 14th, 2010
View photos from the event on Flickr
About this event
Following the CHIRP Twitter conference, thought leaders gathered to discuss new ways for using real-time technologies. The goal of the night was primarily to continue the conversation on real-time applications and their various uses as part of humanitarian efforts.
Confirmed Speakers
Patrick Meier
(Tufts University/Ushahidi) will discuss how realtime communication tools, combined with crowd-sourcing raise the bar for those who wish to falsify information
Ellen Leanse
(Google) will discuss the ways different organizations are using Wave.

Brett Hovarth


(Re-Vision Labs) will share his experiences with real-time tools in distributed governments.
Mary Jane Marcus
(InSTEDD) will discuss the use of real-time technology in Asia.
Jon Gosier
(SwiftRiver/Appfrica) will act as event host and will discuss the verification and filtering of real-time news and why it's important for the future of the web.
Organizer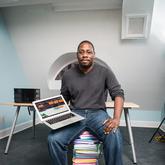 Jonathan Gosier
Philadelphia, PA, United States
Team
Jon Gosier

Organizer
---