TampaBayChange
x
= independently organized TED event
St Petersburg, FL, United States
April 3rd, 2013
About this event
Confirmed Speakers
Rebecca Zapen
Rebecca Zapen is a jazz crooner, classically-trained violinist, and award-winning multi-instrumentalist songwriter. Her formal violin studies began at age 3, and singing always came naturally. She graduated with honors from Florida State University, with degrees in Music and Biology. Zapen has been a musical guest on Public Radio International show Michael Feldman's Whad'Ya Know?, as well as being a featured soloist with the Hollywood Philharmonic Orchestra. The versatile vocalist and violinist has released 4 albums and is an award-winning composer. She earned the Silver Medal of Excellence for Best Use of Music in a Short Film at the 2008 Park City Film Music Festival. Her original songs appear in Look Both Ways, which won for Best Music in the 2009 San Francisco Seven Day Film Festival. Her music has been featured on NPR's All Songs Considered: Open Mic.
Frank Strunk III
In Frank's world, acid-washed galvanized steel, sheet metal, rusted nails, tools, working parts and gears are the conduits of his art. "My work is a fertile collusion of the rigidity and order of geometry and the organic dance and palette of rust," he says. Described as ironic, witty, fun, spiritual, imaginative, kinetic, unexpected and truly original, his industrial-infused art has traversed and intersected with the fine arts, functional art, wearable art, interior decor and architecture.
Jason Sowell
Jason is a native Floridian who has worked in the non-profit sector for more than 10 years. He is a speaker, writer, non-profit entrepreneur, missionary, wedding officiant & part-time barista. He is the Founder and President of Current, a Tampa, FL based organization with the mission of educating young adults on social initiatives and mobilizing them to bring about change. In his dream world, he lives on the beach in Southern California and is a pro surfer. In real life, he lives in the city of Tampa where he never actually surfs.
Organizer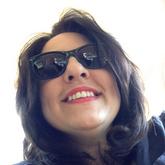 Gina Clifford
Wesley Chapel, FL, United States
Team
Wendy Accardi

Co-Producer

Nick Hinckley

Co-Producer

Dugg Hadden

Co-Producer

Joe Hamilton

Co-Producer

Kathleen Taylor

On Stage Host
---