Cincinnati
x
= independently organized TED event
Theme: Positive Disruption
Cincinnati, OH, United States
April 4th, 2013
Watch video from the event
Please install flash player to see this video.
View photos from the event on Flickr
About this event
Disruption is usually unwelcome. It represents conflict, chaos, and potential danger. We discourage disruptive behavior in our homes and our societies, often favoring passivity and compliance.

But disruption can be a positive – sometimes vital – catalyst for change. It can challenge old assumptions, ignite conversations, activate authorities and expose new possibilities. Disruption can shed a unique light on difficult issues, giving a fresh urgency and perspective to the challenges of our global community.


Confirmed Speakers
Organizer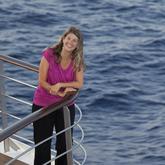 Jami Edelheit
Cincinnati, OH, United States
Team
David Lee Cummings

Director online strategies

Rodney Jones

Social media

Lisa Desatnik

PR

Emily Kimball

Registration

Rebecca Nebert

AV Volunteer

Will Benson

AV Director

Qristina Cummings

Tech Volunteer

Nicholas Viltrakis

Photographer

Marcelina Robledo

Video

Joe innovatory photography

Video and Edit Director
---