Ljubljana
x
= independently organized TED event
Ljubljana, Slovenia
April 24th, 2010
Watch video from the event
Please install flash player to see this video.
View photos from the event on Flickr
About this event
Confirmed Speakers
Ciril Horjak


Ciril Horjak aka. Dr. Horowitz is a comic artist. Lately he has been working on a project with a Slovenian food preparation company on an alternative way to educate staff using comics. He explains what are the reasons to do so and also tell us what are the possibilities for comics in the future. Ciril Horjak aka. Dr. Horowitz je risar stripov. V zadnjih letih je delal z Slorestom na projektu izobraževanja delavcev s pomočjo stripa. Razložil nam bo prednosti uporabe stripa in pa možnosti za prihodnost.

Urban Praprotnik


Urban Praprotnik je tekaški trener, ki povezuje strokovno znanje s praktičnimi izkušnjami o teku. Je avtor priročnika Tekaški trener in spletne strani www.tekaskitrener.si. Objavlja tudi članke v različnih časopisih in revijah. Prireja tekaških dneve Lahkih nog radovedni naokrog in s tem širi in dviguje zavest o pomenu pravilnega teka in gibanja v življenju.

Sašo Dolenc


Dr. Sašo Dolenc je fizik in filozof, ki se raziskovalno ukvarja predvsem z zgodovino in filozofijo znanosti. Znan je kot avtor mnogih poljudnoznanstvenih člankov in kot soustanovitelj ter odgovorni urednik Kvarkadabre - spletnega časopisa za tolmačenje znanosti (www.kvarkadabra.net). Skozi njegove zgodbe, ki so izšle tudi vknjižni obliki, postanejo moderni znanstveni dosežki na zanimiv in nevsiljiv način dostopni vsem, ki so radovedni in razumejo slovensko.
Organizer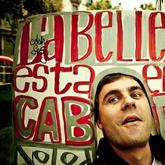 Matej Potocan
Ljubljana, Slovenia
Team
Ditka Jeran

Co-Organizer

Rok Mihevc

Co-Organizer

Matej Golob

Co-Organizer

Luka Manojlovič

Co-Organizer

Peter Alešnik

Co-Organizer

Matjaž Pečan

Co-Organizer

Jaka Bobnar

Co-Organizer

Mojca Verdnik

Co-Organizer

Evridika Cuder

Co-Organizer

Martina Mršnik

Co-Organizer
---