Jamaica
x
= independently organized TED event
Kingston, Jamaica
October 27th, 2012
Watch video from the event
Please install flash player to see this video.
View photos from the event on Flickr
About this event
Themed, "Accomplish what you will", our event highlighted speakers with an indomitable will power from wide areas of interest such as music, dance, sports, medicine, conservation and business. In this 50th year of Jamaica's independence, we selected speakers who were either born or have worked in Jamaica but whose powerful inspirations have no geographical boundaries.

Confirmed Speakers
Jon Robertson


Maestro Jon Robertson enjoys a distinguished career as a concert pianist, conductor and academic. Born in Kingston, Jamaica, his career as a concert pianist began at age nine with his debut in Town Hall, New York, with the New York Times calling him "a pint-sized Paderewski". As a child prodigy, he continued to concertize throughout the United States, the Caribbean and Europe. He earned his B.M, M.S. and D.M.A. degrees in piano performance with full scholarships to the Julliard School, and also studied choral conducting and orchestral conducting at the New England Conservatory of Music. Jon has held the posts of Chair of the Department of Music at Oakwood College in Huntsville, Alabama, Chair of the Thayer Conservatory of Music at Atlantic Union College in Massachusetts, and Chair of the Department of Music at the University of California at Los Angeles (UCLA). He is now the Dean of the Lynn University Conservatory of Music in Boca Raton, Florida (formerly the Harid Conservatory). Maestro Robertson was conductor and music director with the Kristiansand Symphony Orchestra in Norway for eight years; under his dynamic leadership, the orchestra enjoyed critical acclaim, along with consecutive sold-out seasons. While director of the symphony, he was also invited to conduct the National Norwegian Opera Company in six performances of La Boheme, as well as yearly productions with the Kristiansand Opera Company. In addition, Jon has been conductor and music director of the Redlands Symphony Orchestra for the last twenty-seven (27) successful seasons; under his leadership the Symphony has enjoyed the distinction of receiving the highest ranking possible from the California Arts Council, as well as top ranking with the National Endowment for the Arts. As a guest conductor, Maestro Robertson has conducted orchestras nationally and internationally, including: the San Francisco Symphony; American Symphony, New York; Fairbanks Symphony, Fairbanks, Alaska; Gavel Symphony Orchestra, Gavel, Sweden; Tronheim Symphony Orchestra, Tronheim, Norway; Beijing Central Philharmonic, China; Jon is a regular guest conductor of the Cairo Symphony Orchestra in Egypt and was the principal guest conductor of the Armenian Philharmonic Orchestra in Yerevan from 1995-98. Maestro Robertson has also conducted the Bratislava Chamber Orchestra, at the Pianofest Austria at Bad Aussee, Austria and most recently in Cape Town, South Africa at the University of Stellenbosch International Festival. From 1992-2004, Robertson served as Chair of the Department of Music at the University of California at Los Angeles (UCLA). During his tenure, the department gained national and international recognition, attracting world-renowned faculty and highly gifted students, thus creating a world class department of music. Robertson was recognized at the President's Recognition Dinner for being instrumental in raising more than two million dollars for scholarships, as well as the expansion of the Opera Department and Music Theater through the Gluck Foundation and other donors. Robertson also created the Music Outreach Program targeting inner city African-American and Latino students at designated high schools and junior high schools. On a weekly basis, music students from UCLA gave private lessons to students who were enrolled in music programs, along with math and reading preparation, at selected inner city schools in Los Angeles. Robertson has been the recipient of multiple prestigious awards during his illustrious career, including the U.S. President's award for Outreach Programs, and Honorary Doctorate of Humane Letters from Loma Linda University, California for the cultural development of the Greater Inland Empire of San Bernardino, California.

Donna Duncan-Scott


A true visionary and possibility thinker, Donna upholds the principle: "We were born to manifest the glory of God. It is not just in some of us, it is in every one of us". She is committed to sharing this fundamental truth, and plays the important role of her organisation's mentor and transformation agent. In 1998, following the passing of her mother Joan Duncan, Donna took on the mantle of Managing Director of Jamaica Money Market Brokers. During her tenure as head of JMMB, Donna received several awards on behalf of the company, as well as on her own merit, most notably the Jamaica Chamber of Commerce 'Best of Chamber' award for 2000, the Jamaica Chamber of Commerce 'Entrepreneurial Award' for 2001, and the 'Business Leader of the Year' award for 2001, from the Jamaica Observer. She demitted the office of CEO in 2005 to give more focus to raising her two daughters. She then assumed the position of Group Executive Director with responsibilities for Culture and Leadership Development. Currently she leads the design and development of programmes and practices to deepen JMMB's unique culture of being in the world of team members and clients and having their best interest at heart. Her team has overall responsibility for the welfare and development of JMMB team members– understanding their strengths, goals and dreams and providing the relevant support to realise their potential to the benefit of the individual, the organisation and the wider society. Donna has a B.Sc. in Engineering, as well an MBA from the Richard Ivey School of Business at the University of Western Ontario in Canada. She holds the distinguished Certified Financial Analyst accreditation. Her enthusiasm and genuine desire to empower and inspire has led to the creation of valuable company-wide programmes, practices and policies that have been instrumental in upholding JMMB's founder's ideals of 'Love, Equity and having the Best Interest Of All at heart'.

Melvyn Tennant


Melvyn Tennant was a teacher in Birmingham, England for 25 years. He managed a secondary school and was deeply involved in introducing new technology and teaching methods into the secondary school curriculum. He was involved in a number of major government and private enterprise curriculum initiatives such as the Technical Vocational Education Initiative funded by the central government as well as the Technology Enhancement Programme and Mathematics Enhancement Programme funded by the Gatsby Foundation. Mel was a member of the steering group for the government to evaluate Integrated Learning Systems computer software. In 1997 he was selected as the UK representative on the Asia–European Foundations Education programme. Between 1996 and 1999 Mel traveled extensively supporting international school links that used technology to enhance student educational experience and understanding of different cultures. In 1999 Mel left teaching and took up a post with a US owned Education Software Company helping to develop software that supported the teaching of English and Mathematics in schools. In 2003 he retired and moved to Jamaica. In Jamaica he became involved in the monitoring and protection of Sea Turtles. More recently he has been actively supporting the introduction and development of his local Fish Sanctuary which has started to show some very encouraging improvements in the quantity and diversity of its fish stock.

Felicia Hatcher


Felecia is a thought-provoking social entrepreneur, author and speaker. Felecia has dedicated her life to inspiring a new generation of leaders through her conversational talks on Entrepreneurship, College Funding and Personal Branding. Hatcher has been honored by the White House as one of the Top 100 Entrepreneurs under 30, and has been featured on the NBC Today Show "Young African American's Making History". She has been a TEDx and White House Young America presenter, and has been featured on the Food Network, Inc.com, in the Wall Street Journal, Entrepreneur, Essence Magazine and Black Enterprise Magazine. As a "C" student in high school Hatcher beat the odds and won over $100,000 in scholarships to attend college by getting creative. She used her experience and knack for personal marketability to start her first business called Urban Excellence as a freshman in college. The company built and ran innovative college prep programs for companies like DeVry University, MECA, AMPS Institute, the YMCA, and the Urban League. After Urban Excellence, Hatcher went on to a successful career spearheading tech and experiential marketing and social media campaigns around the U.S.A. for Fortune 500 companies like Nintendo, Sony, Wells Fargo's Second Life Video Game, Microsoft and Little Debbie. Hatcher also worked for the NBA as the Front Office Marketing Manager for the Minnesota Lynx and spearheaded their 10th anniversary re-branding campaign. After "falling flat on her face while attempting to chase an ice cream truck in heels," Hatcher started a gourmet popsicle and ice cream catering company in 2008. The company specializes in vegan-friendly and spiked popsicles for events and retail. Again tapping into her knack for marketing, Hatcher formed many strategic partnerships through her company Feverish Ice Cream, using popsicles to help companies like Google, Universal Music, Adidas, Whole Foods, Live Nation, Bacardi, JCrew, Capitol Records, Maker's Mark, the US Census Bureau, W Hotel, Playboy, Tom Cruise, and Vitamin Water promote their new products through her trucks, carts, social media networks and sponsored ice cream give-a-ways. The company is dedicated to sustainability and innovation, donating a portion of the profit earned on each popsicle sold to charity, as well as running a youth entrepreneurship program called PopPreneurs where Hatcher and her partner Derick Pearson teach kids in urban areas how to become entrepreneurs through donated ice cream carts. Hatcher travels the world speaking to students and young adults and is the author of two books, The "C" Students Guide to Scholarships, and How to Start a Business on a Ramen Noodle Budget.

Shirley Thompson


Born and brought up in east London to Jamaican parents, Shirley J. Thompson has gained a reputation for her masterful synthesis of original contemporary classical orchestral music with a range of popular styles to produce a distinct voice in 21st century composition. Thompson is the first woman in Europe to have composed and conducted a symphony within the last 40 years. Thompson's pioneering vision in devising concepts and narratives that underpin her work has led to the creation of highly imaginative productions. By fearlessly removing perceptions and boundaries across musical genres she has created a new contemporary classical music expressionism, as evidenced in her extensive roster of operas, ballet, theatre, film/TV scores and instrumental compositions. Following her first major commission with the Greenwich International Festival, when she wrote a chamber work entitled Visions, performed by the Greenwich Ensemble, she set up her own chamber orchestra, including solo singers, The Shirley Thompson Ensemble. A cutting edge composer, her music is performed, screened and broadcast worldwide: New Nation Rising, A 21st Century Symphony' was performed and recorded by the Royal Philharmonic Orchestra; it is an epic musical story celebrating London's thousand-year history, and one in which the RPO is accompanied by two choirs, solo singers, a rapper and dhol drummers--a total of nearly 200 performers. This extraordinary work was originally commissioned for the Queen's Golden Jubilee in 2002 and the concept was recently reconfigured as a framework for the 2012 Olympics Opening Ceremony. Her best known compositions include the award-winning ballet, PUSH, the play, The Lodger , and A Child of the Jago which earned her a nomination for the Woman of the Year award in recognition of her contribution to the Arts. Her work also includes music for the BBC drama series South of the Border and the film Dreaming Rivers. Other notable composition and performance works include The Woman Who Refused to Dance (2007) for the opening of the Parliamentary exhibition, British Slave Trade: Abolition, Parliament and People; The Spirit of the Middle Passage (2007) and Voice of Change (2009) commissioned to commemorate 100 days of Barack Obama's Presidency. In 2012 Southbank Centre premiered her latest work, Mandela Tales, a beautiful new music theatre production for children, devised, composed, directed and produced by Thompson to a sell-out audience at the Imagine Children's Festival. Shirley J. Thompson holds a Ph.D. in music and is a Reader in Music at the University of Westminster. She has been named in the Evening Standard's 'Power List of Britain's 100 Most Influential Black People' in 2010, 2011, 2012 and 2013. She is presently working towards the premiere of her new opera.

Donovan Bailey


Donovan Bailey is a legend in track and field and is among the best athletes in track and field history. Track & Field News declared Bailey "Sprinter of the Decade" (1990s) and one of the world's all-time greatest and most dominant sprinters. Bailey commanded the world's attention in the 1990s when he exploded onto the track and field circuit determined to do what no other man before him had done. His list of athletic accomplishments includes: Two-time World Record holder, two-time Olympic Champion, three-time World Champion, eight-time Canadian Champion, Pan American Games Champion, Goodwill Games Champion, Commonwealth Games Champion, 1995. He dominated the World Championship in Gothenburg by winning the 100-metre sprint and the 4 x 100-metre relay titles. In 1996, Bailey broke the indoor 50-metre world record in Reno, Nevada, posting a time of 5.56 seconds — a record still held to this day. In 1996 he earned the rare triple title of World Champion, Olympic Champion, and World Record holder. Bailey electrified Canada and the world when he shattered the World and Olympic record, winning Canada's first gold medal ever in the glory event of the Games. Bailey ran a sizzling 9.84 seconds. He was awarded the Lou Marsh Trophy and named Canadian Newsmaker of the Year. In 1997, Bailey won a third World title with the Canadian relay team and beat American sprinting champion Michael Johnson in a much publicized 150-metre race to determine who was the "World's Fastest Man." Bailey was inducted into Canada's Sports Hall of Fame in 2004 individually, and inducted again in 2008 as part of Canada's 1996 Olympic gold relay team. Donovan Bailey was born in Manchester, Jamaica, the fourth of five sons, and emigrated to Ontario, Canada as a teenager. It may not have always been his calling, but it was apparent from an early age that Bailey had no interest in marching at the pace of the rest of the world. He was more extraordinary than that. Bailey's physical dominance, mental brilliance and impenetrable drive cast him as a formidable opponent in all of his endeavours. When most other youngsters in their early 20s were just dabbling with adulthood, Bailey had already began a successful career in investment banking and was comfortably shooting up the corporate ladder when he decided to redirect his energy and revive a childhood passion in sprinting. In just a few short years, Bailey was running alongside some of the greatest sprinters on the circuit – the same great sprinters that he soon began to surpass. His performances started to capture the attention of the track and field community. Then came the sports enthusiasts. Then Canada… and Jamaica… and then the whole world followed. Bailey broke world records on multiple occasions, including the 100m-world record twice, including in the 1996 Olympic final. He also established the world record of 5.56s for indoor 50m which still stands more than 16 years later. By winning titles and smashing records, Bailey has left his indelible mark by becoming one of the most revered all-time greatest athletes in the history of track and field.

Paul Ramphal


Paul Shridath Ramphal, is a Consultant Cardiothoracic Surgeon at the Princess Margaret Hospital and the Doctor's Hospital in the Bahamas, and at the Cardiothoracic and Vascular Institute of the Bahamas. In addition, he is an Assistant Professor of Surgery at the University of North Carolina, Chapel Hill and a Honorary Professor of Surgery at the University of the West Indies (UWI). From 1998 to 2007 he was a Lecturer and then Senior Lecturer in Cardiothoracic Surgery in the Department of Surgery, Radiology, Anaesthesia and Intensive Care, at the University of the West Indies (UWI), Mona. Dr. Ramphal devotes much of his time teaching basic and advanced surgical principles to nursing students, undergraduate medical students and post graduate surgical residents. He counts among his career objectives a desire to upgrade the level of functioning of the cardiothoracic surgical service and to develop ways in which high quality and realistically sophisticated cardiothoracic surgical care can be administered in the Caribbean. He is especially focused on modifying the technology necessary to conduct cardiothoracic surgical procedures to suit local pathology and economic conditions and is particularly interested in discovering ways to reduce the costs associated with cardiothoracic procedures. Most recently, his research efforts have focused on the development of tissue-based simulation technologies for use as training aids for surgical residents. A Jamaican and naturalized Canadian, Dr. Ramphal gained his secondary school education in Toronto, Canada, where he was awarded the Ontario Scholarship in 1979, which led to his studies at McMaster University. At McMaster, he studied Biochemistry receiving a B.Sc. (Hons) in 1984. He received his MB.BS degree from the UWI in 1989, his F.R.C.S. from the Royal College of Surgeons of Edinburgh in 1996, and the DM (Cardiothoracic Surgery) from the UWI in 1997. Dr. Ramphal's overseas experience has included appointments as Visiting Registrar in the Department of Cardiothoracic Surgery at the Glasgow Royal Infirmary (June 1994 to December 1994), Visiting Registrar in the Department of Cardiothoracic Surgery at the Royal Hospital for Sick Children, Yorkhill, Glasgow (January 1995 to June 1995), and Visiting Senior Registrar in the Department of Cardiothoracic Surgery at the Glasgow Western Infirmary (July 1995 to December 1995). He also served as the Visiting Senior Registrar of the Department of Thoracic Surgery at the West of Scotland Regional Thoracic Surgical Unit, Hairmyres Hospital, EastKilbride, Scotland from January to July 1996. Dr. Ramphal has published 30 peer-reviewed articles in local and international surgical journals, and has presented a number of papers on aspects of cardiothoracic surgery in the Caribbean and abroad. He is a fellow of the Royal College of Surgeons of Edinburgh, the Caribbean College of Surgeons, the American College of Surgeons, the Caribbean Academy of Science, and the Society of Thoracic Surgeons. Dr. Ramphal has been married to Nadine (nee Parchment, of Mandeville and Kingston, Jamaica) for 24 years, and has sons, Jacques (22 years) and Jean-luc (19 years), both born in Jamaican and who now reside in Toronto, Canada.

Garth Fagan


Garth Fagan is a world-renowned choreographer and dancer. He is the founder and artistic director of the internationally acclaimed and award-winning Garth Fagan Dance, now in its 40th season, and in 1997 he created and choreographed the path-breaking dances for Walt Disney's Broadway musical The Lion King. For his work on this musical, which opened in 1997 to extraordinary critical praise, and continues today in several cities around the world, Fagan won many prestigious awards including the prestigious 1998 Tony Award for Best Choreography, the 1998 Astaire Award, the 2000 Laurence Olivier Award, the 2001 Ovation Award and the 2004 Helpmann Award. Garth Fagan was born in Kingston, Jamaica and began his dance career with the Jamaica Dance Company. He moved to the United States to attend college and shortly after started his dance company in Rochester, New York in 1970. Fagan developed a unique, signature, movement style and vocabulary combining elements of modern dance and ballet with African and Caribbean rhythms and postures. Critics have called Garth Fagan "a true original", "a genuine leader" and "one of the great reformers of modern dance". Fagan continually renews his own distinctive dance vocabulary, which draws on many sources: a sense of weight in modern dance, the torso-centered movement and energy of Afro-Caribbeans, the speed and precision of classical ballet, and the rule-breaking experimentation of the post-moderns. According to the New York Times: "Originality has always been Mr. Fagan's strong suit, not least in his transformation of recognizable idioms into a dance language that looks not only fresh but even idiosyncratic" Fagan's distinguished work in theatre also includes the first fully staged production of the Duke Ellington street opera, Queenie Pie, at the Kennedy Center in 1986, and the opening production of Joseph Papp's New York Shakespeare Festival's Shakespeare Marathon: A Midsummer Night's Dream, (1988), set in Brazil and directed by A.J. Antoon. In the world of concert dance, Fagan choreographs primarily for Garth Fagan Dance. His recent work, Mudan 175/39, was named by The New York Times as the third of the top six dance watching moments of 2009. Fagan has also produced commissions for a number of leading companies, including his first work en pointe, Footprints Dressed in Red, for the Dance Theatre of Harlem; a solo for Judith Jamison, Scene Seen, for the debut of the Jamison Project; Jukebox for Alvin for the Alvin Ailey American Dance Theater; Never No Lament for the Jose Limon Company; and Ellington Elation, part of a triad of pieces commissioned by the New York City Ballet in honor of Duke Ellington's centenary and New York City Ballet's 50th anniversary. Fagan is a Chancellor's Award-winning Distinguished University Professor Emeritus of the State University of New York, where he has taught for over three decades. He holds honorary doctorates from the Juilliard School, the University of Rochester, Nazareth College of Rochester, and Hobart and William Smith Colleges. He also holds several other awards including the Samuel H. Scripps American Dance Festival Award, the George Eastman Medal from the University of Rochester for "outstanding achievement and dedicated service", a Guggenheim Fellowship, the Dance Magazine Award, and the Monarch Award from the National Council for Culture and Art. Garth Fagan was awarded the Order of Distinction in the rank of Commander by the Government of Jamaica and he is a recipient of the Special Gold Musgrave Medal, for his "Contribution to the World of Dance and Dance Theater."
Organizer
Chris Blackwell
New York, NY, United States
Organizer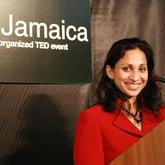 Rupika Delgoda-Clarke
Kingston, Jamaica
Team
Nigel Clarke

Speaker liason and onstage host

Marty Hillis

Financial Director

Michelle Brahms

Production

Joan Peart

Sales

Prerana Nallapati

Production

Sheena Francis

Production

Gregory Shervington

Sponsorship

Oliver Dunbar

Production

JeAnn Murray

Production

David Picking

Production

Simone Badal-McCreath

Sponsorship

Charmaine Morris

Production

Diana Thorburn-Chen

Social media

Mathew Chang

Production

Cathy Snipper

sales

Johan Koelb

Web design
---