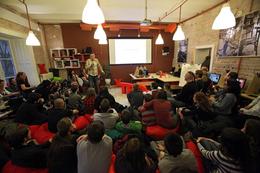 We each have many ideas, plans and dreams. But how to put them into practice? How to make so that they eventually become a reality? Let us together will go in search of inspiration! 30.03.2013 18:00 CoMMuna (Lviv, Street. Galycka, 1)
Speakers
Speakers may not be confirmed. Check event website for more information.
Christina Paprotska
Coordinator of action "Nicholas of you will not forget." "Mykolike. Creative ideas into action"
Ostap Malashnyak
a specialist in communications (media, internet), the author shares the "Save Mercury." "Why Mercury? But why not!"
Marichka Pohorilko
Mary co-founder and member of the Brotherhood of students and graduates UCU "Res Familia", a team member "Pohorilko Bend" and "Dzvinha" Plastunka, Project Manager "City Maps" Center for Urban History of East Central Europe.