Flanders
x
= independently organized TED event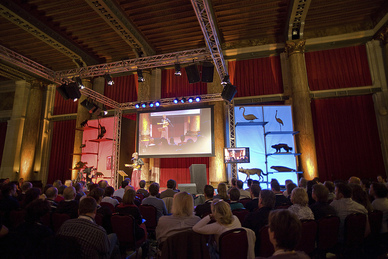 Antwerpen, Belgium
September 5th, 2010
Watch video from the event
Please install flash player to see this video.
View photos from the event on Flickr
About this event
My team and I are (very) proud to present TEDxFlanders @ the zoo

250 seats in the marble room of the Antwerp Zoo
A big screen in Antwerp Central station simulcast + free TEDxFlanders Roast coffee for passers-by
Streaming online by Canvas.be (http://programmas.canvas.be/tedxflanders-live/)
12 speakers, 4 music performances
Graphic recording
Media attention (newspapers, television, blogs)
Networking and community building opportunities
Coffee, lunch, parting gift
=> For Free!
How did I do this? I must admit that I really can't explain it!
But here's the story:
I gathered people around me who were familiar with TED and told them "You see, I'm doing this TEDxFlanders thingie, and I've been doing this pretty much alone" and "Well, I don't know what you peeps want to do with it, but any help would be nice"
And help I got!
Such an amazing bunch of talent:
Byron, a connector, knowing people from all kinds of businesses and
industries
Hans, a marketeer, seems to conjure sponsors with his fingertips
Thomas is an event organizer, and took most of the upscaling in his very able hands and mind.
Vincent is a teacher and a Drupal expert and took care of the site
Jan and Lisbeth did all the promotion and press...
ianka is an actress and will do the presentation, and did all the preparations.
Erik, a surgeon, helped us with so many extra's and his wisdom as the eldest of the crew
Denis did all the printing work, and let his company work for us for free... (ok, as sponsorship, but hey...)
And Roel proposed to take care of the volunteers...
So everything was taken from my hands...
I only gave trust and "carte blanche"
Ok, I did the speakers... and meetings, and mailing...
And I forget to mention all the smaller helping hands and pieces of advice.
You know, when passion spreads, it's like rolling a small ball os snow downhill

This was the result!
The process and preparation was so much fun, I could hardly believe
anything could go wrong
And aside from a technical delay, It didn't!
Organizer
Christophe Cop
Antwerpen, Belgium
Team
Thomas Goorden

Production Lead

Hans Smellinckx

Chief Inspiration officer

Jan Rauter

Value Finder

Denis Ghys

Communications Instigator

Vincent Verstraeten

Web Weaver Officer

Eric De Coster

Value Surgeon

Byron Soulopoulos

Happiness Officer

Joeri Fransen

Music and Talent scout

Roel Krols

Volunteer Coordinator

Angelo Vermeulen

Spirit Advisor

Lisbeth Jaspers

Fear Buster

ianka fleerackers

Host
---