UniMelb
x
= independently organized TED event
Melbourne, Australia
September 10th, 2012
Watch video from the event
Please install flash player to see this video.
View photos from the event on Flickr
About this event
In the spirit of TEDx, these eminent speakers will present ideas from their diverse fields on the broad topic of science and technology. While these talks provide the benefit of learning new ideas and sparking debates, we also aim to promote collaboration by bringing together motivated and curious minded individuals to solve the biggest problems of our time.
Additional Links
TEDTalks shown
Venue and Details
Carrillo Gantner Theatre, Asia Center
​ University of Melbourne
Swanston St
Melbourne,
Australia

Event Type (what is this?) University
This event occurred in the past.
See more TEDxUniMelb events »
Organizer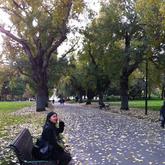 Yue Lou
Melbourne, Australia
Team
Oliver Lock

Technical support & marketing

Zoe Hallwright

Stage manegement & logistics

Rahul Mishra

Marketing

Roneil Kintanar

Host

Pauline Wang

Video Recording

Maureen Lu

Video recording & marketing

Emily Casey

Video editing, secretary & registration

Abdul Mohammad

Logistics & usher

Tom Crowhurst

Catering & usher

Patrick Liu

Media & logistics

Lucy Luo

Speaker contact

Arun Bharatula

Speaker contact

JoAnne Loquellano

Speaker contact

Sophia Zhu

Speaker contact & usher

Sarah Dekiere

Speaker contact

Deepak Poola

Speaker contact & registration

Nick Fabbri

Speaker contact

Celine Pascal

Marketing

David Fowler

Logistics & registration

Jerry Chen

Funds management & registration

Xiang zhe Xu

Photographer

Matt Pierri

Marketing and secretary
---