AUEB
x
= independently organized TED event
Theme: Redefining Reality
Athens , Greece
March 15th, 2013
Watch video from the event
Please install flash player to see this video.
View photos from the event on Flickr
About this event
The first University Event in Greece.
Our Theme is Redefining Reality. Our goal is to create astrong and innovative TED community in our University. Along with the event, we also initiated a Students Idea Competition about University Improvement. (http://www.studentsact.tedxaueb.com/)

We had 40 ideas, and 3 will be done along with the university .
Organizer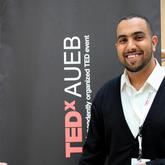 Mazin Hussein
Athens, Greece
Team
Kostapanos Miliaresis

Production Manager

Elina Oikonomou

Marketing Manager

Irini Papagiannouli

Delegate and Speakers Servicing Manager

Panoraia Benardu

Financial Manager

Georgina Kapralou

Inkinds and Logistics Manager

Ioannis Nikolaou

Academic Liaison
---