IIMRanchi
x
= independently organized TED event
Ranchi, India
February 3rd, 2013
Watch video from the event
Please install flash player to see this video.
View photos from the event on Flickr
About this event
This year with the theme "Dream Dare Do" TEDxIIMRanchi invites driven individuals who have faced all odds to realize their vision in a variety of fields.

The speakers include people who have been driving change in a variety of fields including social activism, entrepreneurship, sports, media, arts, public administration etc.

Dreams are the passion of the young and the ideal of the old. Dreaming about one's endeavor to bring a change leads to bigger ideas and bigger plans but only those who have the persistence and courage to advance confidently in the direction of their dreams achieve BIG!
Meaningful change can be brought about through the power of dreams. This power coupled with the indomitable spirit of dare and do leads to a change which can transforms lives.
TEDxIIMRanchihas set the stage for "Dream Dare Do" on 3rd February 2012, at the Radisson Blu Hotel in Ranchi.
Confirmed Speakers
Madhulika S
Madhulika has a PhD in Molecular and Environmental Plant Science followed by a Master's with triple emphasis in Curriculum and Instruction, Social and Leadership development from Texas A &M University, College Station, Texas. Madhulika has over 10 years of experience in program design, development, and implementation in the area of teacher, faculty and student development in the United States and India. Over the past few years, Madhulika has designed and developed several models suitable for faculty and student development based on relevant research in the field. Madhulika moved back to India in Sept 2010 and a group of like-minded individuals joined hands to register Adhya Educational Society (Adhya). In due course of time, it was realized the program needed to be made mobile to reach more children in various communities and Adhya was transformed into an outreach platform serving hundreds of children. Adhya's teaching model and innovation developed by Madhulika, in English learning using local language, culture and way of life has been listed among top 10 innovations in Asia and Africa in Innovative Secondary Education for Skills Enhancement competition conducted by Results for Development Institute, Washington D.C., supported by Rockefeller Foundation.
Capt. Navin Gulia
Adventurer,writer and social worker, Capt Gulia paralysed waist down cut short his Army career. Today he runs Apni duniya Apna Aashiyana or ADAA, a centre for street children in Gurgaon. Capt.Gulia has been awarded a plethora of awards like President's 'National Role Model' Award from Dr APJ Abdul Kalam, Times of India "Global Indian" 2005 etc. He is also the official motivational speaker for the Indian Army.
Dr. Subroto Das
Severely injured and stranded without help for hours, following an accident on a rainy night on NH 8 in August 1999, Dr. Subroto Das, an Ashoka Fellow and his wife Sushmita were finally rescued at dawn. With singular focus for three years ("we were lucky to be alive, others should not die on highways"), the couple worked to ensure that lives were not lost on forlorn Indian highways; thus was created Lifeline Foundation in 2002. The Foundation's first initiative was a pilot project between Surat and Ahmedabad on NH8 in Gujarat with a network of 17 ambulances launched on July 1 2002. Today the network has spread over five states of the country with 620 ambulances and more than 300 Police stations Lifeline is the 3rd biggest Emergency Medical Services Provider in the country after EMRI and ZHL.
Rahul Roushan
Rahul Roushan, an alumnus of the Indian Institute of Management-Ahmedabad and a journalist by profession went on to start FakingNews.com, India's first satire based business in 2008. Faking News is one of the few websites or blogs in India using the tools of sarcasm and humour to publish news satire, as is widely done in the western countries, a trend pioneered by The Onion of USA. Faking news grew viral as people liked his take on issues, which was often coated in absurd/humorous spin on current affairs. A couple of fake news reports could fool the mainstream media into believing that they were real reports, and that too helped.
Anshu Gupta
Popularly known as the Clothing Man, Anshu has done his Mass communications twice and masters in Economics. Starting as a freelance journalist, Anshu left a corporate job in 1998 and founded GOONJ with a mission to make clothing a matter of concern and to bring it among the list of subjects for the development sector. An Ashoka Fellow and the Global Ambassador of Ashoka, Anshu is creating a mass movement for recycling and reuse of tones of waste material by channelizing it from the cities to the villages, as a resource for rural development.
Amitabh Chaudhary
After completing his B. Tech.(Hons.) form IIT Kharagpur in 1984, Mr Amitabh Chaudhary wrote the UPSC exam and secured second rank in the all India Merit List in his first attempt. He chose IPS and was posted in his home state Bihar. During his tenure in Ranchi and Jamshedpur as the top cop, he transformed the public safety system and restored the confidence of the masses in the Police. He has been a cricket enthusiast since long. He has been the manager of India U-19 Cricket Team to Pakistan, 2003 and also the manager of team India to Zimbabwe, Aug-Sep. 2005. He is currently the President of the Jharkhand State Cricket Association (JSCA). He has worked tirelessly to fulfil his dream of giving the state of Jharkhand a state of the art international cricket stadium in Ranchi. The stadium that was built in a record time is an engineering marvel and hosted its first ODI on 19 January 2013.
Faith Gonsalves
Faith Gonsalves is the Project Director for the Integrated Development Education Association (IDEA). In 2008 she founded "Music Basti"; a program that seeks to positively impact the lives of at-risk youth and 'street' children through music and arts. Faith's work aims to identify, mobilize, train and motivate young artists and volunteers on issues of child rights, protection and participation. Since 2008, "Music Basti" has worked with over 500 artists and volunteers, and affected directly over 500 at-risk children and youth. Faith is also the recipient of the prestigious "Real Heroes" National Award 2011 for Youth (CNN IBN and Reliance Industries) and the "Karamveer Puraskaar" 2011, a National Award for Social Entrepreneurship. Faith has also represented "Music Basti" as a participant in the British Council's 'India's Connections through Culture Program' 2011 in the UK, and been a part of the United States Department of State's "International Visitor Leadership Program" on Youth Leadership and Civic Participation in 2012. Faith is also leading the Create to Inspire Fellowships (Nokia and Oxfam India) 2012-13, for Delhi, seeking to network 100 students with 12 arts, design and media based projects to promote sustainable urban consumption.

R N Prasad


Prasad is an Educator, Business Intelligence (BI) Practitioner and a Product Manager. Prasad studies how businesses use 'Information' to make smart decisions. He uses his insights to educate new engineers and guide experienced professionals on applications of BI. His idea: In order to ensure extensive adoption of BI & Analytics, BI systems need to deliver business insights contextualized to each role. He believes that "Design Think" approach is a critical requirement in information systems education. His work focuses on holistic competency development of workforce needed for IT products and services businesses centered on Business Intelligence and Analytics. With 35 years of IT industry experience, currently Prasad is a solopreneur. He has authored a text book on BI for engineering students. Prasad has lead teams in organizations like Infosys limited, IBM, Aspect Development USA, VisionCompass USA and has contributed to BI product development, BI applications implementations and BI education.
Sandeep Maheshwari
Sandeep, a college dropout, started as a freelance photographer and faced countless adversities to become one of the most well known entrepreneurs of India. A young man who has tasted both failure and success in a short span of time, Sandeep has become an inspiration to many. Sandeep's vision is to ignite and inspire the entrepreneurial spirit of tomorrow's leaders and help them succeed. He strongly believes that, "If you have more than you need, share it with those who need it most."
Manish Kumar
An IIT Kharagpur alumnus, and Co-founder of Farms n Farmers (FnF), Manish has been Awarded Entrepreneur of the year by CM of Bihar in 2012, he is also the Director (Finance) -Bihar Entrepreneurs Association and the Co-Chairman (Bihar) of Youth For Nation (YFN). Farms and Farmers works with small & marginal farmers for the empowerment and improvement of their current socioeconomic conditions through innovative ways of farming. It lends a helping hand to the farmers to minimize uncertainty & mental trauma and to maximize revenue by use of innovative ways of farming and by providing support resources offered by government.
Thermal and a Quarter
TAAQ is a path-breaking band from Bangalore, India. TAAQ describes its music as "Bangalore Rock"; a sound as unique and layered as the fast-growing city of its birth. Through the last 16 years, TAAQ has played all over India, completed tours in the USA, the United Kingdom, West Asia and South-East Asia, released five studio albums, opened for acts like Guns N' Roses, Deep Purple and Jethro Tull, and won awards for individual musicianship as well as overall contribution to 'Indian Rock'. Believing in the power of art in facilitating social change, TAAQ has also actively participated in various socially relevant campaigns, from voter awareness to crimes against women.
Ahdaf Soueif
Ahdaf Soueif is the author of the bestseller novel, "The Map of Love" (shortlisted for the Booker Prize in 1999 and translated into 28 languages), as well as the well-loved "In the Eye of the Sun" and the collection of short stories, "I Think of You". Ms Soueif is also a political and cultural commentator. A collection of her essays, Mezzaterra: Fragments from the Common Ground, was published in 2004, as was her translation (from Arabic into English) of Mourid Barghouti's I Saw Ramallah. She writes regularly for the Guardian in the UK and has a weekly column (in Arabic) in al-Shorouk in Egypt. In 2007, Ms Soueif founded Engaged Events, a UK based charity. Its first project is the Palestine Festival of Literature. Ms Soueif has recently edited Reflections on Islamic Art (BQFP: 2011). Her account of Egyptian events, "Cairo: my City, our Revolution", was published in January 2012. She is a recipient of the Metropolis Bleu and the Constantin Cavafy Awards (2012) and the first recipient of the Mahmoud Darwish Award (2010).
Santosh Sharma
From distributing milk door to door to becoming the father of "Dissolve the box" strategy, Santosh is a Delhi University commerce graduate, a qualified Cost and Management Accountant and a Product of the American Management Association. He walked out of the corporate world dumping his illustrious corporate career with 5 industry leaders and is now doing what he feels is most important for humankind. And that is providing "internal freedom to individuals and organizations to take on external challenges" which is actually so fundamental for a better life and a better world. He believes physical and economic freedom is not enough and it's now time to go deeper for inner freedom. He is also the author of the book "Next What's In", mentor to many corporate leaders and a social entrepreneur working for an inclusive and sustainable growth. He has also designed a model as a solution to the present issues like corruption, crime and rape which is already presented to the policy makers and the UN for its implementation. His second book is in the making and is titled "Dissolve the box". It is for those who want to live, grow, lead, create and act.

Tejas Modak


Tejas Modak is a writer and graphic artist based in Pune. He graduated in Applied Art from Abhinav Kala Mahavidyalaya, Pune in 2006. His first graphic novel - 'Private-eye Anonymous: The Art Gallery Case' was published in 2008 and was well received critically and commercially. 'Animal Palette' - his second graphic book was published in 2011 and showcased at the Jaipur Literature Festival 2012. It was also nominated for Best Graphic Novel at the ComicCon Awards in 2012. Tejas had two solo shows of works titled 'Scintillation' and 'Almost Summer' in 2010 and 2011. His illustrations have won awards at international platforms like Daejeon International Cartoon Competition and HiiiBrand Illustration International Competition. He has contributed to several publications like the Times of India, DNA, Indian Express, Hindustan Times etc. and has illustrated books for Wisdom Tree. His translation and adaptation of a popular Marathi novel into English titled 'Faster Fenay at Fort Pratapgarh' has been recently published and showcased at the Jaipur Literature Festival 2013. Tejas has set up his independent design studio in Pune and works on projects that are fun, fulfilling and creatively stimulating.

Nandlal Nayak


Often refered to as the undisuted king of Jharkhand folk music. Nanlal Nayak promotes the rich ancient heritage and culture of the tribal population from Jharkhand among Indian youth and the rest of the world
Organizer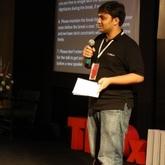 Hanu Kunduru
Ranchi, India
Team
Rajeev Gupta

Co-Organizer

Ashish Mishra

Co-Organizer

Vaibhav Kumar

Co-Organizer

Rohit Agarwal

Logistics

Abhilasha Bhatt

Speakers Team

Anmol Sikka

Speakers Team

Pallavi Srivastava

Speakers Team

Praneeth Pancheti

Speakers Team

Sarvasidhi Phaneendra

Speakers Team

Pulkit Mathur

Sponsorship Team

Jubin Goyal

Sponsorship Team

Tarun Gupta

Sponsorship Team

Akashdeep Sah

Registration

Varun Yadav

Logistics Team

Kushal Ingole

Logistics Team

Vikash Bhagat

Logistics Team

Jagriti Sharma

Registration Team

Sanjana Pattanshetti

Registration Team

Garima Sharma

Registration Team

Parul Katyal

Stage & Venue Design

Nimisha Singhal

Stage & Venue Design

Nivedita Bakshi

Stage & Venue Design

Ankur Gulati

Logistics

Abhishek Kaushal

Speakers

Avinash Pakhre

Logistics
---