Bloomington
x
= independently organized TED event
Theme: Jump IN!
Bloomington, IN, United States
March 22nd, 2013
Watch video from the event
Please install flash player to see this video.
View photos from the event on Flickr
About this event
In TEDxBloomington's second major conference, Jump IN! brought INnovators, INtrigue, INsights and more to the Buskirk-Chumley Theater on March 22.
Confirmed Speakers
Ryan Germick
Creative Team Lead for Google Doodle and a native-born Hoosier, describes himself as "the nerdiest artist in art school and the artsiest nerd at Google."
Bob Einterz, MD
Professor and Associate Dean for Global Health at the IU School of Medicine, Dr. Einterz directs AMPATH, a cooperative consortium in Kenya
Drew Ramsey, MD
One of psychiatry's leading proponents of dietary change to balance mood, sharpen brain function and improve mental health
Eric Deggans
TV and Media Critic for the Tampa Bay Times, freelance commentator for National Public Radio, well-known pundit and author of Race-Baiters
Debby Herbenick, PhD
Research scientist at IU's School for Public Health, co-director of the Center for Sexual Health Promotion, sexual health educator at The Kinsey Institute, author, podcaster, and columnist
Laurie Burns McRobbie
IU's First Lady, founder and honorary chair of the Women's Philanthropy Council, and, as adjunct professor in Informatics and Computing, founder of ServeIT.

Brad Wheeler


University's Vice President for Information Technology and CIO, leads university-wide IT services for IU's eight campuses, speaking on "Marketecture"

Larry Singell


Dean of IU's College of Arts and Sciences and an economist, Larry will speak on recurring themes among people who become leaders
Marlys Witte, MD
The often-described "Ignorama Mama, Mother of the Ignorance Movement" created an internationally recognized Curriculum on Medical (and Other) Ignorance
Cameray Boyden
IU Senior and graduate student, created the West Indianapolis Peace Park and initiated Seeds in the Sidewalk, an urban mentoring program

Denny Morrison


Chief Clinical Officer for Netsmart, the leading provider of clinical solutions for health and human services organizations
Katy BÖrner
Founding Director of the Cyberinfrastructure for Network Science Center at IU and a curator of the international Places and Spaces: Mapping Science Exhibit
Streamline Free Running
Parkour team extraordinaire!
Saya April Hillman
Chicago entrepreneur, one of Brazen Careerist's Top Twenty Young Professionals to Watch in 2012, speaking on creating a Life of YES!"

Emily Ward


IU Program Director for Aquatics, Emily started "Women With Will" (W3), a multi–sport training group that has transformed the lives of its members.

Darryl Neher


Instructor in the Kelley School of Business at IU, City Council member, and former radio host
Kel McBride
Kel McBride is a veteran starter-of-things: the Eroticon, Bleeding Heartland Rollergirls, and Krampus Night
Malke Rosenfeld
An artist/educator, Malke writes and teaches Math In Your Feet.
Daniel Brian Evans
Ceramic artist, Bloomington Clay Studio, I. Fell LLC
Adam James
Adam was "discovered" by Tina Sinatra and invited to portray the role of Frank Sinatra in a musical theater production about Frank's legendary life. At TEDxBloomington, armed with an iPad, a laptop, wireless mic and wi-fi connection, Adam leaves the stage behind and invites the audience to collaborate with him and create new music on the spot.
Organizer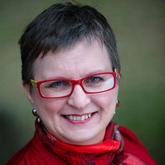 Luci McKean
Bloomington, IN, United States
Team
Jennifer Borland

Project Manager
---