Kyiv
x
= independently organized TED event
Theme: Talents. Education. Development.
Kyiv, Ukraine
May 20th, 2012
View photos from the event on Flickr
About this event
This event was dedicated to uncovering the role of talents and education in creating our future. How to discover and develop talents. How education may create an environment for that. How a country can attract or detract talents. What role talents and education play in the knowledge economy, how they can uniquely position an individual, a community or a state.
Confirmed Speakers
Alexey Grekov


Co-creator of private school "Athens"

Ivan Malkovich


Poet, creator of A-BA-BA-GA-LA-MA-HA publishing
Alexei Kapterev
Presentation consultant, book author

Evhen Pentsak


Professor of finance, financial adviser

Natalya Shulga


Biologist
Dmytry Dziuba
Neural networks researcher

Anatoly Bondarenko


Programmer and journalist at texty.org.ua

Maria Bashlyk


Psychologist and founder of "Vesela nauka"

Liliya Mlinarich


Executive and creator of Jazz Koktebel festival
Igor Skliarevsky
Designer, creator of alternative Kyiv navigation

Pavlo Sheremeta


Strategy consultant and professor, partner at Inspira - Institute of Strategy

Anna Petrova


Creator of Entrepreholic! conference
Valeriy Pekar
Entrepreneur and social philosopher, co-founder of WikiCityNomica community

Olha Bohomolec


Doctor and singer
Venue and Details
Український дім
​ Khreshchatyk St, 2
Kyiv, 02000
Ukraine

This event occurred in the past.
See more TEDxKyiv events »
Organizer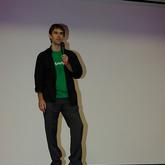 Vsevolod Dyomkin
Kyiv, Ukraine
Team
Vsevolod Domkin

General manager

Roman Zinchenko

Speaker preparation

Taras Parandii

Partners manager

Kseniya Chichkova

Venue and technical manager

Halyna Budinkevich

Guests and volunteers manager

Anastasiya Ringis

Speaker search

Anhelina Overchuk

PR manager

Olha Romanyuk

Logistic support
---