Redmond
x
= independently organized TED event
Redmond, WA, United States

Venue and Details

​ Redmond, WA,
United States

This event is invite-only. Tickets are available.
Ticketing policies vary by event.
---
About this event
TEDxRedmond is an event by youth (an organizing committee of teens and tweens), with speakers all under the age of 18, for youth, parents, teachers, and civic leaders in the community. Events in 2010 and 2011 garnered media attention from around the Pacific Northwest.
Organizer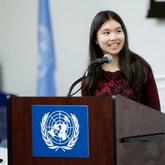 Adora Svitak
Redmond, WA, United States
Co-Organizer
joyce svitak
Redmond, WA, United States