IIMRanchi
x
= independently organized TED event
Theme: Catalyzing Change!
Ranchi, India
February 19th, 2012
Watch video from the event
Please install flash player to see this video.
View photos from the event on Flickr
About this event
This year with the theme "Catalyzing Change" TEDxIIMRanchi is focusing on change and the stories of individuals who have brought about a paradigm shift in society. The speakers include people who have been driving change in a variety of fields including social activism, entrepreneurship, sports, media, arts, public administration etc. We the students of IIM Ranchi believe that Change is critical for mass social impact and empowerment of society. TEDxIIMRanchi took a step towards catalyzing change on the 19th February 2012, at the Radisson Blu Hotel in Ranchi, India
Confirmed Speakers
Parvathi Menon
Parvathi is the Founder and CEO of Innovation Alchemy and the curator of Alchemix, a community of innovation practice. She set up the collaboration – consulting firm in 2009 to bring together her passion for development challenges and a strong belief in the power of innovation thinking to be the critical change ingredient. Parvathi applies a broad spectrum of business, entrepreneurial and facilitation expertise to emerging market challenges. She works specifically with social enterprises that are keen to scale the impact of their work significantly.
Mahesh Naik
An architect whose projects are works in Organic Architecture, which is a way of creating structures that grow from nature and blend into it. His projects, display skilled craftsmanship and structural ingenuity. Red Mars, Naik's first project, was featured in the Phaidon Atlas of 21st Century World Architecture and was nominated for the Aga Khan Award for Architecture in 2007.
Ajay Kumar
A National level Football player, a Doctor, an IPS Officer - Former Superintendent of Police in Jamshedpur, courageously took on the Mafia earning the title of SuperCop, recipient of the President's Bravery Award, was a GM at Tata sons, CEO of Cummins Diesel, President - Apollo Hospital group, Country Head at Max Neeman International and currently Member of Parliament to the 15th LokSabha from Jamshedpur. He is a perfect example of varied experiences from being a doctor to a policeman to a corporate honcho and a member of parliament.
N.K. Chaudhary
Social Entrepreneur and Founder of Jaipur Rugs. He has received various awards viz. Ernst & Young Entrepreneur of the Year 2010 - Start-up Award , Udyog Ratna Award etc having built a country-wide network of 40,000 artisans in 10 states to build India's largest hand-knitted carpet company and one of the biggest socially inclusive private enterprise.
Pablo Bartholomew
Winner of the World Press Photo award for his series on Morphine Addicts in India (1975) at the age of 19 and the World Press Photo of the Year for the Bhopal Gas Tragedy(1984). His repertoire is ever increasing, prompting the photographer in him to reinvent his worldview, to visit places and people not many would want to, to keep renewing his faith on the wonders of the planet, wonders that have time and again appeared in myriad forms of hope, earnestness and even devastation in front of him, for him to lovingly and keenly capture them for eternity.

Swami Smaranananda Giri


General Secretary of Yogoda Satsanga Society of India, founded by Sri Sri Paramahansa Yogananda in 1917. Involved in various spiritual, humanitarian and charitable activities, and spreading of the 'Kriya Yoga teachings' of Paramahansa Yoganandaji in the Indian sub-continent. Swamiji before his quest for spirituality was a Post-Doctoral fellow from Concordia University, Montreal and a Ph.D. in Electronics and Communication Engineering from IIT Kharagpur. A Gold Medallist in school final and engineering studies.
Aishwarya Natarajan
She started Indianuance with the idea that Indian classical musicians deserve greater exposure, better management and people to work with who understand their music. Recieived the British Council Young Music Entrepreneur Award
Nalin Kohli
National Executive Member of BJP.An entrepreneur and educationist. Ex-chairman and Founder Director of Vidyasanskar School, India's first residential school to offer University of Cambridge International Examinations(CIE)curriculum from primary classes till A Levels. Founder Director of International School of Media and Entertainment Studies (ISOMES) with an international collaboration with the famous Missouri School of Journalism, USA, the world's oldest journalism school. Was a prime-time English news anchor on Doordarshan.
Mark Inglis
First double amputee to climb the summit of a 8000m peak, when he climbed Cho Oyu (8,210 metres), the 6th highest mountain in the World. He then went on many expeditions since, including the climb to the peak of Mt. Everest. His story is one of setbacks, determination against the odds and personal success. He is also a researcher, winemaker and motivational speaker. After his remarkable climb of Everest he created Limbs4All raising significant funding for the Cambodia Trust (of which he is a patron) and many other very deserving projects with Limbs4All as an umbrella charity through which he aims to direct assistance to over 400 million disabled people worldwide.
Urvashi Butalia
Feminist publisher and writer. Co-founder of Kali for Women, India's first feminist publishing house and now Director of Zubaan, an imprint of Kali. Author of several books including the award winning history of Partition, The Other Side of Silence: Voices from the Partition of India. Awarded the Oral History Book Association Award (2001), the Nikkei Asia Award for Culture (2003) and the Padma Shree (2011). Was previosly a consultant for Oxfam India and also held the position of Reader at the College of Vocational Studies at the University of Delhi. her life's work is all about bringing out stories from the other side which is normally not documented or heard, including women and the unrepresented.
Premlatha Agarwal
Premlata Agarwal is a mountain climber, who on May 20, 2011 became the oldest Indian woman to have scaled the world's tallest peak, the Mount Everest, at the age of 45. She also became the first person from Jharkhand state to go an expedition to the Mount Everest. She plans to climb the tallest peaks in each of the six continents and has already climbed three of them. Prior to this she took part in Island Peak Expedition in Nepal (20600 ft) in 2004, the Karakoram Pass (18300 ft) and Mt. Saltoro Kangri (20150 ft) in 2006 and was part of the first Indian Women's Thar Desert Expedition in 2007, a 40-day camel safari from Bhuj in Gujarat to the Wagah Border (Indo-Pak border) in Punjab. Her feats have also got a listed in in the Limca Book of Records. She is a mother of two daughters.
Franz Gastler
Founder of Yuwa- an NGO that promotes football for girls as a platform for their social development. A BA and Masters in International Political Economy from Boston University besides graduating from a program on Negotiation at Harvard Law School. Was a consultant to CII, working with company executives on social strategies. Yuwa currently has 255 players among 18 teams in its fold. He trained at the US Olympic Training Center in judo, played ice hockey as a goalkeeper, and coached alpine skiing for twelve years in USA.
Organizer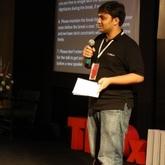 Hanu Kunduru
Ranchi, India
Team
Sameer Agrawal

Director - Speaker Research

Shekhar Modi

Director - Speaker Content

Ajay Patel

Co-organizer

Raghuveer Surupa

Co-Organizer

Rahul Nair

Director - Public Relations

Ashvin Patil

Director - Logistics

Rajeev Gupta

Director - Sponsorship
---