Canberra
x
= independently organized TED event
Theme: An Optimistic Challenge
Canberra, Australia
September 8th, 2012
Watch video from the event
Please install flash player to see this video.
View photos from the event on Flickr
About this event
In a world where com­plex­ity, con­flict, cri­sis and self-interest seem to dom­i­nate, we want to take a dif­fer­ent approach. Let's instead imag­ine a world where prob­lems still exist, but learn­ing from fail­ure and our pre­pared­ness to refuse to say "I can't" guide us towards a place where our opti­mism helps us believe that all prob­lems have solu­tions if we address them in a sus­tain­able way. In this, we embrace An Opti­mistic Chal­lenge.

TEDx­Can­berra 2012 takes place at The Play­house on 8 Sep­tem­ber 2012.
Organizer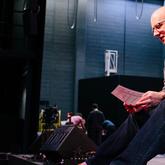 Stephen Collins
Canberra, Act, Australia
Team
Allison Denny-Collins

Project Manager

Clare Conroy

Executive Producer

Gavin Tapp

Music and Pictures

Lauren Cochrane

Design Director

Tim Conway

Partnerships Director

Jo Allebone

Media Director

Ruth Ellison

Volunteer Coordinator
---