Skolkovo
x
= independently organized TED event
Theme: Revolutionary breakthroughs
Moscow, Skolkovo, Russian Federation
October 27th, 2011
Watch video from the event
Please install flash player to see this video.
View photos from the event on Flickr
About this event
TEDxSkolkovo on the theme "Revolutionary breakthroughs" will consist of three sessions: "Revolution of knowledge and plays of the mind", "Myths making in the Internet", "Fashion and our daily life".
What breakthroughs in the 20-21 century are more valuable? All we know that communicational inventions made a great contribution in our life that's why we will talk a lot about it. Has Russia adapted normally in the field of modern communications?
Organizer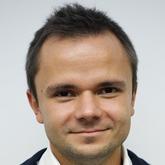 Andrey Egorov
Moscow, Russian Federation
Team
Alina Suslova

PR director

Maria Draganova

Administrator
---