DePaulU
x
= independently organized TED event
Theme: "What Can We Do?"
Chicago, IL, United States
April 28th, 2012
Watch video from the event
Please install flash player to see this video.
View photos from the event on Flickr
About this event
TEDxDePaulU is a locally and independently organized TEDx event. This event plans to bring together a remarkable line-up of fascinating, innovative and influential speakers whose talks challenge, move and inspire us. We hope that conversations are sparked and collaborations begun.

Our vision for TEDxDePaulU aims to embody a multidimensional, multifaceted set of presentations that captures TED's mission of "ideas worth spreading." From discussions on fear, compassion, potential, and actualization, we hope to encapsulate our theme, "What Can We Do?". Through a progression of empowering talks and a shared desire to make a difference, we anticipate an event that is truly an experience.
Organizer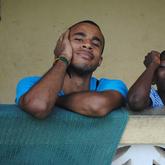 Matthew Manning
Chicago, IL, United States
Team
Daniel Gurevich

Organizer

Matt Helbig

Social Media & Design
---