Perm
x
= independently organized TED event
Theme: Life without limits
Perm, Russian Federation
October 23rd, 2011
Watch video from the event
Please install flash player to see this video.
View photos from the event on Flickr
About this event
TEDxPerm 2011 is devoted to the theme "Life without Limits". Life without limits includes daily routine, passing obstacles, discovering the world and personal abilities. Because of the fears, stereotypes, habits and previous experience we stint ourselves in many things, though there're nothing impossible: borders are built by us. On TEDxPerm we want to raise a question of unlimited opportunities: everyone can succeed in every sphere if he or she believes that everything is feasible. It is a mission of TEDxPerm 2011 to show everyone that there's nothing impossible!
Confirmed Speakers
Alexey Romantsov


Technology director of "Vysota 239", one of the most beautiful and equipped plants in the world.

Vladimir Melnikov


CEO of Blagovest, "Steel doors academy". An actor in the past, now he is a an entrepreneur now. In everyday life and in business Vladimir explores the methods that help to overcome the obstacles and make something impossible.

Kendrick White


Kendrick is CEO and founder of "Marchmont Capital Partners" Fund. He was born and lived in the USA till 1992 and after that came to Russia where he began to build his own business

Semyon Litsyn


Semyon Litsyn was born in Perm, then he moved to Israel. Semyon is one of the inventor of modern flash memory. Now he is a chief scientist of Sandisk.

Alexey Tarasenko


CEO of A.V.T.Sport, entrepreneur and businessman
Umberto Giraudo
Tutor of British High School of Art and Design
Sergey Beloussov
Senior partner of Runa Capital, founder of Parallels company, entrepreneur
Alexey Germanovich
Professor of Professional Practice, Public Projects Director at SKOLKOVO. Co-founder of Ru.Branding (rubranding.com) project.

"Grotesk"


Alexey Fotin, Ruzanna Kazaryan, European champions in dances among disabled people
Venue and Details
Moloko Club
​ Uralskaya, 85
Perm,
Russian Federation

This event occurred in the past.
See more TEDxPerm events »
Organizer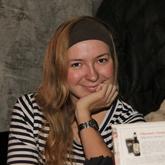 Anna Boyarkina
Perm, Russian Federation
Team
Natalya Sirina

PR and communications

Andrey Khusid

Speakers' relations, event planning

Sergey Prokofiev

Speakers' preparation

Dmitry Tomchuk

leading the conference

Dmitry Kutelia

Techical support
---