USB
x
= independently organized TED event
Theme: Open Knowledge, Connectivity and Innovation
Caracas, Venezuela
March 10th, 2012
Watch video from the event
Please install flash player to see this video.
View photos from the event on Flickr
About this event
We brought together, in one day, 18 venezuelans from all over the world to present in 18 min (or less) their ideas and their recent work. Ideas related to new research, new products, new learning-teaching approaches, new social relations, but all innovation. There were people from science, from IT, from social science and from music.
Organizer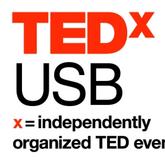 William Colmenares
Caracas, Venezuela
Team
Kenyer Dominguez

Comité Técnico

Octavio Rodríguez

Comité Organizador

Elia García

Comité Organizador

Oscar González

Comité Organizador

Gabriel Golczer

Comité Organizador

Celia Wever

Finanzas

Nicola Baglivi

Comité Técnico

Mariela Azzato

Diseño Gráfico. Comité Técnico

Mariana Walker

Logística

Giacomina Solazo

Comité Organizador. Egresados

Carla Cabello

Comité Organizador. Estudiantes

Renzo Bocardo

Comité Técnico

Ahyessa Gil

Comité Técnico. Estudiantes
---