Nicosia
x
= independently organized TED event
Theme: DREAM.RISK.CARE.LIVE!
Nicosia, Cyprus
November 30th, 2011
Watch video from the event
Please install flash player to see this video.
View photos from the event on Flickr
About this event
TEDxNicosia is about finding, retrieving and exploring inspiration in our day to day lives here in Cyprus. As opposed to a large metropolis like London or New York City or Shanghai, smaller places like Nicosia, the capital of Cyprus and last divided capital of Europe, sometimes feel too tight and bare when it comes to daily inspiration through empowerment and accountability in entrepreneurship, arts and culture, environmental awareness, personal and professional growth. This event is about stretching our comfort zone and reinvigorating our ability and capacity to dream, to risk, to care - to believe in a well rounded life, one worth living. From a global perspective, this event aspires to be a window of Cyprus to the TEDx world, and vice versa. On a more local, even individual perspective, this event aspires to show that there indeed are people around us, here in Nicosia, our 12 speakers, who through their seemingly ordinary lives are doing extraordinary things and they simply demonstrate that dreaming, risking, caring is living, no matter what latitude and longitude one is on...Perhaps through this TEDxNicosia and by hearing their voice, we can each find our own voice and strengthen our own capacity to Dream. Risk. Care and Live!
Venue and Details
University of Nicosia
​ 46 Makedonitissis Egkomi
Nicosia, 1700
Cyprus

This event occurred in the past.
See more TEDxNicosia events »
Organizer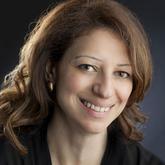 Marina Theodotou
Nicosia, Cyprus
Team
Marina Theodotou

TEDxNicosia Founder and Curator

Rania Traiforos- Makriyiannis

TEDxNicosia Organizing Team - Communications and Operations Management

Alana Kakoyiannis

TEDxNicosia Organizing Team- Production Management

Antonios Yemenaris

TEDxNicosia Organizing Team- Logistics Management

Loris Stavrinides

TEDxNicosia Organizing Team - Digital Design Management
---