Charlotte
x
= independently organized TED event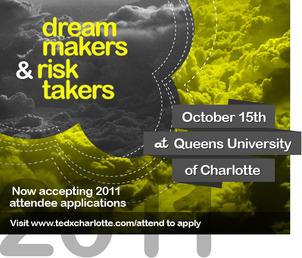 Theme: Risk-takers and Dream-makers
Charlotte, NC, United States
October 15th, 2011
View photos from the event on Flickr
About this event
TEDxCharlotte seeks to present the most fascinating people and ideas you've never heard of. Focused on Charlotte and the region, our event spotlights the people who have powered their ideas, initiatives and themselves forward with passion.
Confirmed Speakers
JD, Buck and Jack Lewis
Founders of Twelve in Twelve--world travelers, humanitarians, explorers!

Max Wallace


President, Hackerspace Charlotte
Scott Swimmer
Founder of drumSTRONG
Dolphus Ramseur
Founder of Ramseur Records and music industry maverick.

Rebekah Fergusson


Videographer, world-traveler, risk-taker...

Kirsten Hemmy


Chair of Interdisciplinary Studies, Philosophy, and Religion at Johnson C. Smith University, Charlotte

Juan Logan


Artist, activist, risk-taker

Charla Muller


Author of 365 Nights...dream-maker AND risk-taker...
David Johnson
Photographer, Founder of SilentImages, hero and admirer of heroes...

Loan Tran


Student, activist, thinker, risk-taker...
Dr. Mark Moore
Researcher, innovator, TEDxNASA alum...definitely a risk-taker!

Susan Harbage Page


Artist, activist, risk-taker, dream-maker...
James Adams
Thinker, do-er, Founder All of Or None Charlotte
Manny Ohonme
Sports hero, Founder of Samaritans Feet, humanitarian, doer, risk-taker and dream-maker...
Additional Links
TEDTalks shown
Venue and Details
Dana Auditorium
​ Queens University of Charlotte
1900 Selwyn Avenue
Charlotte, NC, 28207
United States

This event occurred in the past.
See more TEDxCharlotte events »
Organizer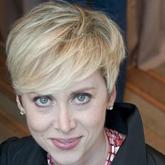 Candice Langston
Charlotte, NC, United States
Team
Candice Langston

Organizer/Curator

Tracy Russ

Curator/Organizer

Manoj Kesavan

Curator/Organizer

Angela Gala

Curator/Organizer

Mike Watson

Host

Desiree Kane

Social Media Maven

Justin Ruckman

Producer

Matthew Tyndall

Producer

Charles Thomas

Curator/Organizer

Winn Maddrey

Curator/Organizer

Kim McColloch

Curator/Organizer
---