ConcordiaUPortland
x
= independently organized TED event
Theme: think.inspire.go
Portland, OR, United States
May 14th, 2011
Watch video from the event
Please install flash player to see this video.
View photos from the event on Flickr
About this event
What's TEDxConcordiaUPortland?

This is something we get asked every day. It is a fun question to answer… It's an independently organized and licensed offshoot of TED, you know, the huge speaking event with "ideas worth spreading". The one where they provide a way for us to hear great ideas from THINKers who have an idea that is changing the world. The event where amazing individuals are giving an 18 minute or less "talk of a lifetime".

Concordia University is independently organizing it's own take on the people and organizations that INSPIRE and make Portland great and we're calling it TEDxConcordiaUPortland. The Bus Project, sustainability, alternative models of education, community service, innovative living and, naturally, food carts all come into play. That's not everything it'll cover, though. Portland's great for a lot of other reasons too.

Probably too many reasons to cover in a one-day event.

We just want to share some of Portland's "ideas worth spreading" to a larger audience.
Confirmed Speakers
Sharif Adbullah
Author of Creating a World That Works for All; Dr. Sharif Abdullah is an author and advocate for inclusivity, societal transformation and societal spirituality. Sharif's life vision and mission are simple: we can create a world that works for all beings. Sharif believes we must release the status quo and transform our toxic political, economic and social/cultural systems and structures. Sharif promotes heart-centered inclusivity, compassionate dialog, and a society based on visionary, localized and alternative economics and politics. His vision and work are informed by his spiritual awareness, his growing up with racism and generational poverty, and his later inclusivity experiences in over 100 distinct cultures, spanning 36 countries. His books include The Power of One: Authentic Leadership in Turbulent Time, the award-winning Creating a World That Works for All, and the visionary Seven Seeds for a New Society. Sharif has degrees in psychology and law. He is a graduate-level adjunct professor of Conflict Resolution at Portland State University. He is founder and director of the Commonway Institute for Societal Transformation.
Polly Bangs
Urban Opportunities Program Manager; Ms. Bangs has worked with youth since 2002, and has been the founder and Program Manager of Urban Opportunities since 2007. Ms. Bangs previously owned her own restaurant in North Portland, Pasta Bangs, at which she created job opportunities for at-risk youth and developed the concept for Urban Opportunities. Ms. Bangs' entrepreneurial spirit and business connections have provided at-risk youth in Portland access to real jobs. She has a Bachelor's Degree from Portland State University, six years of experience as a supervisor, and five years experience as a local business owner.
Melissa Delzio
Designer and storyteller; Melissa Delzio is a freelance graphic designer and creative entrepreneur with over seven years of experience producing print and web graphics for international and local consumer and non-profit brands. In 2008, Melissa founded a book project that promotes design and storytelling on the topic of Portland. Our Portland Story sought submissions of short stories from average Portlanders describing one thing they love about Portland, and paired those stories with different local designers who graphically bring the tale to life on the page. Altogether, the book creates a cross-section of community views and values told through personal stories and graphics. Our Portland Story was published in 2010 and is available for purchase online and at many local retailers.
Blaine Fontana
Professional human being; Blaine Fontana currently lives and works in Portland, Oregon. Imbuing his vision with the divine symbolism of religious myths, worldly folklore and current social dynamics, his works contain a kind of shamanic exploration of meaning that recognizes the totemic quality and power of the image. With extensive experience within the design world, including working as a designer for Felt Bicycles and acting art director for Zero+ Publishing, Fontana's work displays a virtuosic understanding of sign & simulacra and their role within our contemporary visual culture. Straddling the physical and metaphysical, organic and architectural, painterly and graphic sensibilities, Fontana fuses multiple visual strategies to forge an aesthetic language entirely of his own making. His works have been published in a variety of publications, including iDN/Society 6, My Name Is, Sycamore Review, Soul Pancake, Mod Art, Hi-Fructose, and Juxtapoz. He has exhibited nationally in Seattle, Portland, San Diego, Las Vegas, Philadelphia, Los Angeles, Denver, Austin, Miami, and New York, and internationally in Germany, Canada and Japan. With his wife and creative partner, he currently runs Fontana Studios, a multi-media art and design studio in Portland, Oregon. He has designed and licensed work for a number of companies including SCION Installation Art Tour, Patagonia, Nike, Quicksilver, Toyota, Kid Robot, Upper Playground, Quiksilver, Ocean Pacific, KFC International, and Arbor Snowboards. Blaine Fontana received his BFA in Communication Art/Design from Otis College of Art and Design in Los Angeles, CA in 2002. He was awarded "Best in Show" for his senior thesis project, and is one of only seven distinguished alumni from 2000-2010. He is currently an Advisory Board member for the Northwest College of Art.
Prashant Kakad
Bollywood Singer, Dancer, DJ; This multi-talented Cornell Graduate and ex- Intel Engineer is a Bollywood Singer, Dance Instructor, and DJ, spinning an eclectic mix of International dance music to packed houses nationwide. He has moved masses, from kids to elders across both coasts of America including New York City, Washington D.C., Bay Area, Seattle and Portland. Prashant has taught dance at PSU, PCC and currently teaches at REED College as well as privately at Euphoria Studios. His twice a month Jai Ho Dance Parties at The Crystal Ballroom in Portland feature LIVE singing, dance lessons and dance performances blended with seamless DJ sets crossing barriers such as age, language and culture, compelling all to celebrate the joyful Indian Music via dance! Prashant's work has been featured in The Oregonian and The Asian Reporter positioning him as the vanguard of emerging Indian culture movement.
Neal Keny-Guyer
Humanitarian; Neal Keny-Guyer is a social entrepreneur committed to creating a more just and peaceful world. A native of Tennessee, Keny-Guyer holds a B.A. in Public Policy and Religion from Duke University, an M.A. in Public and Private Management from Yale University, and an honorary Doctor of Humane Letters from Portland State University, Oregon. Keny-Guyer joined Mercy Corps in 1994 as Chief Executive Officer. Under his aegis, Mercy Corps has emerged as a leading international humanitarian and development organization with ongoing operations in nearly 36 countries with a staff of 3,700. Keny-Guyer has forged new directions at Mercy Corps, most notably implementing global mergers and strategic alliances, placing human rights, civil society and social entrepreneurship at the forefront of Mercy Corps' humanitarian mission, and building an organizational reputation for groundbreaking, innovative programming in the world's toughest environments.
Jeff Mapes
Author of Pedaling Revolution and political writer for The Oregonian; Jeff is the senior political reporter at The Oregonian and author of Pedaling Revolution: How Cyclists are Changing American Cities. He has covered numerous state and national campaigns as well as Congress and the Oregon Legislature. He also writes the Mapes on Politics blog and appears every Friday for a political chat on Oregon Public Broadcasting during Morning Edition. He is a graduate of San Jose State University, lives in Portland with his wife, Karen, and has two grown children. His last transportation purchase was a cargo bike.
Mohan Nair
Author, educator, entrepreneur; Born and raised in Singapore, Mohan witnessed and participated in a nation that transformed itself through hard work and strategy. There, he discovered his love for music, watercolors, mathematics and here he discovered his love for computer science, leadership and business strategy. He investigates all these passions as part of the fabric of personal and business transformation. Currently, as Chief Innovation Officer at Regence, a leading healthcare organization, he is focused on healthcare transformation. Prior to this, Mohan's journey in business took him through high profile but diverse technology companies and startup businesses where he led as President. He was also founder of Emerge Inc, a strategy advisory firm. Unknown to many, he served as an infantry soldier, a TV talk show host, a performer and also as an educator as Adjunct Professor of Business Management at Kellogg School of Management teaching executive courses in cost and performance management for ten years.
Tres Shannon
Founder of Voodoo Doughnuts; Tres grew up in Colorado and moved to Portland in 1984. He opened an all-ages Rock Club, The X-Ray Cafe from 1990-1994 in downtown Portland. He booked bands at Berbati's from 1994-2000 and opened Voodoo Doughnut in 2003. Voodoo Doughnut currently has two stores in Portland and one store in Eugene. Tres is currently the front man for the Kareoke From Hell Band and The Miss You's. . Portland's premier Rolling Stones Cover Band.
Jefferson Smith
Democracy entrepreneur; Jefferson Smith is best known for founding the Oregon Bus Project, an innovative vehicle for hands-on democracy. Since its founding in 2001, the Bus has registered over 70,000 voters, trained young leaders from around the country with its PolitiCorps fellowship program, and engaged thousands of volunteers in grassroots democracy. Bus programs have been replicated in over 20 states around the nation. A graduate of Portland public schools, Jefferson attended U of O and Harvard Law, where he graduated magna cum laude. After clerking for a Federal Judge in the Ninth Circuit, he took a job at a top paying Manhattan Law Firm; when he was asked to represent Big Tobacco, he came home to a leading Portland firm, and one year later, founded the Bus Project. First elected to office in 2008, Jefferson focuses his policy work in three areas: 1. Building a "high road" economy - prosperous, sustainable, and fair. He was half of the legislative "odd couple" that passed landmark win-win water investment legislation and is now working on the "economic gardening" plan for homegrown business and the "Cool Schools" plan to retrofit public school buildings for higher performance. 2. Making democracy work better - voter access, accountability to outcomes, and increasing transparency. He championed online voter registration as well as Oregon.gov/transparency to share Oregon's budget with the world. 3. Bedrock needs - the basics that matter for his district (among the most economically challenged in the state) and others like them. He has pushed for a fair share for under-served areas and co-sponsored the state's human trafficking hotline legislation in 2010. Jefferson has spoken to nonprofits and colleges around the country and opened for President Obama in 2010. He has appeared on CNN and MSNBC. Media outlets have dubbed Jefferson one of the "Top 20 to Watch," and someone with "vision, youth to help us find a new path." Ultimate Northwest Magazine made him their Rethinking Politics coverboy, noting,"He's saving democracy. What are you doing?" He's been a cattlehand in Hermiston, OR, run programs for kids in inner-city Washington, DC, and coached youth basketball in Eugene. He lives with his wife Katy in East Portland.
Timothy Smith
Urban Designer, City Planner, Architect for SERA Architecture; Tim Smith is a Principal and Director of Urban Design and Planning for SERA Architects, a Portland, Oregon firm that offers integrated services in architecture, urban design, planning, and sustainability consulting. He is a registered architect and a certified planner with over 30 years of professional experience. His recent projects include the design of a new capital city for the Western Region of Abu Dhabi, Eco-Taipei: An Eco-city vision for Taipei, Taiwan, and the Portland State University Framework Plan. Tim is currently serving as urban design advisor to the City of San Francisco for the redevelopment of Treasure Island. Tim's work in sustainability has received a number of awards including a Progressive Architecture Research Award for Sustainable Communities in the Urban-Rural Interface. He has directed SERA's efforts to develop the Civic Ecology framework and has lectured widely on the topic. Tim has served as Vice President of the Portland Planning Commission, on the Portland Chapter AIA Urban Design Committee, the Mayor's Central City Roundtable and as a member of the City of Portland EcoDistrict Technical Advisory Committee. Tim is a graduate of the University of Michigan where he also received a Master of Architecture. He received a Master of City Planning and a Master in Architecture (Urban Design) from the University of Pennsylvania. Tim taught urban design at the University of Pennsylvania's School of Design.
Dick Roy
Managing Director, Center for Earth Leadership; A 1970 graduate of Harvard Law School, Dick left his practice of corporate law with Stoel Rives to join his wife Jeanne as a full-time volunteer for the earth in 1993. Together, they have launched the Center for Earth Leadership, the Northwest Earth Institute, and the Oregon Natural Step Network. At the national level, Dick served for six years on the board of the Center for a New American Dream.
Jeanne Roy
Education Director, Center for Earth Leadership; A recognized leader in Oregon's environmental movement for 35 years, Jeanne is a co-founder of the Center for Earth Leadership, the Northwest Earth Institute, and the Oregon Natural Step Network. She served on the founding board of The Natural Step U.S. at the request of Paul Hawken. She also co-founded Recycling Advocates and Portland's Master Recycler program, authored a weekly column on sustainable lifestyle in The Oregonian and This Week Magazine for five years, and serves as a continual advisor to public agencies on environmental policy matters.
Kelley Roy
Author and Sustainable Urbanist; Kelley Roy is the Director of ADX, a membership based art and design facility in the heart of Portland's Central Eastside. Equal parts workspace and incubator, our membership-based 10,000SF facility unites a number of creative disciplines under one roof, giving the community an accessible, collaborative, supportive site for creative work. From wood and metal shops, to co-working desks, to private studios (housed in swanky vintage travel trailers), ADX's amenities offer the opportunity for designers of all stripes to explore their craft, prototype products, enlist the support of industry experts, and display and sell work in an adjacent gallery. ADX also provides a diverse schedule of classes and a range of programming. Memberships are available for those wanting to utilize the space and equipment on a part-time basis. Members can then choose between hourly, daily, and monthly use of the wood shop, metal shop, and other production areas. Ms. Roy's passion is all things Portland, and she provides business and marketing consulting services for Portland artists and designers who want to make a living doing what they love.
Dee Williams
Minimalist; How much stuff does a person really need? This is a question Dee Williams has been challenging for years, and after a pivotal trip to Guatemala seven years ago, her conclusion was: not much. Dee sold her home, got rid of most of her belongings, and began limiting herself to about 300 possessions -- that was everything from heels and a toothbrush, to a couple of dinner plates and a two-ton jack. She then built a tiny house on wheels, parked it in a friend's backyard, and commenced re-defining her understanding of the basics: community well-being, gratitude, happiness and the compost toilet. Dee has been featured in the media including, Yes! Magazine, the NBC Evening News, NPR, Good Morning America and TIME Magazine. Her tiny company, Boxcar Woodcraft, won the Washington Governor's Award for Sustainable Practices in 2008 and in 2010, her company, Portland Alternative Dwellings, started rolling out customer-designed little houses and offering workshops for would-be builders.
Chris Guillebeau
Writer; Chris Guillebeau is a writer, world traveler, entrepreneur, and lifelong learner. He has visited more than 150 countries on a 5-year quest to visit every country in the world (only 42 more to go!). From 2002-2006, Chris served as a volunteer executive for a medical charity in West Africa before returning to the U.S. and completing a Master's degree in International Studies at the University of Washington. He then started the blog The Art of Non-Conformity (AONC) and wrote the book of the same title. Both projects chronicle his personal quest and provide a platform for others interested in pursuing a big dream while making the world a better place. When not roaming the world, Chris lives in Portland, Oregon. You can follow him at twitter.com/chrisguillebeau or at the nearest Stumptown coffee shop.

Nick Caleb


Activist; Nicholas attended Concordia University where he received a biology degree and, more importantly, mentoring and direction from positive and progressive professors. He attended law school at the University of Oregon because of its focus on public interest law and is currently a member of the Oregon State Bar. While at U of O, he was able to regularly travel internationally, teach animal behavior and genetics to undergraduates, clerk at the Oregon Department of Justice, and serve as an extern at the Federal District Court of Oregon for the Honorable Ann Aiken. In Nicholas' opinion, his most significant and life changing experience came from a summer spent as a policy analyst at Vandana Shiva's Research Foundation for Science, Technology, and Ecology in Delhi, India. This experience forced him to grapple with the effects of globalization on impoverished peoples around the globe. After receiving his law degree, he moved to Europe and earned his LL.M. in Law & Technology from Tilburg University in the Netherlands. Nicholas reports that even more important than the high quality education were the valuable social, cultural, and political experiences that come with immersion in a foreign culture. As one of few Americans in his university -- and the only in his graduate program -- he served as a de facto ambassador for the American approach to law, life, and culture in the classroom. For example, during the American health care debate, Nicholas reports that he was repeatedly approached and challenged to explain why the wealthiest country in the history of the world openly refused to provide health care to all of his citizens when Europeans had accomplished this feat long ago. He left Europe with the strong belief that living in a society with a strong social safety net is not some abstract idea, but an achievable reality if people desire it enough. After returning from Europe, Nicholas was immediately hired as a field organizer for a local Democratic state senate campaign. He has spent the last few months reintegrating into Portland society, teaching in environmental science, and is in the process of organizing a series of local civil rights seminars.

Kelly Rodgers


Provocateur; Kelly Rodgers and Kelley Roy are the CoAuthors of Cartopia: Portland's Food Cart Revolution. A book that documents– through stories and photography – the perfect storm of Portland's independent culture, artisan economy, and foodie scene that created the street food revolution. Kelly and Kelley have been collaborating on projects since they first met in 2001. Their bond runs deep: sometimes they complete each others' sentences and communicate via ESP. Kelly without the second E can be spotted riding around Portland on her trusty bicycle and Kelley with the E can be seen zipping around on her scooter Petunia. They both emerged from the world of urban planning relatively unscathed and now are making it their life mission to make cool stuff happen in Portland. Kelly without the E is an ideas person and often waves her hands around in wild gesticulation to draw an "air picture" of her thoughts. Although undiagnosed, Kelley with the E suffers from a disorder that does not allow her to do just one thing at a time; she suspects the extra E in her name may be responsible. KELLY RODGERS is the principal of Confluence Planning. Since moving to Portland in 1995, Kelly has worked in a variety of areas to support the development of a sustainable city, including neighborhood planning, green infrastructure, community design, renewable energy, and sustainable transportation. In other words, she has been working to create cities where people know their neighbors, where resources are used efficiently, where people don't have to get in the car to meet their basic needs, and where it's possible to work collaboratively on creative energy, food, and housing solutions. Kelly's relationship with food carts began simply as a cartivore, but her interest was piqued further by their rapid growth and their increasingly elaborate street presence. She has grown to appreciate food carts not only for their architectural personality and contribution to street life, but also for their role in the artisan economy.
Organizer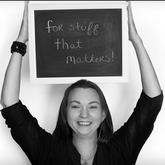 Michelle Jones
Portland, OR, United States
Team
John Petri

Volunteer coordinator

Jackie Hendrickson

Marketing and social media coordinator

Ira LaFontaine

Marketing and promotions coordinator

Brittany Duncan

Planning team member

Audrey Abbott

Food carts coordinator

Krista Reynolds

Stage design coordinator

Linda Church

Planning team member

Hunter Brookshier

Video and videographer coordinator

James Gaynor

Planning team member

Erin Mueller

Faculty, Planning team member

Rachel Morgan

Planning team member

Trish Turchiarolo-Vanoni

Director of University Special Events

Dick Hill

Faculty, Planning team member

Matt Stormont

Speaker liasion

Tia Lawson

Planning team member

Steve Harper

Production Designer
---