Flanders
x
= independently organized TED event
Theme: Leitmotiv
Antwerpen, Belgium
September 24th, 2011
Watch video from the event
Please install flash player to see this video.
View photos from the event on Flickr
About this event
Confirmed Speakers
Jean-Paul Vanbendegem
Philosopher and mathematician explains why creativity needs logic and vice versa
Dos Winkel
Under-sea photographer is a protector of our endangered oceans
Bernard Lietaer
Civilization needs a new operating system, and fast! Bernard proposes new and alternative ways of thinking about money and economy.
Lara Alegria Mira
Engineer on scissor structures
Stijn
Musician Stijn takes us on a synthetic dreamscape.
Dan Brodsky
Skydiver Dan tells his moving personal story as a professional and award-winning skydiver before, during, and mainly after a plane crash.
Spiral Consort
Spiral Consort is an Antwerp based ensemble playing an unusual instrument, the conch shell.
Olivia U. Rutazibwa
Journalist. She has an astonishing insight into Flanders, diversity, diasporas, multiple identities, Europe and North-South relations. She'll discuss how to 'decolonize the Western minds'.
Aagje Beirens
MyMachine is a unique project that offers students from primary, secondary and higher eduction the opportunity to collaborate to build their own dream machine.
Tatjana Gürbaca
Inspired and contemporary handling of Tsjaikovski with a strong sense of dramaturgy What is opera in the 21st century?
John Hunter
John puts all the problems of the world on a 4′x5′ plywood board and lets his 4th-graders solve them. He explaines how his World Peace Game engages schoolkids, and why the complex lessons it teaches (spontaneous, and always surprising) go further than classroom lectures can.
Reinhart Paelinck
Engineers kites for energy production

Opera Choir


An open rehearsal
Peter Woit & Tommaso Dorigo
What is CERN doing? Can we laymen understand something about elementary particles? Did we find the Higgs boson?
Molly Crocket
Can pills change our morals? How stable is our sense of right and wrong? Neuroscientist Molly explains how imperceptible shifts in brain chemistry can change our moral judgment and behavior.
Dez Mona Saga
Together with BOX, Gregory Frateur plays us into our finale.
Jamie Anderson
Jamie introduces us to some unorthodox management Ideas…Mahatma Gaga or the Art of Followership
Sidi Larbi Cherkaoui
His company Eastman shows us all about his non-hierarchical thinking on movement, body language and culture. (From their program "Babel")
Catherine Van Holder & Ine Dehandschutter
They explored the boundaries of digital nomadism. They'll talk about the possibilities the internet is giving us to design alternative lives, about how to be a modern nomad in work, friendship & citizenship.
Jee Kast
Surprise speaker: a slam poet!
Organizer
Christophe Cop
Antwerpen, Belgium
Organizer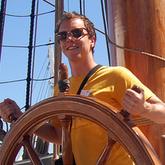 Thomas Goorden
Antwerp, Belgium
Team
Thomas Goorden

Producer

Vincent Verstraeten

Webmaster

Denis Ghys

Promotion

Dette Van Zeeland

Producer

Lisbeth Jaspers

PR
---