BarcelonaSalon
x
= independently organized TED event
Barcelona, Spain
October 6th, 2014
Venue and Details
Antigua Fabrica Damm
​ Carrer del Rosselló, 515
Barcelona, 08025
Spain

This event is open to the public. Tickets are available.
Ticketing policies vary by event.
RSVP below to confirm availability with event organizer.
---
About this event
We will watch an interesting talk together and will then discuss about the idea presented among all attendees. Afterwards all attendees are invited for a drink and can do networking.
Organizer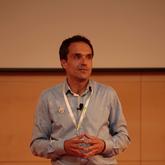 Jose Cruset
Barcelona, Spain