GranVíaSalon
x
= independently organized TED event
Theme: ¿Clásicos?
Madrid, M, Spain
May 21st, 2014
View photos from the event on Flickr
About this event
Innovación ¿y clásicos?
Confirmed Speakers
Helena Díez-Fuentes
Helena es socia fundadora y CEO de Touch of Classic, startup que, partiendo de los clásicos universales, se ha especializado en la creación de aplicaciones ilustradas e interactivas para niños. Abogado de formación, en Bruselas se dedica al Derecho Comunitario y al Medio Ambiente, decide especializarse en la elaboración de contenido editorial para diversos medios de comunicación internacionales en 14 países de todo el mundo.
Organizer
Javier Villarrubia
Madrid, Spain
Organizer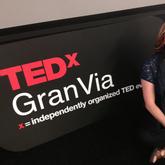 Carmen Martín Tejeda
Madrid, Spain
---