MadridSalon
x
= independently organized TED event
Theme: Ladies and gents lets talk about poop.
Madrid, M, Spain
April 30th, 2014
View photos from the event on Flickr
About this event
2500 million people don't hace access to a toilet and use the street as a toilet. The consequences are
tragic in terms if death and deseases generation, We will watch a TEDTalk about this and we wil have a discusson moderated by expert in international development and global citizenship.
Additional Links
TEDTalks shown
Organizer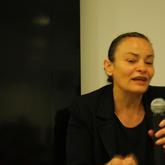 Antonella Broglia
Madrid, Spain
Team
Javi Garriz

co-curator
---