RyersonU
x
= independently organized TED event
Theme: Inspiring Your Future
Toronto, ON, Canada
November 27th, 2010
Watch video from the event
Please install flash player to see this video.
View photos from the event on Flickr
About this event
We gathered creative and innovative speakers from our community, including students, faculty and alumni from all fields and industries. At TEDxRyersonU, they inspired the diverse attendee populace and spread ideas that might very well have the ability to change our lives. The event showcased the talent that Ryerson has nurtured and produced, giving our diverse group of attendees a chance to expand their knowledge of developments in different areas beyond just their own.
Organizer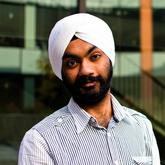 Parvinder Sachdeva
Toronto, Canada
Team
Trung Ho

Steering Committee

Michael Chu

Steering Committee

Kelsey Malenchak

Steering Committee

Edward Hobart

External Relations

Melissa Zenarosa

External Relations

Kailtin Minsky

Marketing

Chris Gruggen

Marketing

Winston Chow

Marketing

Sanjeev Kugan

Webmaster

Nehal Kazim

Online Marketing

Chrissy Bajcar

Online Marketing

Sara Khalil

Productions

Harjas Dogra

Productions

Jelena Basic

Productions

Gabriella Goutam

Productions

Rafay Khan

Finance

Nabeel Ahmed

Finance
---