Barcelona
x
= independently organized TED event
Barcelona, Spain
November 16th, 2013
Watch video from the event
Please install flash player to see this video.
View photos from the event on Flickr
About this event
We presented a variety of ideas and persons in order to surprise the audience. The theme was "Bottom up" since most of the subjects had to do with making a change using a bottom up approach.
Organizer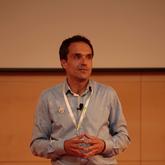 Jose Cruset
Barcelona, Spain
Team
Adele Simone

Volunteer organizer

Erion Balla

Webdesign

Eloi Pardo

Social Media

Carme Gual

Comunicación

Paula de Castro

Event organization

Coloma Serra

Event organization

Tessa Ten Tuscher

Event organization
---