Berlin
x
= independently organized TED event
Berlin, Germany
November 30th, 2009
Watch video from the event
Please install flash player to see this video.
View photos from the event on Flickr
About this event
On 30 November 2009, TEDxBerlin explored micro and macro structures that we encounter in our everyday lives. Micro/macro at Grand Hyatt Berlin gathered inspiring speeches, performances and TED videos on design, future technologies and new ways in social entrepreneurism. Outstanding speakers showed their vision of ideas worth spreading.


Confirmed Speakers
Erik Spiekermann
Erik Spiekermann is information architect, type designer and author of books and articles on type and typography. He was founder (1979) of MetaDesign, Germany's largest design firm with offices in Berlin, London and San Francisco. In 1988 he started FontShop, a company for production and distribution of electronic fonts. Erik is board member of ATypI and the German Design Council and Past President of the ISTD, International Society of Typographic Designers, as well as the IIID. In 2001 he left MetaDesign and is now a partner in Edenspiekermann with offices in Amsterdam, Berlin, London and San Francisco. Erik is also Honorary Professor at the University of the Arts in Bremen and in 2006 received an honorary doctorship from Pasadena Art Center. He was made an Honorary Royal Designer for Industry by the RSA in Britain (2007) and Ambassador for the European Year of Creativity and Innovation by the European Union for 2009.
Noa Lerner
Current work as CEO & Creative director-music-drop gmbh
Bernard Lietaer
Bernard Lietaer has been active in the domain of money systems for a period of 25 years in an unusual variety of functions. While at the Central Bank in Belgium he co-designed and implemented the convergence mechanism (ECU) to the single European currency system, and served as President of Belgium
Christophe F. Maire
Christophe has more than 15 years entrepreneurial and investing track record in Media- and Mobile communications-related technology areas. He has consistently delivered product innovation and has led the build-up of disruptive businesses (through both up- and downturns). In 2000, Christophe founded and co-headed gate5 AG, the Berlin-based pioneer in mobile mapping & community service before selling the company to Nokia in late 2006. He led the company through multiple phases of venture financing and in turn grew gate5 to Euro 18 Mio in sales. As head of Maps and Explore, Christophe contributed to grow a very successful worldwide service business for Nokia (Ovi Maps). The former gate5 unit today employs more than 300 highly qualified developers in Berlin alone.
Ralf Schmerberg
Unconventional, experimental, without complacency and suitability. Ralf Schmerberg, filmmaker and artist, covers with his projects and works a broad spectrum. Always in the centre the visual media film and photography. His work with photography led him in the 1990s into the movie business. From his demanding international commercial projects he developed his focus from shooting music videos to artistic films. With that Schmerberg links his creative potential with the social and develops with his works modern forms of social discourses. dropping knowledge Surprised about the less active American peace movement during the Iraq war, Ralf Schmerberg and other partners initiated 2002 the international project dropping knowledge. The idea
Heather Cameron
Heather Cameron is a social activist entrepreneur based in Berlin Germany. Her sport for social change project Boxgirls International has helped thousands of girls in Berlin, Nairobi and now Cape Town become leaders in their communities and work towards economic independence. She studied Philosophy and Social and Political Thought in Toronto and is now a Professor of Inclusive Education at the Freie Universitaet Berlin.
Prof. Dr. Peter Eigen
Prof. Dr. Peter Eigen is a lawyer by training. He has worked in economic development for 25 years, mainly as a World Bank manager of programs in Africa and Latin America; from 1988 to 1991 he was the Director of the Regional Mission for Eastern Africa of the World Bank. In 1993 Eigen founded Transparency International (TI), a non-governmental organization promoting transparency and accountability in international development. From 1993 to 2005 he was Chair of TI and is now Chair of the Advisory Council. In 2005, Eigen chaired the International Advisory Group of the Extractive Industries Transparency Initiative (EITI) and became Chair of EITI in 2006. In 2007 he founded the Berlin Civil Society Center and chairs its Board. Since 2002, he is teaching as an Honorary Professor of Political Science at the Freie Universit
Till Behnke
Till Behnke felt the need to combine his degree in business informatics, his professional expertise as a project manager and the ambivalent encounter with the African continent to a more meaningful end than a career in a transnational corporation. In 2007 he surrounded himself with a highly motivated, interdisciplinary team to start betterplace.org

Bernd Kolb


Born in Aalen in southern Germany in 1962, Bernd Kolb studied law. He went on to establish I-D Media in 1988, which he subsequently led to its successful listing in 1999. That same year he was voted medium-sized business entrepreneur of the year. In addition, he has won numerous national and international accolades for his innovative works, including the Oscar of the marketing world, a Clio in gold, and the best innovation award at the New York Festivals. In 2005, Kolb was appointed to the Board of Management of T-Com, responsible for the newly created division for innovation and terminal devices. The following year he was appointed to T-Online's Board of Management innovation responsible for innovation. In February 2007, Kolb ended his association with Telekom in order to become a social media entrepreneur founding and heading the Berlin-based Berndkolb GmbH. In 2008, Kolb founded his "RE: THINKTANK", based in Berlin and Marrakech, to analyze future trends and help entrepreneurs to understand the challenges, changes and opportunities of tomorrow.
Reto Wettach
Reto Wettach is a Professor at the University of Applied Sciences in Potsdam/Germany, where he teaches "Physical Interaction Design" and researches innovative, bodily-focused approaches to human-computer interaction. Reto is also the design director with the Interaction Design Studios (IxDS), a design research agency in Berlin. Previously Reto has worked as an Associate Professor with the Interaction Design Institute in Ivrea, and as a designer/researcher with Sony in Tokyo and Ideo in San Francisco. He studied Industrial Design at UdK Berlin and Mechanical Engineering at TU Berlin. Prior to his studies, Reto had an apprenticeship as a stonemason in Southern Germany. He (Reto) is the initiator of Fritzing - an open-source initiative to support designers and artists to take the step from physical prototyping to actual product. The vision of Fritzing is to democratize the production of electronics.
Matthias Varga von Kib
Prof. Dr. Matthias Varga von Kib
Organizer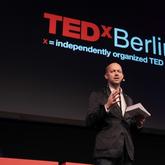 Stephan Balzer
Berlin, Germany
---