UniversityofPiraeus
x
= independently organized TED event
Theme: Time Voyager
Piraeus, Greece
April 26th, 2014
About this event
Time. One of the few elements in life we yet haven't been able to control. Past. Present. Future. Acts of times long gone define who we have become today. Ideas of the past are in our time some of the biggest achievements mankind can demonstrate. Dreams, plans and actions we make today so we can built our tomorrow. And that future is unpredictable.

This year TEDx University of Piraeus invites you to a spacetime journey. This year we invite you to become a Time Voyager!
Confirmed Speakers
Achilleas Stamatiadis


Achilleas Stamatiadis is a scholarship student at Northeastern University in Boston, Massachusetts. He currently studies: Political Science, International Relations and Classical Philology. As a sophomore, he participated voluntarily in a Student –run, Tutoring initiative at Boston University, teaching extracts of Classical literature from translation to students who attended by their own will.

Yiannis Laouris


President of Future Worlds Center and Board Member of the Institute for 21st Century Agoras. Medical doctor educated in East Germany and trained in neurophysiology and systems science in West Germany and USA. As social entrepreneur, he applies structured democratic dialogue to address global challenges and design complex socio-technical systems, harnessing the collective intelligence and wisdom of people. Honored with many prizes, including, First Award for Creativity of the Employers and Industrialists Federation (innovative educational theory), Hellenic Society for Systemic Studies Award (development and application of the science of dialogic design) and Euro-Mediterranean Award for Dialogue between civilizations of the Anna Lindh Foundation (Honorable Mention).

John M. Kalogerakis


Dr. Kalogerakis was born in Crete in 1957. He received his B.Sc., M.Sc. & Ph.D. from Strathclyde University, Scotland. Since 1982 has worked in a number of managerial positions for national & multinational companies in the UK, the M.East, Greece and Cyprus. As a frequent keynote speaker in various national and international conferences and as a visiting Professor to various British & Greek Universities, he has given numerous lectures and seminars internationally emphasising the anthropocentric approach to sustainable corporate development. The characteristic of all of his training seminars is the unique anthropocentric and ethical approach which has been developed over the last 30 years of entrepreneurial, managerial and coaching experience. Today, he is the CEO of JMK Ltd, with offices in Greece & Cyprus specializing in Anthropocentric Human Resource Development.

Eirini Xeirdari


Eirini Xeirdari has been a part of Greek journalism for over twenty years. She has worked as a sex editor (journalist for sex and relationship issues) in magazines Status, Marie Claire, Cosmopolitan and in publications of the international press. For many years she signed the popular sex column "Bedtime Stories'', at the newspaper Lifo. She is the creator of www.sexelixis.gr, the first integrated site about sex and relationships in Greece. As fast as TV goes, she is responsible for the column about relationships on show "Eleni" of Alpha. She is author of two books. Her second book is the first Greek sex manual for men, while her first one, that talks about sex trafficking in Greece, has been awarded the Special Prize of the European Year of Equal Opportunities.

Christos Nikolis


Christos is a part-time accountant, changing career. He has Bachelor in Business Administration (University of Piraeus). A school he didn't like at first, but loved in the end, seeing it from a different perspective. Presently self-educating, and planning his strategy for the near future.Charmed by the "homo universalis" exemplar, he is viewing science, art & athletics as ways to keep inner balance, and to create peaceful and undeniable changes in the world.

Panayiotis Kazanis


Panayiotis Kazanis started his career in Information Technology 25 years ago, and has worked with companies such as L'Oreal and Microsoft . He focused on Business Intelligence, which became his springboard for launching BaaS, one of the fist Greek companies to utilize Social Media Intelligence for social communications strategy planning. With a team of highly experienced professionals, he has implemented successful campaigns for world famous brands in Latin America, North Africa and Greece. He defines himself as a DOer & Design Thinker, envisaging the transformation of companies into Social Businesses.
Organizer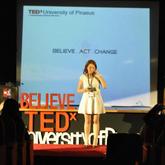 Ioulia Konstantinidou
Athens, Greece
Team
Joulia Konstantinidou

Curator

Ariadni Markouizou

Agenda Director

Evridiki Tsipi

Sales Director

George Giantsios

Finance and Legal Director

Stavros Kostopoulos

Production & Filming Director

Lydia Falkioni

Marketing Director

Panagiota Menediati

Speaker Coach

Alexandra Manaskou

Experience Manager

Ioli Alafogianni

Hospitality Manager

Georgia Zarifi

Sales Manager

Dora Dimitsana

Sales Manager

Olina Daskalaki

Online Community Manager

Anastasia Spiropoulou

Public Relations Manager

Kostas Krassopoulos

Designer Manager

Emily Tzirita

Interior Layout and Scenography

Intrit Sholla

It Manager

Maria Charalabaki

Volunteer Manager

Ebelina Padeli

Journalist
---