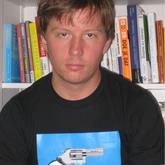 Arjan Haring
Chief Rebel Officer, University of Applied Sciences Utrecht
Bio
Co-founder @PersuasionAPI. Initiator of @TEDxUtrecht, @designbyfire, @dfcworld and Thoughts on Happiness.
TED Conference
TEDActive 2012
Areas of Expertise
Design, Marketing, Persuasion, Behavior Change
I'm passionate about
Persuasion, Morality, Design, Technology, Psychology, Philosophy
Talk to me about
Changing the world. Doing good stuff.
People don't know I'm good at
My TED story
It's rather obvious. Money and organisations are killing the world. Let's stop this madness. Focus on the good things and create a meaningful future.